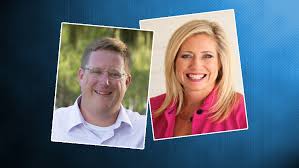 In eastern Hillsborough County, one of the more contentious Republican primaries in quite some time will soon be over.
Tuesday night, a winner will emerge from the hard-fought House District 58 battle between Yvonne Fry and Lawrence McClure.
HD 58 opened up in August after Plant City Republican Dan Raulerson stepped down for health reasons.
Final financial reports in the race, filed Friday night, show McClure,  a 30-year-old Dover businessman, out-fundraising Fry, with more than $23,000 cash on hand for the campaign's final days. That includes an additional $11,000 raised by Fry's separate political committee.
McClure's last report includes several $1,000 contributions from various established lobbying groups based in Tallahassee, including Southern Strategy Group, Florida Beer Wholesaler Association, and the Florida Cow Political Action Committee.
The Tampa Bay Times also noted several contributions made to McClure's campaign from allies of House Speaker Richard Corcoran. When asked, McClure said he was unaware of that, but then pivoted, saying that as the most conservative candidate in the race, it only follows he'd receive conservative backing.
An automated phone poll on election eve of 358 registered voters in the district gives McClure an 18-point lead, 54 to 36 percent.
McClure has been running hard as the purest conservative in the race, with some mailers from third-party groups going as far as to label Fry a "liberal" – something clearly intended to be a black mark in a staunch GOP primary.
Flyers contained pointed commentary, accusing Fry of once being supportive of light rail, a bugaboo with Tea Party types (although Fry counters that she's now against that form of transit, she was once quoted as speaking up for the 2016 Go Hillsborough transportation plan, which included a light rail component).
Among the third-party groups behind mailers attacking Fry include Save Southern Heritage and Hillsborough County Conservatism Counts.
There have even been mailers attacking campaign strategists. One attacked Anthony Pedicini, McClure's campaign strategist, mailed Thursday by a group called The Florida Leadership Fund. The group's treasurer later told Florida Politics that he had nothing to do with the mailer.
Fry is the more politically connected of the two, working several years as a civic activist involved in Plant City public affairs. Her information technology consulting company, Lines of Communication, performed work orders for the Hillsborough County State Attorney's Office (led by her paramour, Mark Ober) as well as other government agencies in Hillsborough County and across the state.
"We are excited about tomorrow," says Fry. "We have been working hard, talking to voters and spreading our conservative message.  I am looking forward to having the opportunity to represent District 58."
McClure did not immediatley return a call for comment.
The winner of Tuesday night's GOP primary advances to the general election for HD 58 Dec. 19. They will face Democrat Jose Vazquez, Libertarian Bryan Zemina and non-party-affiliated candidate Ahmad Saadaldin.
The polls will be open Tuesday 7 a.m. to 7 p.m.
Supervisor of  Elections Craig Latimer announced two last-minute polling place changes Tuesday:
Precinct 753 voters (originally assigned to vote at Plant City Recreation and Parks due to a storm-related closure of the polling place at Dr. Martin Luther King Jr. Recreation Center) will instead be voting at the Bruton Memorial Library (302 McClendon St. in Plant City).
Precinct 763 voters, assigned to Hope Lutheran Church, will instead be voting at Faith Temple Assembly of God (4240 N Frontage Road).
The elections office learned Monday of extremely long lines for Food for Florida benefits at the Plant City Stadium that will make sights on Park Road inaccessible for voting. Approximately 800 eligible voters will be affected by these changes.