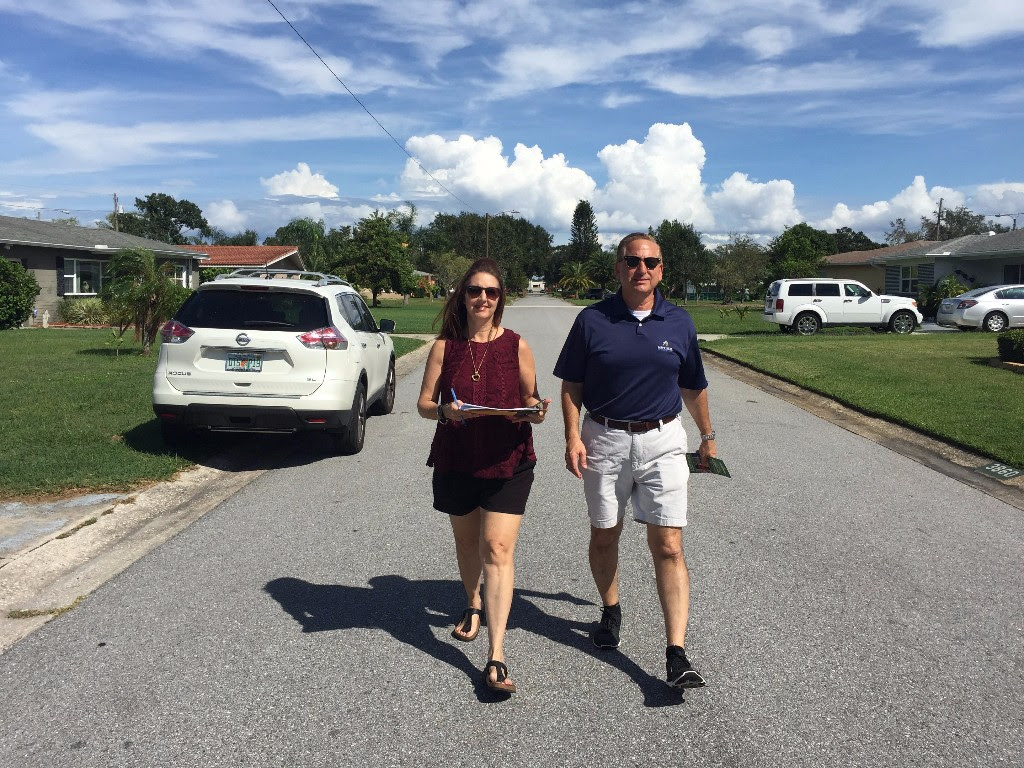 Mail ballots have started to hit the streets in St. Pete cend incumbent Mayor Rick Kriseman has started to pound the pavement again ahead of the second round of his re-election battle against former two-term Mayor Rick Baker.
Kriseman and his wife, Kerry, joined their corps of volunteers and staffers kicking off their get-out-the-vote efforts ahead of the Nov. 7 election.
Kriseman and co. knocked on doors across the city and talked one-on-one with voters to plead their case for another four years. The mayor also pitched in at the phone bank to give voters a heads up that the first mail ballots are on the way.
"We've come a long way in 4 years. Crime is down, big projects are moving forward, and our city is preparing for climate change," Kriseman said in a Monday press release. "This November's election is going to come down to conversations between neighbors in their front yards and living rooms. August turnout was record high, and we're here to earn every vote to keep St. Pete moving forward."
Despite polls showing him behind by as much as 7 points three days before the election, Kriseman edged out Baker by a hair in the August primary, which saw the field whittled from six candidates down to two. The slim win wasn't lost on Kriseman, whose campaign acknowledged it was indeed a "come-from-behind" victory.
That doesn't mean they see it as a meaningless win, either.
Even though both candidates had to turn around and fund raise their hearts out to reload for the what's become the most expensive mayoral election in city history, the mayor's campaign said Monday that the primary win brought forth "a surge in grassroots enthusiasm with volunteers from all over the bay area committing their time and energy to re-electing Mayor Kriseman."
While the St. Petersburg mayor position is officially non-partisan, Kriseman was a Democrat in the Florida House before becoming mayor. He has picked up endorsements from top elected Dems, including U.S. Senator Bill Nelson and Congressman Charlie Crist.
The Florida Democratic Party has also been in his corner and treated the city election as a bellwether for 2018, while multiple left-leaning groups such as the Sierra Club have also flocked to his side.
One of the deciders in the August election was undoubtedly the 11th hour endorsement he received from former President Barack Obama.
Kriseman is historically an underachiever with black voters, who make up 15 percent of the city's electorate. Baker, on the other hand, is one of the rare Republicans who excells at making inroads with the community. The Obama nod put a thumb on the scales, though, and may have been what shunted Baker's chances of winning it all in the primary.
The Kriseman camp also pointed out Monday that the mayor bested every pre-primary poll in his 69-vote August win, and he may have to do it again in the general election. A St. Pete Polls survey released last week showed Baker with a 1-point advantage over Kriseman, 46-45 with about 9 percent undecided.
All St. Petersburg voters will get a chance to pick one of the Ricks on Election Day, set for Nov. 7, but voters in City Council District 2 and District 6 will also pick the replacements for Jim Kennedy and Karl Nurse, respectively, while District 4 voters will decide whether to give Darden Rice another term.