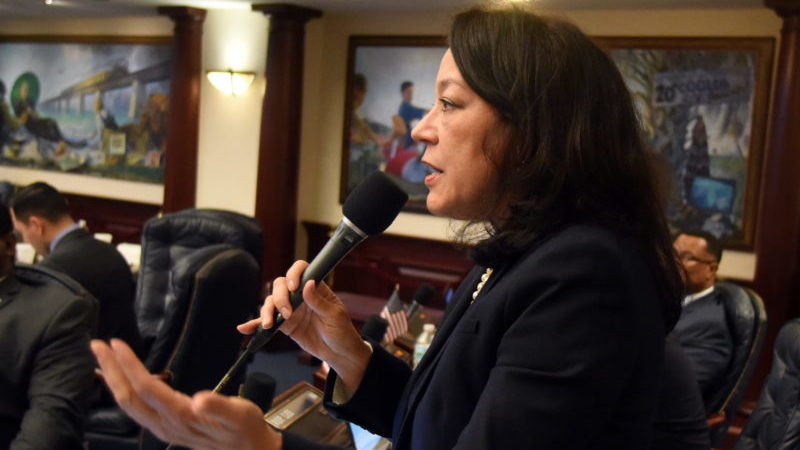 A House investigative panel Tuesday found that Miami-Dade Rep. Daisy Baez likely broke member residency rules.
The Select Committee on Member Conduct decided to refer Baez's case to the Public Integrity and Ethics Committee for the equivalent of a trial.
A finding of "probable cause," required for further proceedings, means it is more likely than not that a violation occurred.
Baez, a Democrat, was elected last year to represent South Florida's House District 114, but questions soon arose whether she really lived in the neighboring District 112, represented by Democrat Nicholas Duran. 
On a voice vote, the 5-member panel's two Democrats—Tracie Davis of Jacksonville and Emily Slosberg of Boca Raton—did not say 'yes' or 'no.' They later said they agreed there was enough evidence to move forward.
The Republican members—Chair Tom Leek, an Ormond Beach Republican, Cord Byrd, a Neptune Beach Republican, and Jason Brodeur, a Sanford Republican—audibly voted 'yes.'
"When we did a voice vote, that kind of caught us off guard," Davis explained. "This is new process for all of us … But there is probable cause, absolutely."
Slosberg, standing next to her, added: "The probable cause standard has been met."
Baez attended Tuesday's hearing with her lawyer, Tallahassee's Mark Herron. She said she will work with the committee.
"I believe I am a resident and I have evidence to support that," she told reporters. "We want to move on with the business of working for the people of Florida."
The panel heard mixed evidence that she actually lives in the district she represents, including that Baez had a homestead exemption on a house and a driver's license address outside the district, but was registered to vote within it.
Baez appeared to have had three "residences": A Biltmore Way apartment and an Anderson Road condo, both inside the district, and a Malaga Avenue house in Coral Gables she bought in 2010, which is outside.
"She took steps to move to the Anderson Road property to establish residence," Herron told lawmakers at the hearing. " … It's an uneven process to establish residence, but it's one of those situations … where the intention and the acts must be considered together."
The state constitution says "(e)ach legislator shall be … an elector and resident of the district from which elected." The constitution also reserves to each legislative chamber the right to be the "sole judge" of its members' qualifications.