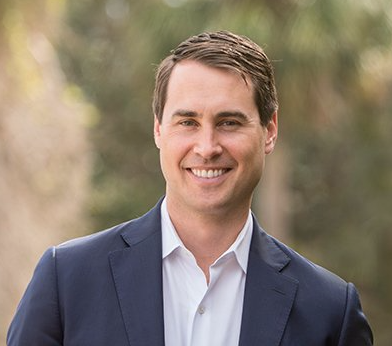 Democratic gubernatorial candidate Chris King raised $148,000 in September, giving his campaign a total of $2.6 million raised, his campaign reported.
King, a Winter Park-based developer of affordable housing and senior housing, raised $77,500 for his official campaign and $70,500 for his independent political committee Rise and Lead Florida, according to data posted by the Florida Division of Elections. Those totals included $47,000 he donated to his own campaign, and $25,000 donated to Rise and Lead by Serenity Towers On the St. Johns, one of the senior centers his company runs.
His campaign now has raised $1.67 million, most of it coming from his own contributions. Rise and Lead has raised $948,000. Together, the two committees ended the month with $1.7 million in hand, his campaign reported.
King faces former U.S. Rep. Gwen Graham of Tallahassee and Tallahassee Mayor Andrew Gillum in his quest for the Democrat's primary nomination in 2018. The leading Republicans are Florida Agriculture Commissioner Adam Putnam of Bartow and state Sen. Jack Latvala of Clearwater.
"Despite being a newcomer to politics, Chris King continues to remain competitive with career politicians with deep institutional and establishment support," King's campaign spokesperson Hari Sevugan stated in a news release issued late Tuesday. "Whether it's fundraising, grassroots activity online or what we're seeing and hearing across the state, what's clear is that Democrats are tired of losing statewide, and are looking for new ideas and a fresh approach to leadership to break one-party control in Tallahassee. This consistent fundraising has also demonstrated that Chris is positioned to be the clear alternative to Gwen Graham."