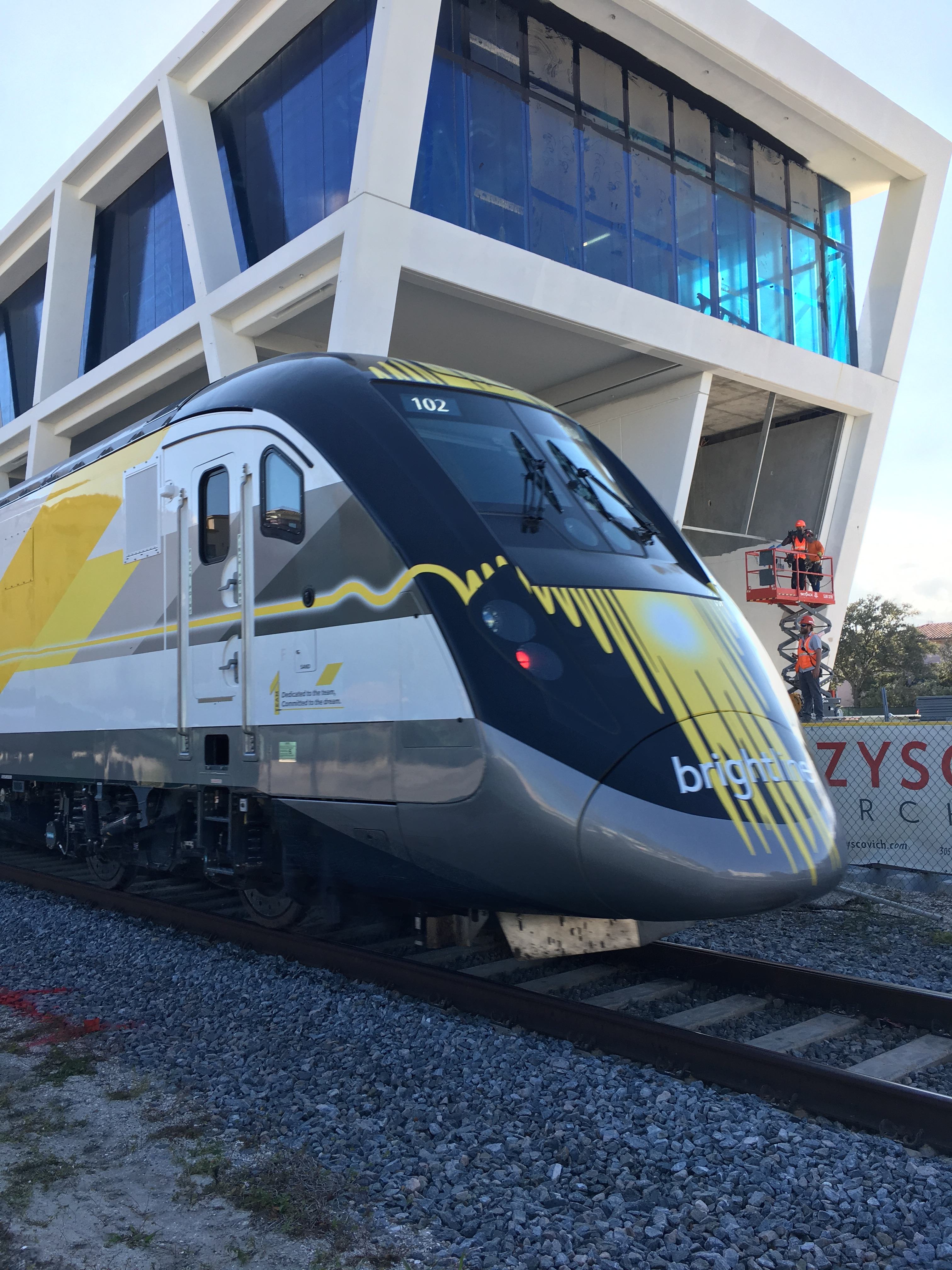 A Brightline train derailed in February and opponents of the planned, east-coast, high-speed passenger rail service expressed frustration Monday that they only recently learned about the accident and criticized the company for not mentioning it during Florida Legislature testimony about rail safety.
Citizens Against Rail Expansion in Florida and the counties of Indian River and Martin said Monday that it took them months to confirm the Feb. 11 accident, and only after they hired a Washington, D.C. law firm to pursue it. They criticized All Aboard Florida (AAF) for not disclosing the incident to the Florida Legislature while company officials offered opposition to bills that had sought to set state safety regulations on the railroad.
"Soon after this incident, officials attended not one but two state legislative hearings about rail safety and never once disclosed facts about the derailment, while they sought to table the safety legislation under consideration," Brent Hanlon, chairman of CARE FL, stated in a news release issued Monday by that group and the two counties.
The critics said records show the accident caused $408,000 in damage.
"The disconnect between the derailment and AAF's failure to make it public is disturbing," Indian River County Attorney Dylan Reingold stated in the release. "The safety and well- being of our communities require greater transparency."
A letter from the Federal Railroad Administration indicated that one car derailed, at low speed, at an All Aboard Florida rail yard.
A Brightline spokesperson called the incident minor, on private property, and fully and properly reported, and then dismissed the critics' concern raised Monday as a "baseless fear tactic."
"As confirmed by the Federal Railroad Administration, Brightline followed all applicable rules by providing prompt notification about the minor incident that occurred on its private property. This is another baseless fear tactic by Treasure Coast consultants," the statement read.
Brightline is planning to open a private passenger train service from West Palm Beach to Miami later this year. Eventually the company intends to extend the line through Martin, St. Lucie, Indian River, and Brevard counties, and then into Orange County to connect the Orlando International Airport by high-speed train to West Palm Beach, Fort Lauderdale and Miami.
Some residents and public officials of those ride-through counties have arisen in opposition, arguing safety, environmental, and other concerns regarding a train that would be traveling through their communities at up to 110 mph. Last February the two sides battled in Florida House and Senate committee meetings over House Bill 269 and Senate Bill 386. Those bills, which failed, would have imposed additional, state-mandated safety requirements. Company officials insisted the train already would be governed by the highest-possible federal standards, meeting all the strict requirements for high-speed rail service.
All Aboard Florida also has had a couple major victories in court against opponents who contended more environmental requirements were needed. One as recently as Sept. 29, from a Florida administrative law judge denied a challenge brought by Martin and St. Lucie counties and the Town of St. Lucie Village on the South Florida Water Management District's decision to issue an environmental resource permit. That court victory for All Aboard Florida essentially cleared away all pending litigation, allowing the company to go forward.
According to the Federal Railroad Administration, on Feb. 11, "a Brightline locomotive derailed its trailing truck while negotiating a switch at four miles per hour within the Brightline yard facility.
"The derailed Brightline locomotive was the second locomotive in a consist led by an FEC [Florida East Coast Railroad] locomotive into the Brightline yard and maintenance facility," reads an Aug. 21 Federal Railroad Administration letter to a law firm hired by CARE FL and Martin County. "Brightline and FEC promptly notified FRA of the incident."
That letter came after the law firm of McDermott, Will & Emery had inquired to the FRA, on May 30, about unconfirmed reports of the incident.
"It is unfortunate that Martin County is forced to spend taxpayer money to make sure our safety concerns are addressed at the state and federal levels. A simple confirmation of a derailment took three months to get from DOT, but six months after the derailment itself. We would have never known about this significant public safety issue had we not demanded to know the facts," Ruth Holmes, senior assistant Martin County attorney, stated in the news release.