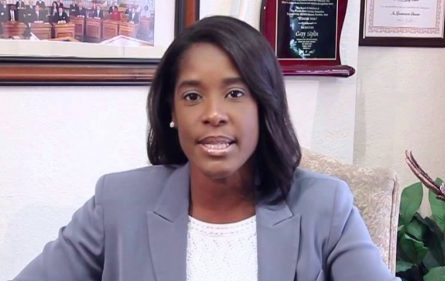 Democrats are looking ahead to the 2018 Orange County elections thinking it might be the year they finally take over county government.
The Orange County Board of County Commissioners and the mayor's office are officially nonpartisan, but the two main parties in Orange County don't see it that way. So while voters have the chance to vote strictly by the candidate, behind those candidates the Democrats and Republicans are pushing their own, and seeking to hold onto or take control of Orange County's agenda.
Since the 1990s the Republicans have dominated county government even though Democrats have increasingly dominated the voter registration. Linda Chapin, the last Democratic Orange County chair [now called mayor,] left office in 1998. The Democrats have not had a majority on the Orange County Board of Commissioners since 1994.
Currently Republicans hold the mayor's office [Teresa Jacobs] and four of the six county commission districts. This time last year they held five of the six commissioner seats, or six of seven votes including the mayor's vote.
Next year, Democrats are projecting they would take the mayor's office and wind up with four, maybe five, of the six seats on the board of commissioners.
"That is the plan," said Orange County Democratic Chair Wes Hodge.
"Too soon to tell…. I think we'll be OK, actually," said his counterpart, Orange County Republican Chair Lew Oliver.
The Democrats have 43 percent of Orange County's voters, and Republicans just 27 percent, with another 31 percent of voters registering as either independents or minor parties. The Democrats advantage has been steadily widening for years.
The Democrats' prospects in 2018 are led by their candidate for mayor, Orange County Sheriff Jerry Demings, who's got a high name recognition, three county-wide election victories, and strong community support, and who is expecting some crossover support from the business community.
The Republicans have three strong candidates in Orange County School Board Chairman Bill Sublette, Orange County Commissioner Pete Clarke, and businessman Rob Panepinto, president of Orlando Inc., the greater Orlando chamber of commerce.
Yet in a nonpartisan primary next August, it's likely Demings will emerge to face one of the Republicans in a runoff election in November — in a county which Democrats now hold a 16-point lead over Republicans in voter registration. The Democrats intend to milk that advantage.
"I have no issue with using our resources to let the voters know who our candidates are," Hodge said.
Orange County Commissioner Victoria Siplin, one of only two Democrats on the board, is seeking re-election and does not have an opponent yet. It's a safe district for the Democrats, with a big majority overall in voter registration. Sixty-three percent of all District 2 voters are registered Democrats. Just 10 percent are Republicans.
Right now the Democrats also like their chances to flip Orange County District 4, currently held by term-limited Republican Jennifer Thompson. Three Democrats are vying, Kevin Ballinger, Maribel Gomez Cordero and Nicolette Springer, in a district in which Democrats now have a 16-point advantage in voter registration. Lawyer Gina Perez-Calhoun is running for the Republicans.
With Clarke's entry into the mayor's race, that could open up District 3 for a special election next year, provided he doesn't change his mind by next June. Last week, Orange County Soil & Water Conservation District Chair Eric Rollings, a well-known official expected to get strong party backing, entered the Democratic race.
Democrats have a 15-point advantage in District 3.
Republicans appear to have at least a momentum advantage in keeping the District 2 seat that will be vacated by Bryan Nelson, who is running for mayor of Apopka instead of for re-election. His predecessor, Fred Brummer; Brummer's former campaign manager, Christine Moore; and Apopka greenhouse grower Mark Byrd all are Republican candidates with established campaigns or campaign experience, and Brummer and Byrd are off to strong starts raising money. Moore just got in.
Democrat Patricia Rumph's campaign has not raised much in ten months. Yet she reportedly has been building a ground game. And Democrats actually have a 17-point advantage in voter registration in District 2, thanks to inclusion of much of the Pine Hills neighborhood, a largely African-American community. So Hodge and other Democrats are in no way conceding the district.
But there is a lot left to happen, Republican Chair Oliver said. And there is a reason Republicans have held control for 20-plus years: Orange County voters apparently feel comfortable with what Republicans have done.
"We've got a bunch of good candidates either in the wings, or in play," Oliver said.
At least two prominent Republicans have been mentioned in political circles for Clarke's District 3 seat, including former Orange County Clerk of Courts Eddie Fernandez and real estate agent Dean Asher, though each has told people he's not interested at this time. They both have until next June to decide.
The District 2 race could change depending on what happens in the Apopka election in March 2018. Should Nelson lose, he could still file to run for re-election, though he has said he would not do so. Should Democratic Apopka Mayor Joe Kilsheimer lose his re-election bid, he's been mentioned as a possible Orange County Commission District 2 candidate.
There also is the potential impact of the ongoing migration of people from Puerto Rico, greatly accelerated by a flow of evacuees from the island since Hurricane Maria devastated it. So far, Puerto Ricans have largely registered as either Democrats or independents, not Republicans. The Puerto Rican migration was widely credited for flipping neighboring Osceola County to Democratic control three years ago.