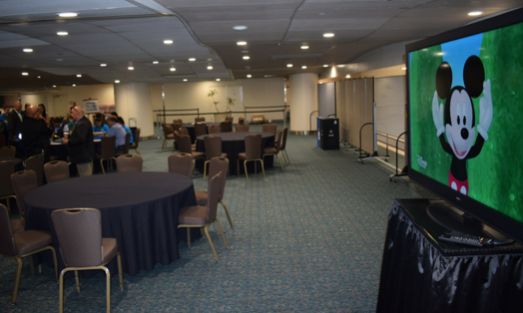 Rene Plasencia sees it in the faces of countless Puerto Rican Hurricane Maria refugees when he or someone else says, "we're here to help you."
A mixture of anguish, relief, pain, joy, fear, confidence, hopelessness, hope — all the emotions of losing everything and traveling to a strange, new place with almost nothing, and then encountering someone who at least is there to hold a hand, if not help.
It's happening hundreds of times a day at Florida's Puerto Rico Disaster Relief Centers at the Orlando and Miami airports, the Port of Miami, and at LatinoLeadership as well as other local nonprofits reaching out to help people arriving from Puerto Rican homes who are not necessarily looking for a fresh start, but just for a place to live.
Sometimes when home-cooked hot meals are brought in by volunteers, it's the first home-cooked hot meal people have eaten in a month or more, he said.
"It would blow you away," said Plasencia, a Republican state Representative from Orlando with Puerto Rican roots. His family runs LatinoLeadership, a social services center in Orlando that is helping about 150 Puerto Ricans walking in each day seeking help, and taking hundreds of calls a day. He's spending a couple of hours a day there himself, and helping at Orlando International Airport, in the state's official Disaster Relief Center there.
"It gives me both a sense of hope in humanity, and it also gives me a sense of despair," he said, "because people have so much need for help."
It was a month ago, on Sept. 20, that Hurricane Maria completely wiped out much of that island's housing, power, water supply, hospitals, schools, businesses, and infrastructure,
Since Florida's official Puerto Rico Disaster Relief Centers opened Oct. 3, at least 60,000 people from the island have arrived in Florida on airplanes and ships. It's unknown how many of them are actual storm refugees, and how many are relief workers and others shuttling from the island.
But the vast majority are people leaving their beloved, but devastated, homeland.
The three Florida Disaster Relief Centers have directly met with more than 12,000 displaced Puerto Ricans, many representing families or groups sitting outside in the airports or Port of Miami waiting for news on where they can go, and what they can do. Some days, centers assist more than 900 people.
About 4,000-6,000 more people from Puerto Rico are getting off planes in Orlando or Miami every day, said Alberto Moscoso, communications director for the Florida Division of Emergency Management.
"Folks coming off the planes are hopeful. Many are intending to return to Puerto Rico when the situation improves, and they're grateful that the resources are there and the airport has helped them out," Moscoso said.
Most, he said, are arriving with some sort of plan, and with family in Florida. Yet not all, and housing remains the highest immediate need.
At the centers, they meet with officials from FEMA and the U.S. Veterans Benefits Administration; nine state agencies, including health, children and families, elder affairs, and economic opportunity; a handful of local agencies; and a number of private organizations.
Among those at Orlando International Airport include LatinoLeadership, American Red Cross, United Way, Catholic Charities, Salvation Army, Health Insurance Story, Calvario City Church, Aspire Health Partners, Shepard's Hope, Halo Office, and the Second Harvest Food Bank.
Puerto Rico relief effort is among  Gov. Rick Scott's highest priorities right now,  press secretary Lauren Schenone said.
Plasencia said it shows, not just with the services at the airport, but with the several times a day he said he's personally calling the governor's office looking for specific points of help, and getting it.
"The airport is a great service," he said. "The biggest problem at this point is a lot of the passengers who get off the planes aren't going to the receiving centers; they're going off property, and meeting with family, and then maybe a couple days later they're going back to the receiving center."
Plasencia, however, was highly critical of the assistance from local governments, particularly Orlando and Orange County.
Two weeks ago Orange County Mayor Teresa Jacobs declined a request from three county commissioners, Emily Bonilla, Pete Clarke, and Jennifer Thompson, for the county to set up its own Puerto Rico relief efforts, saying it was the state's role. Last week Plasencia, at a meeting of the Orange County Legislative Delegation, implored her to reconsider.
He said the local efforts are nothing compared with the overwhelming way that Orange County and Orlando responded to the horrific nightclub massacre at Pulse on June 12, 2016.
The county has provided a representative from its Department of Family Services. Orlando has provided a representative from its Hispanic Office for Local Assistance office. The Orange County School Board has provided a representative, as has the Osceola County School Board, and Lynx, the regional public bus system.
What's most missing is shelter, Plasencia said. He said the governor's office said the state could not set up any temporary emergent shelters because that was a local responsibility.
"The sad part of this is the lack of support and even the lack of acknowledgment by our local government," he said. "Where has Teresa Jacobs been, or [Orlando Mayor] Buddy Dyer throughout this whole process?"
Other groups are stepping in. A coalition of churches is finding some housing. Others are providing job leads, notably Eddy Dominguez's human resources company Resource Employment Solutions, and the Central Florida Hotel & Lodging Association.
Plasencia fears the needs will get more acute.
"Most of the people who come so far are living with family. They are people who have come here, typically have a little more means," Plasencia said. "The next group of people who come may not be that way."