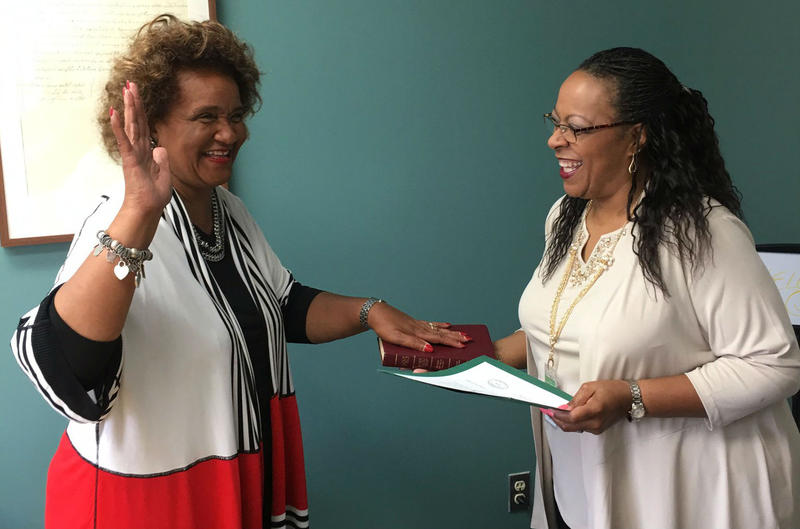 In the history of St. Petersburg, C. Bette Wimbish was a true trailblazer.
As the first black person to hold elected office in the Tampa Bay region, Wimbish was also the first black female lawyer in Pinellas County AND the first black resident to serve on the St. Petersburg City Council.
This weekend, both the city and the Florida Department of Transportation will honor Wimbish by naming a highway after her.
The celebration is Sunday when Mayor Rick Kriseman, state Sen. Darryl Rouson and FDOT District 7 Secretary David Gwynn will unveil the C. Bette Wimbish Interstate 375 highway destination. The event begins 2 p.m. in the St. Petersburg Coliseum parking lot (545 Fourth Avenue North).
"What a fitting tribute to rename I-375, a six-lane federal roadway that serves as a grand entrance ramp, bringing people from near and far directly into downtown St. Petersburg," Kriseman said in a statement Tuesday.
Born in 1924, Wimbish attended St. Pete's Gibbs High School before entering the Florida Agriculture and Mechanical University (FAMU), the state's only historically black university, at the age of 16.
In 1960, she ran for the Pinellas County Board of Public Instruction on a platform of improving and desegregating Pinellas schools. Though Wimbish didn't win, she did receive a substantial number of votes.
In 1965, she attended FAMU law school, then won a seat on the St. Pete City Council in 1969, later becoming vice mayor. She resigned the position in 1972 to launch an unsuccessful run for the state Senate.
In 1973, Gov. Reuben Askew appointed Wimbish as deputy secretary of commerce, serving as the second-highest-ranking woman in state government.
Wimbish later lost bids for the state House in 1982 and Congress in 1988 against Congressman C.W. "Bill" Young.
Wimbish died November 2009 at the age of 85.
"Honoring the trailblazing legacy of C. Bette Wimbish is important to telling the rich 'herstory' of blacks in St. Petersburg," Rouson said. "My hope is that it inspires others as she inspired me."
Immediately after Sunday's event, there will be a brief reception hosted by the Dolman Law Group.