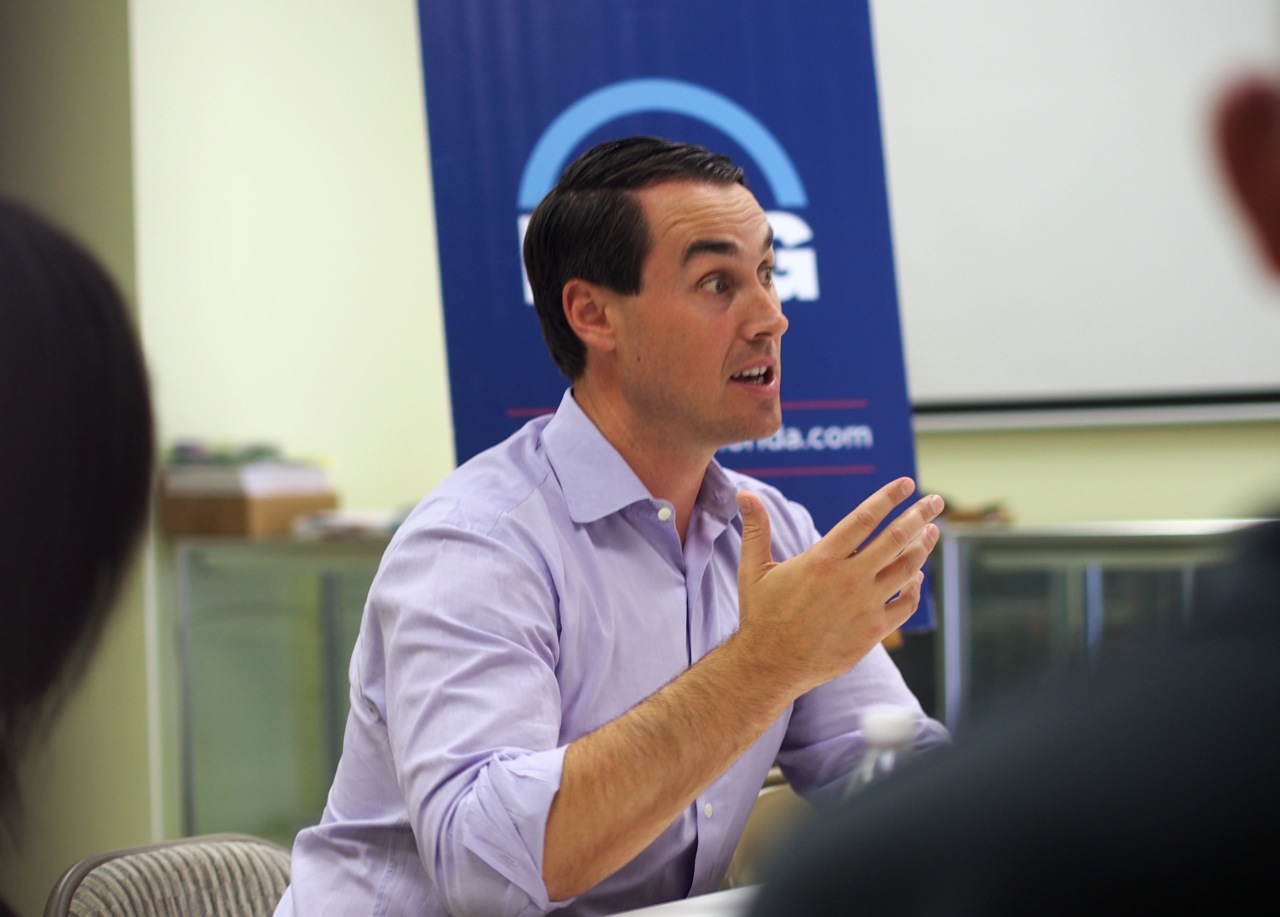 Democratic gubernatorial candidate Chris King unveiled the basics of his six-point jobs plan at an Orlando union hall Tuesday including free community college and tech school, and a greatly expanded list of professions for which the state would forgive student loans in exchange for longterm work commitments.
Speaking to leaders of the Communication Workers of America Local 3108, King laid out a plan that borrows ideas from other states, adds ideas stalled in Florida, and mixes in his own, ranging from free tuition for career-based education training, student loan forgiveness for what he called "jobs of the future," state investment through community banks for small businesses, and adoption of the Competitive Workforce Act.
"I've been a candidate for eight months, but I've mainly been talking about the problems of Florida for eight months," King said. "But now I'm gearing into that next phase, and today … I'm now beginning to release the solutions."
King, a developer of affordable and senior housing from Winter Park, faces former U.S. Rep. Gwen Graham of Tallahassee and Tallahassee Mayor Andrew Gillum in the race for the Democratic primary nomination to run for governor in 2018. The leading Republicans are Agriculture Commissioner Adam Putnam of Bartow and state Sen. Jack Latvala of Clearwater.
The CWA Local 3108 represents 1,250 members in communications including workers at AT&T and elsewhere.
The six points King laid out:
– Free tuition for community college and trade school education. King said he intended to model this after what is being done in Tennessee, which he pointed out is a Republican-controlled state.
"This is not a conservative or liberal idea," he said. "This is a common sense idea. And conservative states and liberal states have supported it."
– Expand and aggressively promote a list of high-demand jobs in Florida, and provide state-backed forgiveness of student debt programs for people committing to take those jobs in Florida. Currently Florida does this for nurses and paralegals, and King said that should be expanded to teachers, science, technology, engineering and mathematics jobs, and others he said he'd be promoting as "the jobs of the future."
"We want to direct you to those areas where there are the greatest needs in Florida," King said. "This is what lots of states do, by the way. This is what great states do."
– Encourage investments in strategic communities, including urban, rural and green businesses, veterans' businesses, women, minority and persons with disabilities businesses, by providing state incentives through community banks, which ultimately would provide the loans.
"The government wouldn't be picking the winners and losers, the banks would," he said.
– Adoption of the Competitive Workforce Act, to assure no discrimination against gay and transgender employees.
– Increase funding in Florida's Small Business Network, which uses state, federal and private funding to help entrepreneurs and small business owners create and retain jobs.
– Improve businesses's and entrepreneurs' access to early-stage capital. He noted that Gov. Rick Scott had vetoed line items in the 2017 state budget that would have invested millions of dollars in local accelerators and entrepreneurship programs, and he vowed he would not.