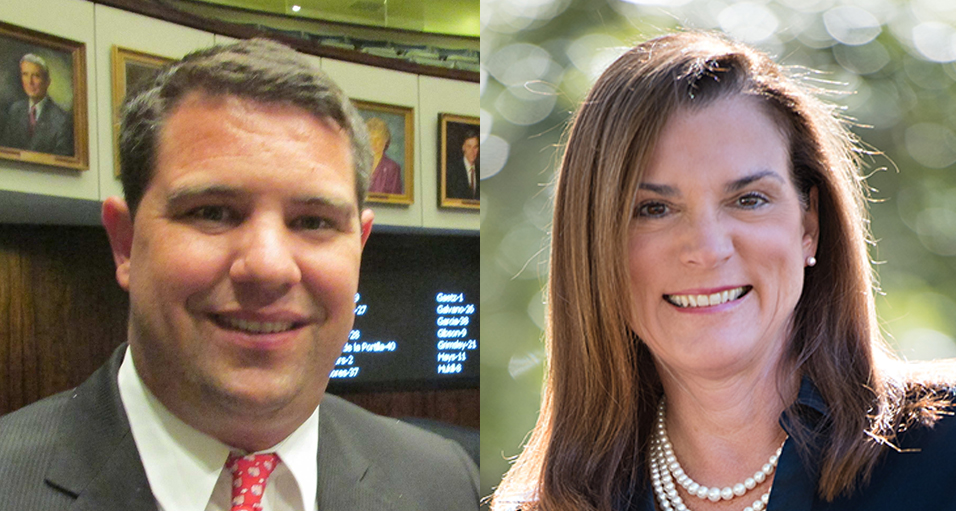 Could a third woman serve as president of the Florida Senate?
That's one of the intriguing questions at the core of behind-the-scenes maneuvering now fully underway within the Senate's Republican caucus (currently at 24 members) as the race to succeed Bill Galvano and Wilton Simpson has quietly begun.
Galvano was designated Tuesday as the next president of the Senate by a unanimous vote by his Republican colleagues. Simpson has locked up enough support to follow the Bradenton Republican. Galvano and Simpson's successor will come from the class of lawmakers elected last November.
But, unlike in the Florida House, where future Speakers begin soliciting support before winning their first election, the upper chamber prefers to take its time and pick a leader after members have had a session (or two or three) to evaluate the chops — and collegiality — of those who seek to lead.
Despite this stately pace for deciding a Senate presidency, two members of the 2016 class are emerging as leading contenders to hold the gavel beginning in 2022.
The two front-runners are St. Augustine's Travis Hutson and Tampa's Dana Young, according to more than a dozen sources, including several members, who spoke to Florida Politics on the condition of anonymity because they did not want to appear favoring one senator over another.
Florida Politics brings a well-established record of exclusive, accurate reporting on legislative leadership races.
For example, Florida Politics was first to report about the conclusion of the race between current Senate President Joe Negron and one-time rival Jack Latvala, as well as the eventual outcome of the recently concluded contest for House Speaker beginning in 2022.
It was the (unseemly, some say) pace of the most recent House Speakership race that, in part, influenced the Senate Republican caucus' consensus decision to take its own damn time before choosing another leader.
Another difference between the House and the Senate: it's not a given Republicans will still hold a majority come 2022.
While most capital observers, even Democrats, concede that it would take no less than a political tsunami to end Republican hegemony in the House by 2022, it's not impossible to envision Democrats winning the four seats needed to force a power-sharing scenario with Republicans.
This is especially true after Democrat Annette Taddeo defeated Republican Jose Felix Diaz in the September Senate District 40 special election.
However, until that change comes, the action rests within the Republican caucus.
Although Hutson and Young are the probably the leading contenders to win the support of colleagues, other state senators could be in the mix.
Beyond Hutson and Young, sources say Dennis Baxley and Greg Steube should be seen as dark horses. And just because senators would like to hold off selecting a leader, that doesn't mean there isn't some movement in the Hutson-versus-Young scrum.
Sources close to both Hutson and Young say an unofficial coalition of as many as five freshman senators are serving as a bulwark against any rush to choose a leader prematurely.
Names most often associated with this coalition of the, um, unwilling: Baxley, Doug Broxson, Kathleen Passidomo, Keith Perry, and Steube.
Then again, another handful of sources say Perry has already thrown his support to Hutson, joining Debbie Mayfield as key supporters.
Just the whisper that Perry has accelerated the race has led many of his colleagues to say "slow down" — and let the contest unfold at a pace more befitting the upper chamber.
Another factor at play: Unlike the House, senators are not as bound to class as their colleagues across the rotunda.
Whereas Paul Renner was elected Speaker-in-waiting via a vote of exclusively freshmen House Republicans, all members of the Senate in the chamber at the time of the designation vote will decide a Hutson versus Young contest. That vote won't happen till 2020.
For six years, Young represented South Tampa and western Hillsborough County in the House, before graduating to the Senate to represent roughly the same geography. Before crossing the rotunda, Young rose to become House Republican Leader.
Young and Hutson are both former House members.
After winning a contested battle for HD 60 in 2010 against the late Stacy Frank, Democrats failed to put up a candidate to oppose Young in her 2012 and 2014 re-election bids, before recruiting attorney Bob Buesing to face her in the Senate District 18 race.
Young defeated Buesing — as well as independent candidates Joe Redner and Sheldon Upthegrove — in what was a bruising campaign.
Now chair of the Senate's Health Policy Committee, Young is also vice-chair of the Appropriations Subcommittee on Pre-K-12 Education. Most recently, she filed a ban on fracking for the 2018 Legislative Session.
She's a political scion: Her grandfather, Randolph Hodges, served in the Florida Senate from 1953-63, rising to Senate President in 1961-63. And her uncle, Gene Hodges, was in the House of Representatives from 1972-88.
Hutson, chair of the Regulated Industries Committee, was in the House from 2012-15 before being elected to the Senate in April 2015.
That was when John Thrasher quit the chamber to become Florida State University president. Hutson then took Thrasher's seat.
The St. Augustine Republican, who last reported a $7.2 million net worth, works for his family's business, The Hutson Companies. According to its website, the company developed "more than 40 communities, encompassing more than 20,000 home sites, throughout the northeast Florida and south Georgia region."