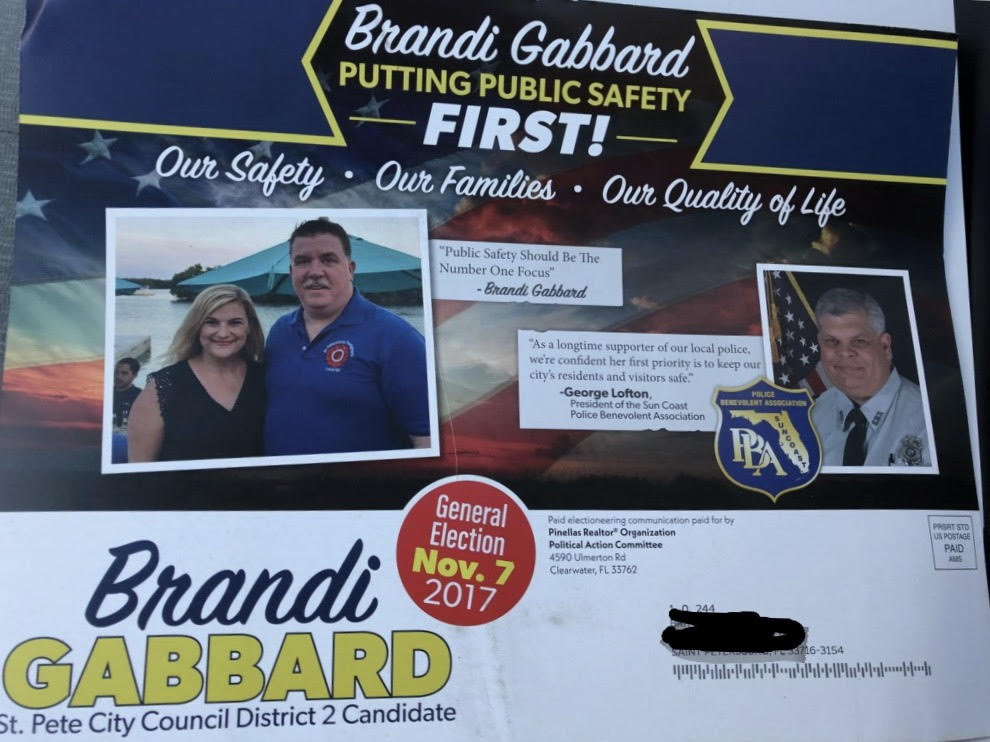 Barclay Harless is again attacking opponent Brandi Gabbard over 'outside spending' by Pinellas County Realtors.
Two weeks ago, the St. Petersburg City Council District 2 candidates quarreled at a Tiger Bay Club debate over money the Pinellas County Realtors Association is spending to support Gabbard's campaign.
On Friday, Harless revived that argument after another mailer financed by the Realtors PAC hit mailboxes throughout the city.
"I respect my opponent and her desire to run a strong campaign, but she has consistently refused my pledge to reject unlimited outside spending," Harless said. "I made the pledge in September not to allow any spending outside the [legally] allowable limits for my campaign. I have followed that promise."
"It was important to me to become an independent member of our City Council," he added, "not beholden to outside special interests."
It's no surprise that the Pinellas Realtors Organization supports Gabbard; she is a Realtor who held many positions within the organization over the years, according to Gabbard's Smith & Associates website bio.
While Gabbard did not return a request for comment, during the Tiger Bay Club debate two weeks ago, Joe Farrell, the Pinellas Realtors director of governmental affairs said Harless had come before his organization at the beginning of the campaign, circling "yes" on a questionnaire asking if he received an endorsement, would he accept PAC support.
Harless didn't deny it, but said he limited any PAC support received from third-party groups to the $1,000 maximum — the legal limit an individual can contribute to a campaign. However, there are no limits to the spending by PACs in a St. Petersburg city council or mayoral race.
St. Pete City Council members recently passed an ordinance limiting individual campaign contributions from PACs to $5,000. That measure is not scheduled to go into effect until January.
According to campaign finance reports ending Oct. 6, Pinellas Realtors PAC contributed $6,000 to Gabbard's campaign to date. The next campaign report is due midnight tonight.
"Two questions I always ask when I see political advertising: whose picture is on it, and who paid for it," Harless says. "There have been a few groups that offered to donate and spend over the legal limit for my campaign. I made a personal value call back in April that I did not want to do that. This goes to the heart of integrity for our city government, said Harless, who again called for Gabbard to call "for an end to spending like this on local city elections."
The most recent St. Pete Polls survey in the District 2 race had Gabbard up big over Harless. Campaign officials affiliated with Harless insist internal polling shows a much tighter race.
Early voting in downtown St. Pete begins tomorrow; voting by mail has been ongoing for weeks. Election Day is Nov. 7.