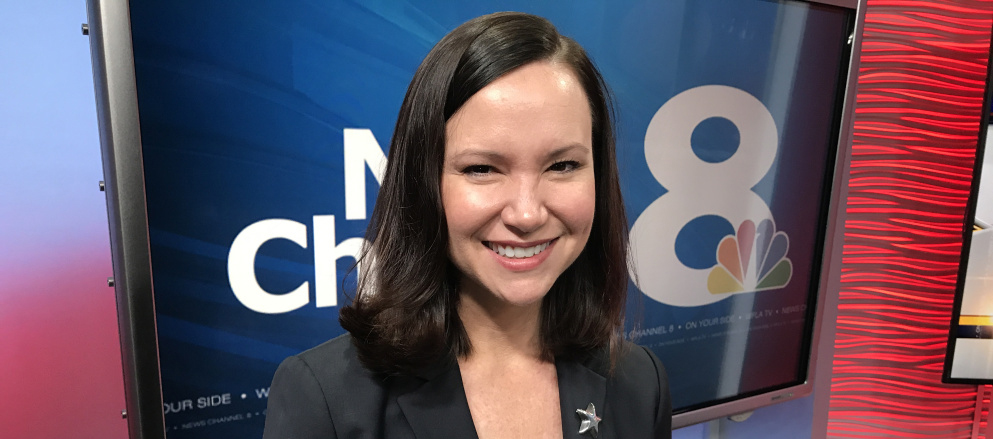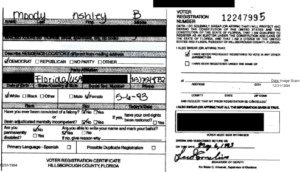 Retired Hillsborough County Judge Ashley Moody, by many reckonings, is the front-runner in the Republican primary for Attorney General.
And with that front-runner status comes front-runner scrutiny — including Moody's past as a registered Democrat … something that may not play well with the GOP die-hards who will vote in the primary next year.
Moody's father James was appointed to a federal judgeship in 2000 — by Democratic President Bill Clinton,
Though this in itself is not dispositive, Moody has been registered as a Democrat in the past — as her 1993 voter registration form indicates.
Moody wasn't a Democrat for long. She flipped voter registration to become a student representative to the Florida University System Board of Regents.
However, in that role, she showed a willingness to consider Democratic arguments that ran counter to Gov. Jeb Bush and his One Florida Initiative, which sought to end race-based criteria for admission to college.
Moody was on the losing end of an 11 to 3 vote that upheld Bush's initiative, per the Florida Times-Union, lining up with Democrats like Rep. Corrine Brown against Bush's reform measure.
While it is by no means certain that Brown will endorse in the GOP primary for Attorney General, what is very likely is that Moody's primary opponents will capitalize on the alignment between Moody and the former Congresswoman and future convict.
Moody wasn't finished bucking Jeb Bush; in the 2002 Gubernatorial race, Moody contributed $100 to the campaign of Democrat Bill McBride — another move that GOP supervoters are likely to find objectionable.
In addition to voting like a Democrat and donating like a Democrat, Moody also wrote speeches like — and for — a Democrat.
As her campaign website asserts, Moody was an assistant to then-American Bar Association President Martha Barnett.
Barnett is historically aligned with the 2016 Democratic Presidential nominee, including describing herself as being "honored" by Clinton at one point, and "serving alongside" Clinton on a panel.
It is only a matter of time before Barnett's speeches and publications attract scrutiny, as Moody's opponents use those writings to define the candidate.
Notable: months after taking office, President George W. Bush stopped the long-standing federal practice of consulting the ABA on judicial nominees, per CBS News.
Though liberal stalwarts such as Senate Minority Leader Chuck Schumer and advocacy groups like People for the American Way bristled, it was clear that the Republicans in the Bush Administration saw the ABA as interested in politicizing the judiciary.
"The question is whether the ABA should play a unique, quasi-official role and then have its voice heard before and above all others. We do not think that kind of preferential arrangement is either appropriate or fair," wrote a White House counsel in 2001.
Martha Barnett has put her money where her mouth — and writings are — with big-dollar donations to Bill and Hillary Clinton, Barack Obama, Al Gore, John Kerry, Charlie Crist, Bill Nelson, Alex Sink, and reproductive rights group Emily's List.
Barnett doesn't just give to Democrats though; she has also donated to Moody.
With two other candidates in the Attorney General race tacking to Moody's right, it's inevitable that this information will factor into the race to define Moody.
She is going to have to counter a perception — based on historic associations — that she's not a good fit for the Republican Party.
With over a million dollars banked as of the end of September, she is in a position to make that argument.
But will GOP voters buy the argument that a ghostwriter for one of the leading liberal lawyers in the country will carry their conservative values forward for four years?
That's the existential question that the Moody campaign now faces.
One final shot: as is widely known, Moody once was on the plaintiff side of a lawsuit against President Donald Trump's private company,  charging fraud regarding a failed development project.
While POLITICO reports that Moody now supports Trump and his agenda, the question going into 2018 is whether Republican voters can believe her.