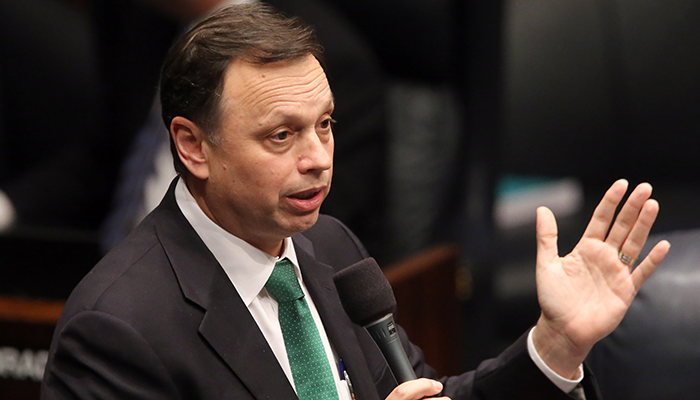 As expected, Constitution Revision Commissioner Tom Lee has filed a constitutional amendment to ban greyhound racing in Florida.
Lee, a state senator from Thonotosassa and a previous Senate president, filed the 2-page proposal late Tuesday, the deadline for commissioners to submit proposed amendments for the state's governing document.
Lee last month said he had been considering filing such a measure, and gaming industry sources said the senator had called some of the state's dog track owners to "take their temperature."
"There is growing recognition that many of these animals live in inhumane conditions, a reality that is out of line with the moral standard of Floridians," Lee said in a statement.
The amendment as filed would phase out live racing over three years, mandating a one-third reduction in race days in 2019-20 and a two-thirds reduction in 2020-21.
"All dog racing in connection with any wager for money or any other thing of value is prohibited on and after July 1, 2021," the proposal says.
"For over a decade, the Legislature has fought to end greyhound racing, but special interests derail the issue every year," Lee said. "Now is our opportunity to finally end the mistreatment of greyhounds, reduce the amount of gambling in our state, and restore community values."
Lee's measure goes beyond the usual "decoupling," the term for removing provisions in state law requiring dog and horse tracks to run live races if they wish to offer other gambling, such as cardrooms. Under decoupling, tracks could still choose to run dogs.
Efforts to remove the live racing requirement have failed in the Legislature in recent years, including this past session, as lawmakers continually fail to pass comprehensive gambling legislation.
Carey M. Theil, executive director of GREY2K USA Worldwide, called the Lee amendment "a common sense proposal that will have broad support."
Greyhound racing "is cruel and inhumane," he said. "According to state records, a racing dog dies every three days at a Florida dog track. Greyhounds endure lives of confinement, and are given dangerous drugs including anabolic steroids. This is an opportunity for the industry to gracefully transition away from greyhound racing."
On the other hand, Jack Cory, spokesman for the Florida Greyhound Association, said the "proposal is bad for Florida and it is bad for the greyhounds."
"It would cost over 3,000 Florida jobs, put over 8,000 beautiful greyhounds at risk and create 19 mini-casinos throughout Florida," he said, referring to other gambling, such as cards, that will continue at pari-mutuel facilities.
The Constitution Revision Commission is formed every 20 years to review and suggest changes to the state constitution.
Any amendments, which it can place directly on the 2018 statewide ballot, still must be OK'd by 60 percent of voters to be added. The commission must wrap up its work by May 10, 2018.
Lee also filed two other amendments, including one to also make the lieutenant governor "Florida's Chief of Elections, Chief Cultural Officer, State Protocol Officer, head of the Department of State, and (the position) will have the power to cast the tie-breaking vote in the Florida Senate on the final passage of legislation."
The other amendment would "increase watchdog authority over state contracts and spending" by expanding the powers of the state's chief financial officer—an office Lee is seeking in 2018.