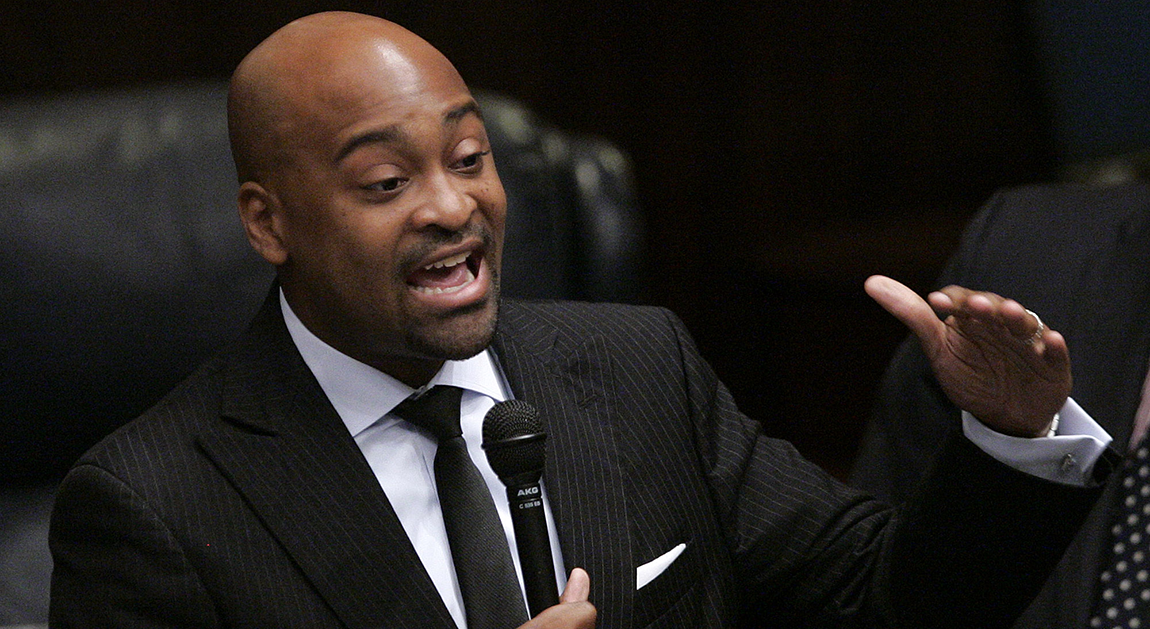 With a state Senate on edge after the resignation of Jeff Clemens and looming questions of surveillance, Senate Democratic Leader Oscar Braynon II wants his chamber to focus on cases of harassment, rather than what he dubbed "consensual" relations.
The assertion came after Braynon detailed his priorities for the 2018 Session. The Miami Gardens Democrat put juvenile justice reform, affordable housing for Puerto Ricans displaced by Hurricane Maria and the opioid crisis at the top of his list.
On the opioid crisis, he contended that it should be a "health and human services" issue rather a criminal justice one.
"If we really want to solve this opioid crisis, which everybody says they want to do, then let's not make the same mistakes that we've made with every single other drug crisis that we've had," Braynon said, referring to mass incarceration.
But even he acknowledged that the subject of sexual harassment was the proverbial "elephant in the room" for anyone in the Senate. And he warned that the focus of any investigation shouldn't stray from actual harassment.
"I think one of the things that we need to not get caught up in is taking our eye off of the ball of sexual harassment," Braynon said.
He questioned if spending time debating whether consensual relationships constitute cases of harassment could potentially undermine indisputable cases, which he explained as "women being treated differently, women being spoken to differently, women being touched inappropriately that don't want that."
He said these instances are "not as cool," whereas concerns regarding affairs might get more attention.
His unique contention brought up concerns from reporters that affairs between legislators and lobbyists, or other influencers, should be of concern to the Senate because sexual favors could be leading to legislative actions in return.
He reassured reporters that any "quid pro quo" would be of concern.
"Is somebody expecting to get something from it? Then yeah, I think there should be a question about that," Braynon said, reiterating that the Senate should look at each issue on a case-by-case basis.
Braynon discovered months ago that a camera had been installed on the sixth floor of Tallahassee's Tennyson condominium where many lawmakers stay during their stints in the capital.
He told POLITICO Florida earlier this week that he believed the camera was placed there by former state Sen. Frank Artiles. The Miami Republican resigned from the Senate earlier this year after using racial slurs at a private club with two black senators.
Thursday, Braynon clarified that the surveillance was traced back to a private investigator, and that he had been told from someone else that the ousted senator was behind the incident.
"I don't know who was behind that," Braynon said, adding that the mere idea of a Senate atmosphere in which people are hiring private investigators will lead to "an interesting Session just on that alone."
He also commented on the high-ranking positions of gubernatorial candidate Jack Latvala, who is the Senate Appropriations chair, and potential gubernatorial candidate and House Speaker Richard Corcoran. He said these positions might result in legislative measures that help align them with conservative and far-right voters.
"All of a sudden, we'll see these crazy right-wing bills that don't have anything to do with what the majority of Floridians want, but have to do with what people want in a Republican primary," Braynon said.