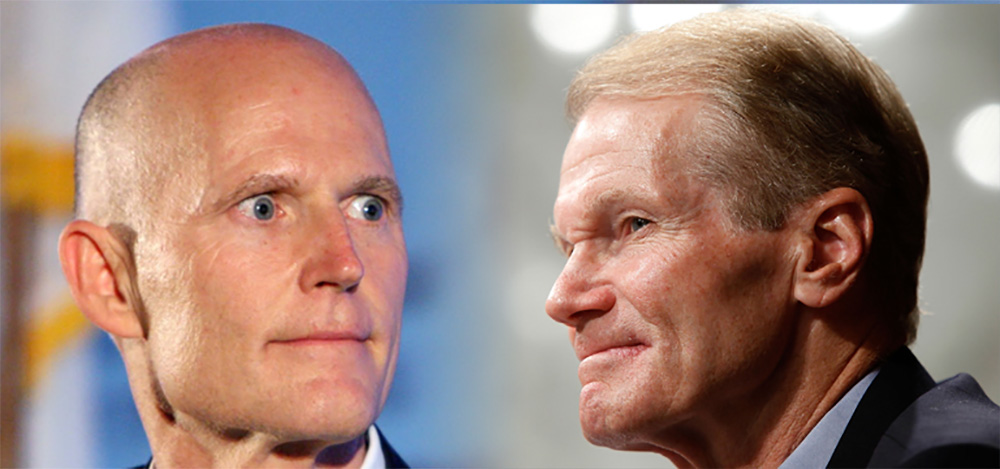 The hottest U.S. Senate race in the country will be in the Sunshine State over the next twelve months, pitting two politicians who don't lose against each other.
One will go to Washington for the next six years. The other, very likely, will have lost his last campaign.
The two combatants: Sen. Bill Nelson in his toughest electoral battle yet, posed by Gov. Rick Scott.
Nelson is fundraising in North Florida today — a midday stopover in Jacksonville found him at a local state House candidate's home, followed by an afternoon jaunt to Tallahassee.
The campaign has definitely begun: Scott's political committee put $2 million into ads, and Nelson — when asked Friday before that Jacksonville fundraiser — was candid about the challenges ahead.
"He is now raising unlimited corporate money," Nelson said. "The minute he becomes a candidate, he cannot."
"Right now, it's two different systems that are operating," Nelson added, noting that hard money contributions are limited by federal law, whereas Scott is piling up corporate donations.
Also discussed: an October University of North Florida poll that made the shock assertion that 49 percent of likely voters in 2018 didn't know what they thought about the three-term Senator.
Nelson asserted that poll was an "outlier."
"UNF poll is an outlier. Generally," Nelson said, "what you will find is that I am not known by about 20 percent in the state of Florida."
That, Nelson added, is "not unusual" in light of people coming into Florida, "at a rate of a thousand a day," which means that it "takes them a while to know who their Senator is."
Nelson also said that the more relevant metric is the spread between his favorable and unfavorable numbers, which he asserts show a "huge surge of favorable over unfavorable … that means that people seem to be think I'm doing a pretty good job."
The UNF poll had Nelson at 35 percent approval and 15 percent disapproval, which puts him at + 20.
Meanwhile, Scott sat at 59 percent approval and 28 percent disapproval — + 31, with just 11 percent not knowing their position on the incumbent Governor.