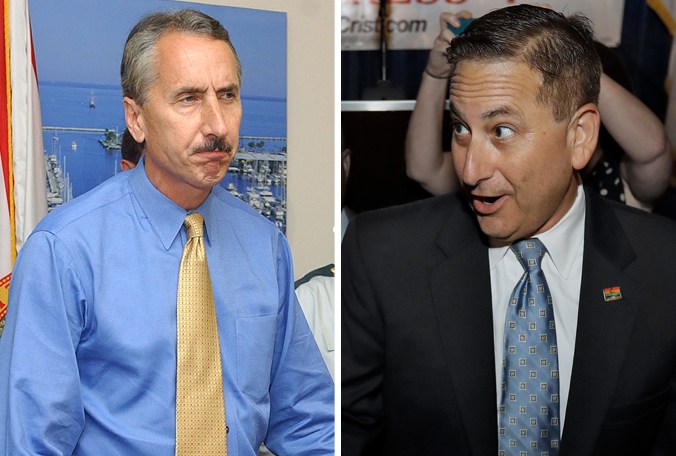 If Rick Kriseman ends up surviving Rick Baker's formidable challenge to be re-elected Tuesday for another four years as St. Petersburg mayor, it will be despite the intense hammering he received at the hands of the Tampa Bay Times editorial page.
The Times recommended Baker in advance of both the Aug. 29 primary and the Nov. 7 general election, but late last month, Tim Nickens, the editor of editorials, took his dissatisfaction about Kriseman to another level.
Nickens penned a column (under his name) blasting the Democratic incumbent for running the most partisan mayoral campaign in the city's history, citing a Florida Democratic Party mailer linking Baker to Donald Trump with an accompanying quote by Martin Luther King Jr. He considered the mailer so egregious and unfair that it compelled him to change his voter registration from Democrat to non-party-affiliated.
"St. Petersburg's most partisan mayor and his allies helped me see the light, and perhaps I should thank them for that," he wrote. "Now quit sending to my house mailers that demean King's legacy and unfairly link an unfit president to St. Petersburg's best mayor."
The column angered Kriseman supporters, some of whom have alleged on social media that the paper's editorial page has grown more conservative after it received an influx of financing from some unnamed investors.
In late July, Deputy Mayor Kanika Tomalin took to social media to blast the paper after it endorsed Baker, but the mayor himself has kept his thoughts about the coverage private, until this weekend.
"I really stopped reading it," he told Florida Politics when asked about the Times editorial coverage, adding simply: "It is what it is."
"If you're going to be a politician, you just can't let that get to you. You have to do what you believe is the right thing."
Kriseman went on to say that he was trying to make a difference in the community, "and that's all I can worry about."
Late in the campaign, Team Baker brought up the past of Kevin King, Kriseman's controversial chief of staff, into the race. Saying it was a matter of judgment and character, Baker's PAC began running ads blasting the mayor for continuing to employ King at City Hall, reviving his 2001 arrest that stemmed from allegations that he propositioned a teenage girl for sex.
The case has been expunged from court files and is not in public records, but the Times editorial page has called for King to make his court records public.
Kriseman has remained radio silent on the issue, remarking only: "It's always sad when you see ads that are personal."
Meanwhile, former Mayor Baker has no complaints about media coverage.
"I think it's been a well-covered campaign, I really do," he said Saturday. "There's an article here or there I might disagree with. I think that's been natural, but overall I think the media's been fair in the coverage of the campaign."
The mayor did not weigh in on his thoughts about the alt-weekly Creative Loafing's reporting, but editor David Warner recently wrote that the Baker campaign had denied several attempts by the paper to have the candidate sit for an interview before the election.
Kriseman was more forthcoming about his disappointment about running a city (and a re-election campaign) in a time of mean Facebook posts.
"The one thing I think that social media has done in general, not just for this election it's for some people they've used it as an opportunity to say things that they would never say to their face and I think that's one of the negatives about social media in general, whether you're an elected official or you're a reporter, you guys are subject to the same stuff, and it's disappointing."
Baker responded to a question about social media to emphasize it's ability to get out his message in a different way to the voters.
"There's certain parts of it that are a lot of fun," he says. "You can reach out and very quickly touch people out in the community through the social media effort."