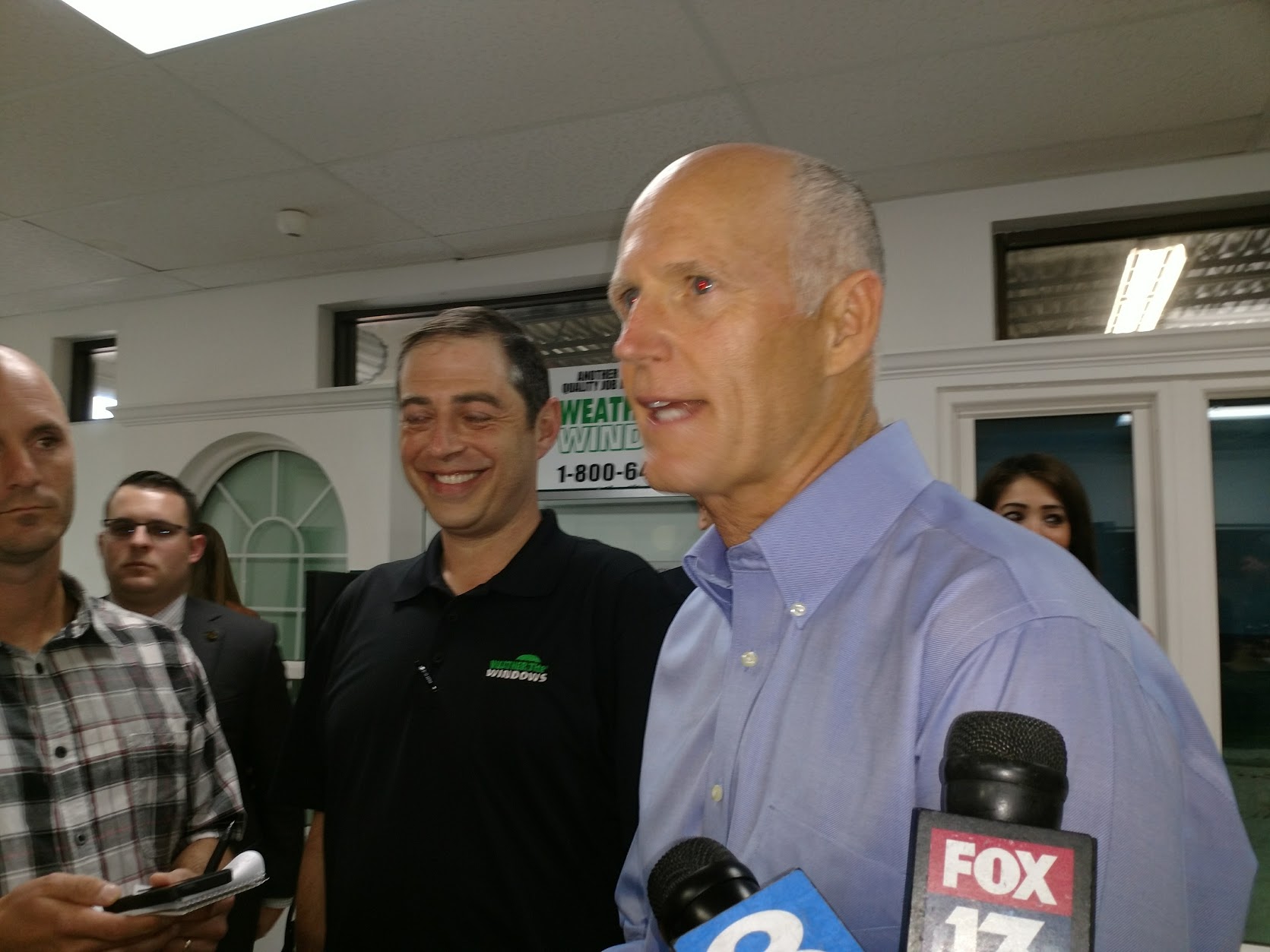 If Rick Scott runs for the U.S. Senate next year (as nearly everyone in Florida politics expects), he will have to deal with Donald Trump and his sagging poll numbers.
But less than 48 hours after Democrats posted big wins across the country Tuesday, the Republican governor shows no appetite to analyze the results of the off-year elections.
"I'm sure there's going to be a lot of pundits that are going to talk about things like that," Scott said during an appearance at Weather Tite Windows, a West Tampa window and door replacement company. "I've got 424 days to go on my job."
He then launched a litany of talking points, which could very well transfer to a stump speech next year: "My focus is to make this the number one place for jobs, the number one place for education, and a place where people are safe. We're at forty-six year low in our crime rate. Our higher education system just got ranked the best in the entire country."
That last comment referred to U.S. News and World Report ranking Florida as the best state in the nation for higher education, with its relatively low tuition rate for colleges and universities and how more than half of students who seek a two-year degree either graduated on time or within three years.
Another Republican aspiring to a statewide ballot next year is Agriculture Commissioner Adam Putnam. This week, the Republican gubernatorial candidate showed no reluctance to weigh in on the election.
"We are at a crossroads. Make no mistake. Look what happened in Virginia and New Jersey" Putnam said Wednesday in Winter Park. "There should be a sense of urgency about this election. Not complacency,
Scott's main purpose for visiting Tampa was to tout his proposed $180 million in cuts to taxes and fees for 2018, his last year in office. His plan includes a mixture of license fee reductions, reducing traffic fines for drivers who attend a basic driver-improvement school after getting a ticket and a 10-day tax holiday on school supplies and clothes.
Many expect Scott will challenge incumbent Democratic Sen. Bill Nelson in his re-election bid next year. On hand to observe the event was Ryan Patmintra, who earlier in the week was named Florida political director for the National Republican Senatorial Committee.