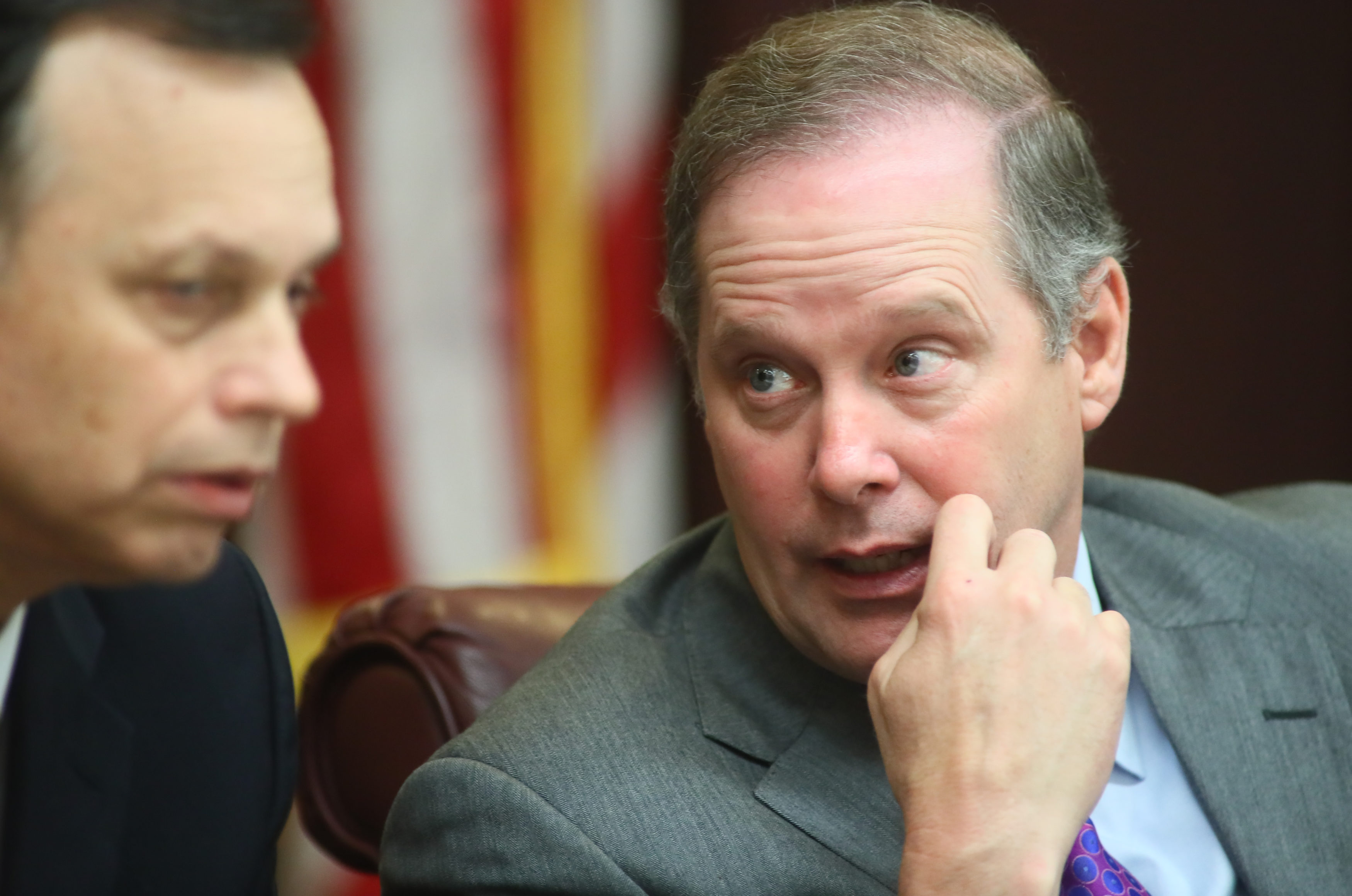 Top Republicans in the House and Senate brought in saw huge committee fundraising gains in October, with Senate Majority Leader Wilton Simpson leading the pack with $645,000 raised.
Simpson, a  Trilby Republican, is likely to take over as Senate President for 2021-22, brought in 75 contributions through Jobs for Florida, including nine contributions of $25,000 or more.
Topping the donor roll was the political arm of the Florida Manufactured Housing Association, which gave checks combining $67,500, followed by health insurer Florida Blue at $35,000.
Coming in at the $25,000 level were auto company JM Family Enterprises, Florida Crystals, Q Link Wireless, Sunterra Florida, private prison business GEO Group, and the Voice of Florida Business, a political committee tied to the Associated Industry of Florida.
Simpson's committee also spent $110,000, including $47,670 in payments to Capitol Finance Consulting, a $25,000 contribution to Liberty Florida, and another $20,000 to Citizens Alliance for Florida's Economy, chaired by uber political consultant Anthony Pedicini.
Simpson closed out the month about $2.16 million in his committee account.
Following Simpson was Republican Rep. Chris Sprowls, who is set to become speaker in 2021. He raised $190,000 for his political committee, Floridians for Economic Freedom.
The committee's top donors for the month were Wal-Mart and Florida Blue, which chipped in $20,000 each, followed Windermere attorney Kimberly Russo and RAI Services Company, the parent of company RJ Reynolds Tobacco, both of which gave $15,000.
Another eight donors gave $10,000 apiece, including Publix Super Markets, PepsiCo, the Florida Chamber of Commerce and USAA.
Spending came in at a modest $3,900, leaving Sprowls' fundraising vehicle with $592,655 to work with heading into November.
Senate President-Designate Bill Galvano and House Speaker Designate Jose Oliva, both set to take command after the 2018 elections, also showed six-figure hauls for their political committees last month.
Galvano, a Bradenton Republican, brought in $121,500 through Innovate Florida, which at the end of the month had $427,552 on hand.
Wal-Mart gave $50,000 of that money in an Oct. 20 contribution, while publicly traded health insurance group Centene Management Company and public employee trade group AFSCME Florida gave $25,000 apiece.
A political committee tied to the Florida Transportation Builders Association gave $10,000, as did the Florida Chamber of Commerce, with convenience store chain Wawa chipping in $1,000 and Boeing tossing in $500.
Oliva's committee raked in $145,000 with a similarly short donor list.
Conservative Principles for Florida took in five $25,000 checks for the month, one each from the Voice of Florida Business, the Seminole Tribe of Florida, Florida Blue, Florida Power & Light and JM Family Enterprises.
After paying DRC Consulting $10,000 and spending another $5,000 to sponsor a Miami-Dade Republican Party event, the committee closed out the month with $559,998 in the bank.