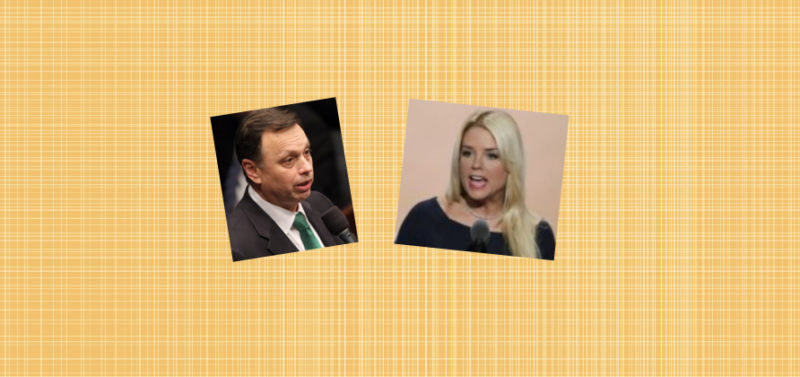 State Sen. Tom Lee fired off a tweetstorm Wednesday in support of his proposed constitutional amendment to ban greyhound racing in Florida.
Lee—a Thonotosassa Republican, previous Senate president and current candidate for Chief Financial Officer—called dog racing "cruel and inhumane," and added the "greyhound industry opposes any real reform." (His tweets are at bottom.)
He filed the proposal as a member of the Constitution Revision Commission (CRC), which convenes every 20 years to review and propose changes to the state's governing document.
Meantime, Attorney General Pam Bondi—a Tampa Republican who regularly brings shelter dogs to state Cabinet meetings to get them adopted—declined to say whether she would support the amendment. Bondi also sits on the 37-member CRC.
"As a member of the commission, I look forward to reviewing the more than one hundred proposals that have been filed," Bondi said in a one-sentence statement to Florida Politics.
Lee's amendment would phase out live racing over three years, mandating a one-third reduction in race days in 2019-20 and a two-thirds reduction in 2020-21.
"All dog racing in connection with any wager for money or any other thing of value is prohibited on and after July 1, 2021," the proposal says.
Lawmakers have long failed to pass legislation that would remove the requirement that tracks offer live racing to offer other kinds of gambling, known as "decoupling."
Efforts to ban the use of steroids in dogs also have died; in fact, a draft bill circulating this month would ensure that trainers could give dogs steroids and allow trace amounts of cocaine in their system.  The 2018 Legislative Session begins in January.
Jack Cory, spokesman for the Florida Greyhound Association, has said Lee's proposal "is bad for Florida and it is bad for the greyhounds."
"It would cost over 3,000 Florida jobs, put over 8,000 beautiful greyhounds at risk and create 19 mini-casinos throughout Florida," Cory said, referring to other gambling, such as cards, that would continue at pari-mutuel facilities.
Lee's tweets are below:
Ten reasons why the @FloridaCRC should support my proposal to phase out greyhound racing in FL. @JimRosicaFL @PeterSchorschFL @MaryEllenKlas @TIAreports @fineout @Bill_Cotterell @stevebousquet @TheDaraKam @richardcorcoran @joenegronfl @FLGovScott @carlosberuff @BrechtHeuchan [1/11]

— Senator Tom Lee (@TomLeeFL) November 15, 2017
1) Most greyhounds live in cruel and inhumane conditions… confined in metal cages that are barely large enough for them to stand up or turn around for 20+ hours per day. We wouldn't treat our own dogs this way & greyhounds deserve better. [2/11]

— Senator Tom Lee (@TomLeeFL) November 15, 2017
2) 438 greyhounds died at Florida dog tracks since the state began tracking greyhound deaths in 2013. On average, a racing dog dies at a track in our state every three days. [3/11]

— Senator Tom Lee (@TomLeeFL) November 15, 2017
3) Florida is one of only two states that does not publicly report greyhound injuries. A 2016 law passed requiring DBPR to implement injury reporting, but the agency has yet to meet its obligation. [4/11]

— Senator Tom Lee (@TomLeeFL) November 15, 2017
4) Seminole County began reporting injuries in May 2017, after volunteers collected 14,000 petitions. The data is troubling. 26 greyhound injuries have been reported at the track so far, including 18 dogs that suffered broken bones & three that died. [5/11]

— Senator Tom Lee (@TomLeeFL) November 15, 2017
5) Greyhound racing has a doping problem. Females are routinely given anabolic steroids so they can keep racing, and dozens of greyhounds have tested positive for cocaine at Florida dog tracks in the past year. [6/11]

— Senator Tom Lee (@TomLeeFL) November 15, 2017
6) The greyhound industry opposes any real reform, including bills to report injuries and outlaw anabolic steroids. Right now, industry lobbyists are circulating a bill to legalize some greyhound cocaine positives. [7/11]

— Senator Tom Lee (@TomLeeFL) November 15, 2017
7) My proposal will reduce gambling by more than $200 million a year – dollars that will go back into the pockets of hardworking families across the state. [8/11]

— Senator Tom Lee (@TomLeeFL) November 15, 2017
8) Powerful industry lobbyists are fighting this ban on greyhound racing with scare tactics & exaggerated job claims. However, this proposal gradually phases out dog racing in a way that reduces disruption to the industry and protects the dogs. [9/11]

— Senator Tom Lee (@TomLeeFL) November 15, 2017
9) Industry lobbyists are even making veiled threats about what will happen to dogs if racing is banned, but all of these dogs will eventually need homes, regardless of whether my proposal passes or fails. [10/11]

— Senator Tom Lee (@TomLeeFL) November 15, 2017
10) Greyhound racing is a dying industry and the state is spending between $1 million and $3.3 million of your tax dollars annually to subsidize dog racing because regulatory costs exceed revenues. (END)

— Senator Tom Lee (@TomLeeFL) November 15, 2017