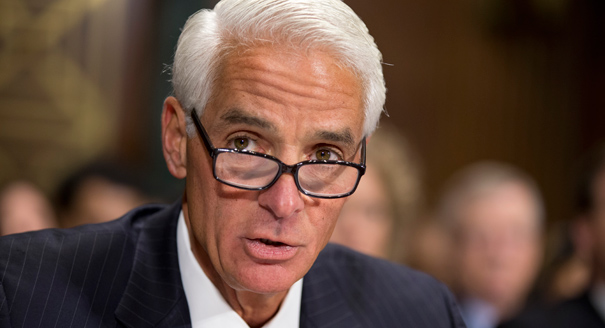 Like most House Democrats, St. Petersburg Congressman Charlie Crist voted against the GOP tax reform bill that passed last Thursday.
The House's tax overhaul reduces the number of individual tax brackets, cuts the corporate tax rate from 35 percent to 20 percent and curbs other tax breaks and deductions.
The plan, in total, would lower taxes on all income groups on average in 2019, but the Joint Committee on Taxation estimated that some Americans would eventually see tax increases.
Democrats are depicting the bill as a tax cut for wealthy Americans and corporations, with middle-class families footing the bill — an issue they say they'll be happy to run against Republicans next year.
The National Republican Congressional Committee thinks the public will side with Republicans, and they're targeting 25 Democrats who they believe are in vulnerable districts in new 15-second digital ads that are running on Facebook.
Crist defeated Republican David Jolly by 3.8 points in 2016. Jolly says he'll decide by January if he'll challenge Crist again in 2018.
A new digital ad that began airing Friday depicts the former Florida governor as out of touch with his voters.
A similar ad is being run against Orlando area Democrat Stephanie Murphy.
"If anyone is looking for Stephanie Murphy or Charlie Crist — they were last seen bowing to their party bosses instead of providing essential tax relief for the people who need it most: the middle-class," said NRCC spokesperson Maddie Anderson. "It's a shame Stephanie Murphy and Charlie Crist couldn't be a part of historic tax reform simply because of their unwavering allegiance to Nancy Pelosi."