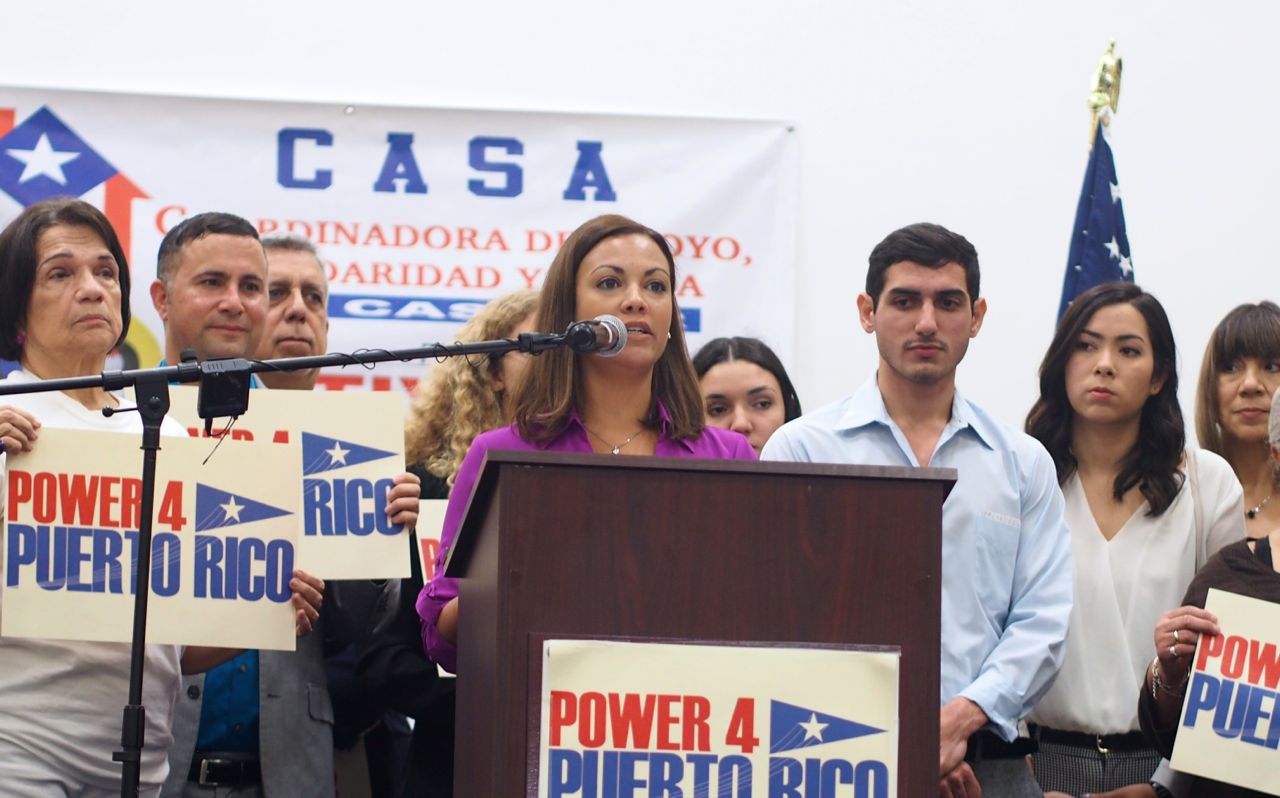 A national coalition of Puerto Rican groups with heavy representation in Central Florida urged in Orlando Monday for Congress to offer full relief funding for the hurricane-ravaged island and for Florida and federal relief for evacuee housing in the Sunshine State.
Joined at Acacia's El Centro Borinqueño by U.S. Rep. Darren Soto, and Orlando Democrat, and state Rep. John Cortes, a Kissimmee Democrat, Power4PuertoRico criticized federal relief efforts as inadequate and worse, given that still more than half the island is without electricity, water remains a critical shortage, many hospitals are operating on generators, and schools remain closed.
The group also turned its attention to the needs of Puerto Rican evacuees in Florida and elsewhere stateside, particularly making an urgent call for housing assistance, especially in the Central Florida area.
For the group, whose members include Orlando-based Hispanic Federation, Chicago-based Puerto Rican Cultural Center and various non-profit and labor groups, the coalition also called for major federal relief efforts that go beyond addressing Hurricane Maria's landfall two months ago, on Sept. 20. Saying that broader economic reforms are necessary for Puerto Rico to fully recover, the group called for debt relief for the island's government, something that is tied up in bankruptcy proceedings under the Promesa Act approved in 2016, and for repeal of the Jones Act, which restricts maritime commerce in and out of the island.
"We have come together to focus on economic recovery through significant investments in infrastructure, workforce development, and health care," said Zoe Colon, a local organizer of Power4PuertoRico. "We are asking for longterm solutions to the crisis in Puerto Rico."
Colon and others in the coalition's press conference decried that two full months after the hurricane, "more than half of the island is still without power, disease is spreading, and people don't have the resources they ned to build their homes."
Soto said he supports reform of the Jones Act but not full repeal, and supports Congressional actions that could address the island government's debts beyond what is the domain of the bankruptcy proceedings. "We've had assurances that every debt that can be challenged, will be challenged … and that Congress needs to do everything we can so that Puerto Rico isn't drowned in a sea of debt during this crisis.
He said the $4.9 million loan, an initial federal Hurricane Maria relief package, "must be forgiven" and that any future FEMA funds must be exempt from creditors. "This is essential for the recovery. It would a twisted, cruel fate to have this money go down and only be taken by opportunistic creditors."
Soto also said the U.S. House of Representatives Natural Resources Committee, on which he sits, will push for the island's power generation and distribution grid to not just be restored, but replaced with 21st century, renewable technologies.
He turned attention toward Thanksgiving, saying, "Here in Florida we have much to be thankful for, but we have much to do," he said. "Puerto Rico, in short, is still in crisis."
Cortes offered praise for efforts of Gov. Rick Scott, a Republican, for offering Florida help on the island, and for doing much to welcome Puerto Ricans coming to Florida, saying efforts must be bipartisan.
He said the next step must be to get state money to address the housing shortages, particularly in Central Florida where most of the 160,000 evacuees appear to be settling. He decried Scott's budget proposal for taking $132 million from the Sadowski Fund for affordable housing, and redirecting it to other spending. That has to be stopped, and the money has to be used to develop more affordable housing, Cortes said.
"In my area in Osceola County, forget about getting an apartment, because either they're too much, or FEMA doesn't give you enough voucher for them. And your voucher is going to end, and after that you're going to be homeless."