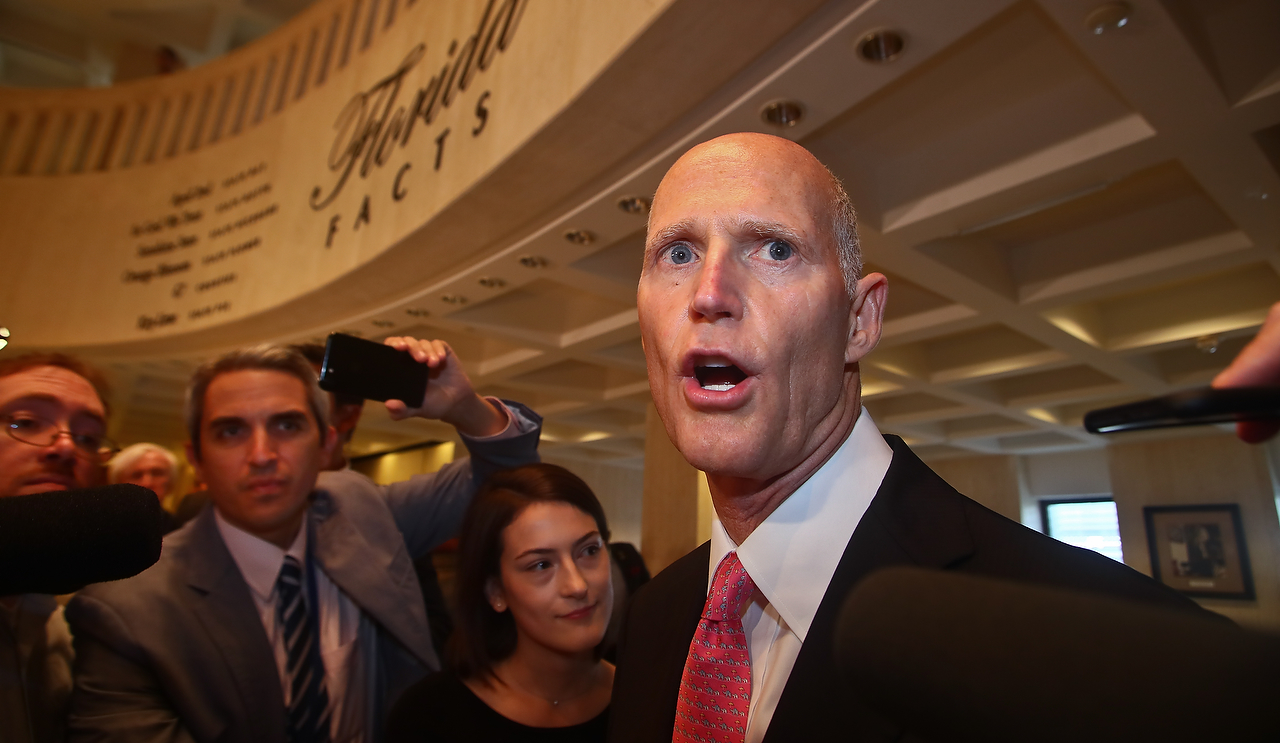 Gov. Rick Scott is moving to remove Florida Supreme Court Justice Barbara Pariente from a legal challenge to his judicial appointment power, saying she's biased against him.
Daniel Nordby, Scott's general counsel, filed a motion for disqualification Monday.
Scott's decision follows Pariente "making disparaging remarks after the conclusion of the oral argument in this case on November 1, 2017 which were captured on a live microphone and widely reported on," the Governor's Office said in a statement.
The motion also refers to statements made by Pariente while campaigning for retention in 2012, "A vote 'yes' will be a vote to retain me and the other two justices … A vote 'no' will give Gov. Scott the right to make his appointments, which will result in partisan political appointments."
"Gov. Scott strongly believes that all Floridians deserve judges that are impartial, fair and non-partisan," Scott spokesman McKinley Lewis said.
"Justice Pariente's past remarks cast grave doubt on her ability to take an objective and unbiased position when evaluating Gov. Scott's authority in this case. She must be disqualified to ensure a fair decision."
Pariente and Chief Justice Jorge Labarga had been caught on a 'hot mic' immediately after a Nov. 1 oral argument in a case over Gov. Rick Scott's judicial appointment power.
Progressive groups claim Scott doesn't have authority to appoint three new Supreme Court justices on the last day of his term. The openings are caused by the mandatory retirements for the court's liberal-leaning trio of Justices R. Fred Lewis, Pariente and Peggy A. Quince.
The Governor's Office had filed a records request for a piece of paper on the bench to which Pariente and Labarga were ostensibly referring during their exchange. That document turned out to be the current membership list of the Supreme Court Judicial Nominating Commission, which happens to include Nordby.
Moments after the argument ended, Labarga can first be heard on a recording from the courtroom saying what sounds like, "…anything on there, Panuccio." Jesse Panuccio, once Scott's general counsel and a former head of the Florida Department of Economic Opportunity, is a member of the Supreme Court JNC.
Pariente then can be heard saying what sounds like "crazy." Nordby said that was "an apparent reference either to Gov. Scott or to (his) appointees to the Supreme Court Judicial Nominating Commission—the constitutional body that will be responsible for nominating her successor."
That's followed by Labarga: "Izzy Reyes is on there, he'll listen to me." JNC member Israel U. Reyes is founder of The Reyes Law Firm in Coral Gables and a former circuit judge. He's also one of four members nominated to the nine-member commission by The Florida Bar; the others are appointed by the governor.
When previously asked if he might pursue recusals of Labarga and Pariente from his case, Scott has said, "I think we have to find out. Let's put the facts on the table. Then we can make a decision of how we should go forward."
Nordby's filing says Pariente's comments, combined with her previous public statements, "provide a reasonable basis to question her impartiality … Scott is reasonably in doubt that this case will not be decided fairly."
Pariente, Labarga and court spokesman Craig Waters have not commented publicly on the matter.
*                              *                              *
Updated Wednesday – Kendra Arnold, executive director of the conservative Foundation for Accountability and Civic Trust (FACT), issued a statement that her group supports Scott's motion.
It filed a public records request for Pariente's and Labarga's emails over what it calls "the justices' overt political bias."
"In a verbal attack on one of Scott's appointees to the Supreme Court Judicial Nominating Commission, as well as making other past politically biased comments, she has shown herself to be clearly unfit to hear this case objectively," Arnold said.
"Justice Pariente may not like Gov. Scott or his politics, but a justice's No. 1 job is to be just, not political. In fact, judicial ethics rules clearly state that any personal bias or prejudice shown by a justice toward a given party is grounds for recusal."