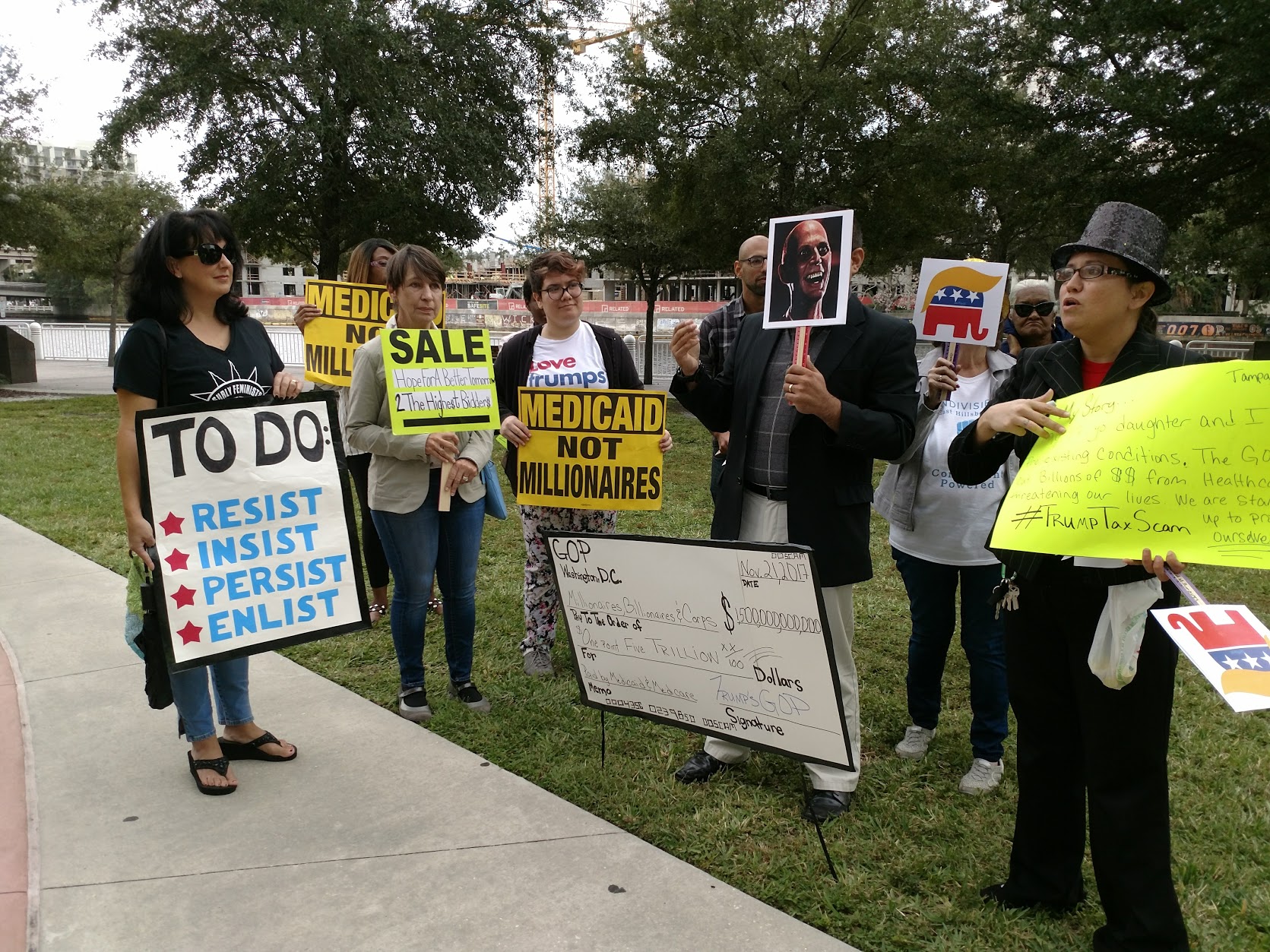 Chanting "tax cuts will destroy us," a group of citizens marched a block from MacDill Park to a Wells Fargo bank in downtown Tampa on Tuesday to protest the recently passed tax reform plan in the House and warn against approval of the Republican Senate's tax reform plan that could be voted on next week.
While Democrats have criticized the proposals on a number of fronts, citizens who gathered in the protest held by Organize Now, a liberal group, focused on the potential deleterious effects in health care should the proposals come to fruition.
"I want to see tax fairness," said Organize Now's Debbie King. "I want to make sure that we don't take tax breaks for corporations and pay for them with cuts to Medicaid, Medicare and other programs that regular everyday people rely on."
The Senate Republican tax bill would force $25 billion in immediate cuts to Medicare, according to the Congressional Budget Office.
That's a move that can only be stopped with a bipartisan vote.
Republicans are working to get the bare minimum of 51 senators to pass the bill, perhaps as early as next week.
Speakers at the rally also said the tax bills could cut Medicaid, an argument that congressional Republicans insist is not the case.
"This plan is going to sacrifice retiree benefits and that money will go to the GOP tax cuts," said Marina Welch, a former nurse. "Middle Class Americans rely on Medicaid for longterm services and support. Medicaid provides home and community based services that allow seniors to stay in their homes."
The dispute about whether Medicaid is cut is contingent on whether the individual mandate to sign up for the Affordable Care Act is removed from the Senate tax bill.
Democrats say repealing the individual mandate would lower Medicaid spending. That's because fewer people would sign up for insurance, according to the CBO. The change also would reduce spending on health-insurance subsidies.
"Where do you think the $300 billion is coming from?" said Missouri Democratic Sen. Claire McCaskill, according to the Wall Street Journal. "Is there a fairy that's dropping it on the Senate?"
"There are no cuts to Medicaid," replied Pennsylvania GOP Sen. Pat Toomey. "There are no cuts to Medicare. Nobody is disqualified from insurance."
At times the rally paralleled those from the past year defending the Affordable Care Act from being repealed by congressional Republicans.
Darlene Goodfellow, a self-employed real estate broker from Valrico, said while she made "significant investments" in health insurance over her life, she never filed a claim because the deductible made it partially useless. She ultimately went 21 years without seeing a doctor.
After recently signing up for Obamacare, she was diagnosed with glaucoma, high blood pressure, high cholesterol and type II diabetes. She said the most recent labs from her doctor now show that her health issues combined are "considered normal."
Repealing the individual mandate from the ACA as part of the Senate tax plan would leave 13 million fewer Americans having health insurance. But it would save the federal government $338 billion in the next 10 years, according to the CBO.
The House tax bill does repeal the student loan interest deduction.
"The bill would also increase taxes on graduate students by roughly 400 percent under the GOP house plan," said Isabel Hall, a 17-year-old senior at Hillsborough High School in Tampa. "Tuition labor that allows grad students to attend their college tuition free in exchange for working at that university will be taxed as employees. This kind of tax increase could make it financially impossible to earn a Ph.D in the U.S."
The Senate may vote on its tax reform bill upon its return to Washington next week.