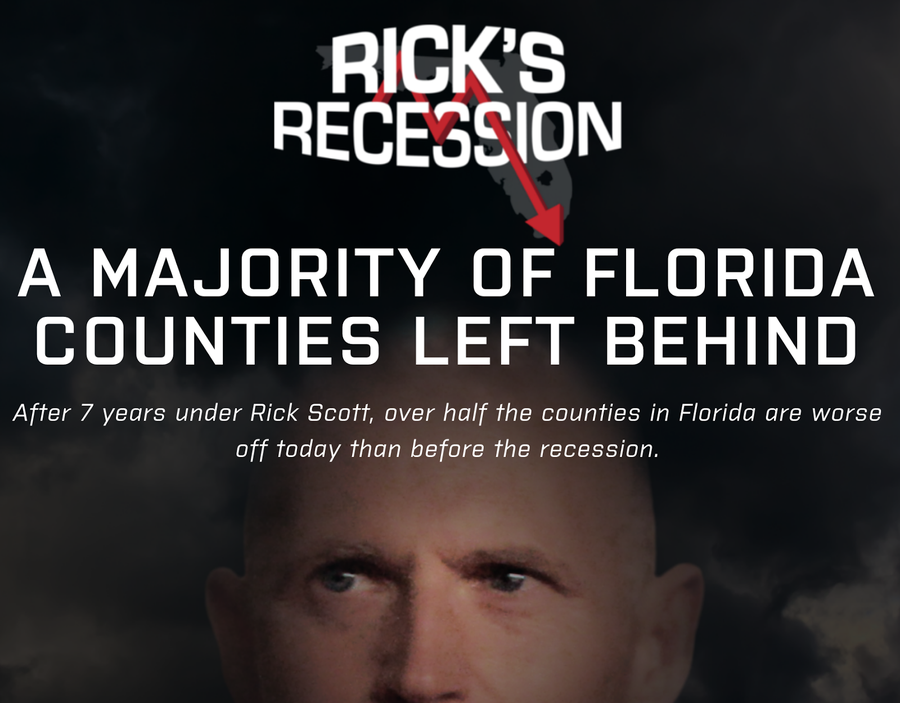 UPDATE
A progressive group is attacking Gov. Rick Scott with a new website — Rick's Recession — for what they claim is the state's unequal recovery from the Great Recession and the detrimental cost of his policies for Florida families.
The site, published by progressive group "For Florida's Future," highlights what it contends are the majority of Florida counties still mired in a recession.
"Not a single thing Scott has focused on — slashing funding for public schools, refusing to expand Medicaid for millions of low-income Floridians or giving taxpayer funding to corporations who donate to his campaigns — has helped everyday Floridians," says the group's communication director, Blake Williams.
"To think that almost half of households qualify as working poor is galling," Williams continued. "To think that over half of Florida's counties are still living in a recession that should have ended years ago is unconscionable. If we're going to dig our way out of Rick's recession, the first thing we need to do is start prioritizing working and middle-class families, something Scott clearly hasn't done."
Citing data from the Florida Chamber Foundation, the website claims that a majority of Florida's counties, especially those in rural areas, are actually worse off today than they were before the recession hit in 2008
"Nearly half of Florida households (45 percent) qualify as working poor and struggle to afford even basic necessities like health care, transportation and housing despite being employed," the site claims.
There is a petition calling on the governor to "stop prioritizing policies that help wealthy campaign donors and corporations, and start prioritizing policies that help working and middle-class Floridians."
Williams says the site will be backed by a "significant" digital ad buy on social media.
A spokesman for the governor blasted the website later Wednesday.
"This political website is chock-full of out-dated and misleading information," said John Tupps, the communications director for Scott. "Florida has been a national leader in job creation since Governor Scott took office and the state has gone from losing 800,000 jobs in the four years before he took office to adding more than 1.4 million in less than seven years."
Scott's office also said that since he took office seven years ago, "he has worked to cut taxes 75 times saving Floridians more than $7.5 billion, paid down $9 billion in state debt and made government more efficient to save even more taxpayer money."
Scott's office also cited Florida's unemployment rate of 3.6 percent, the lowest in more than a decade, and that Florida's annual job growth rate of 2.6 percent is exceeding the national rate of 1.6 percent.
Scott is beginning his final year as governor. He is strongly expected to challenge Democrat Bill Nelson for his Senate seat next year.