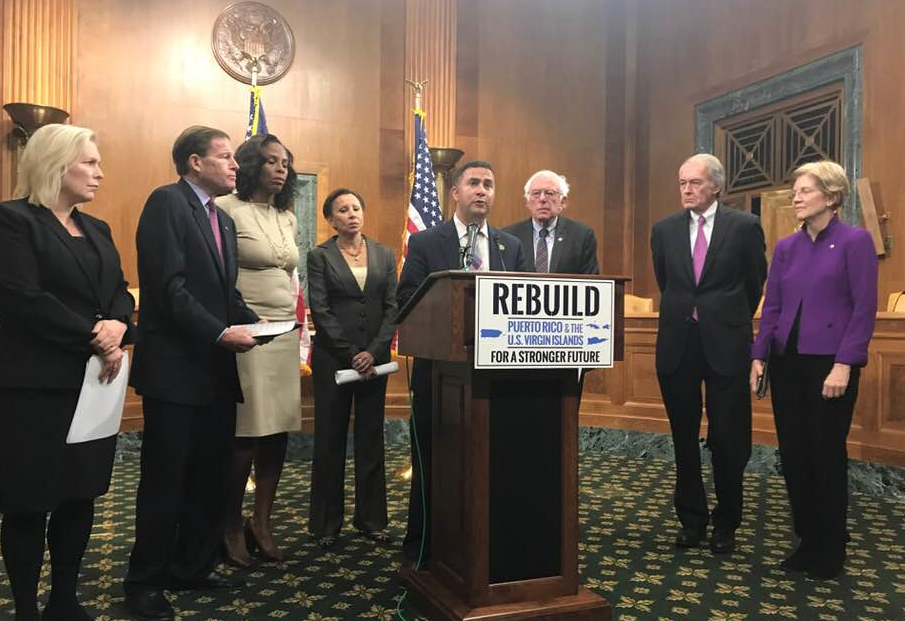 U.S. Rep. Darren Soto plans to help introduce a bill in the U.S. House of Representatives that would seek to provide comprehensive rebuilding money and resources for Puerto Rico and the U.S. Virgin Islands beyond what is needed to address just the devastation from Hurricanes Maria and Irma.
Soto, an Orlando Democrat, announced he would be joining Democratic U.S. Reps. Stacy Plaskett from the Virgin Islands, and Nydia Velázquez from New York in sponsoring the House version of a U.S. Senate bill announced late Tuesday by independent U.S. Sen. Bernie Sanders of Vermont and cosponsored by several other Democrats.
The Puerto Rico and Virgin Islands Equitable Rebuild Act, unveiled in Washington D.C. Tuesday by Sanders, Soto and the others, goes beyond just providing immediate humanitarian relief from the storms, which left the island U.S. territories in tatters, still largely without electricity and potable water more than two months later. The bill addresses longterm rebuilding of infrastructure including the schools and power systems, and equity in how the islanders are eligible for federal benefits, including Medicaid and Medicare.
It also calls for more equitable resolution of the Puerto Rico government's $75 billion debt, now being addressed in bankruptcy proceedings, and seeks seeks to provide the additional aid without forcing the territories to take on more debt.
First, though, it calls for the federal government to immediately address the humanitarian crises by "mobilizing all necessary resources and assets to restore power, provide clean drinking water and food, safe shelter and access to health care," according to a press release issued by Soto's office.
"The people of Puerto Rico have been living in a nightmare for far too long," Soto said. "We talk about power to the people. The people of Puerto Rico and Virgin Islands need power! I am proud to support this legislation that will help the islands get the lights back on and their economies going again. As we look to rebuild the islands, we have an opportunity to become an energy model for the 21st century if we invest right."
"We will stand with the American citizens of Puerto Rico and the Virgin Islands," Sanders said in introducing his bill Tuesday. "We will rebuild those islands better than before the disasters devastated them."
In addition to stepped-up immediate relief, the bill calls for:
– Puerto Rico's debt to be addressed in a way to ensure the territory can recover "with dignity" and that the recovery effort should not add additional debt.
– Replacing the "antiquated, centralized and inefficient"power systems with new grids incorporating renewable energies, including solar.
– Parity with states in benefits from Medicaid and Medicare, and equity in the amount of money available.
– Rebuilding and improving the U.S. Department of Veterans Affairs hospital and clinics.
– Improvements to public schools, colleges and childcare facilities, which the sponsors contend were "inadequate before the storms hit," noting that hundreds of public schools were closed in Puerto Rico because of Austerity measures before the storms, and the Virgin Island schools struggled.
– Investments in infrastructure to spur economic development.
– And environmental cleanup, not just from the storms, but from prior pollution and military bombing exercises on the island of Vieques.