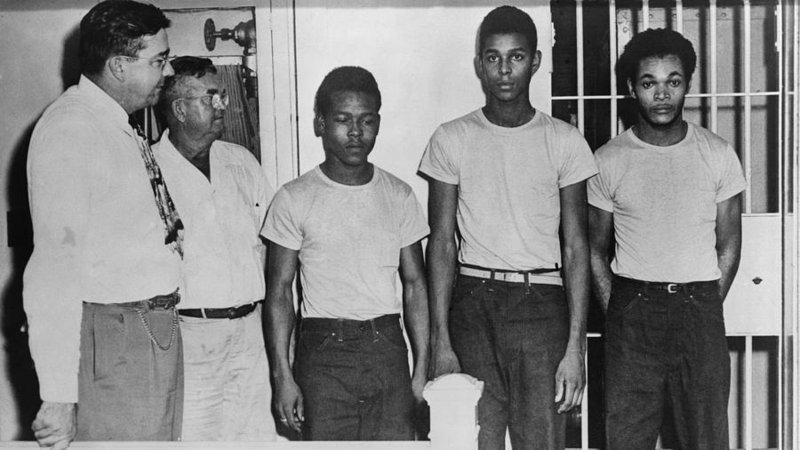 If the Groveland Four need an advocate within the Florida Cabinet in order to get posthumously pardoned for false convictions that occurred more than 60 years ago, it doesn't appear to be Gov. Rick Scott at this time.
When asked about the Groveland Four pardon request case Wednesday morning in Jacksonville, Scott offered no indication that he knew about it, or about the Florida Legislature's impassioned call last spring to bring belated justice to four young, black men who were falsely accused of raping a white woman in 1949. Two of them were killed in custody, and the other two went to prison after a trial in Lake County that has since been discredited as a Jim Crow-era injustice.
Last spring, the Florida Legislature approved  CS/HCR 631 formally apologizing to the families of Walter Irvin, Charles Greenlee, Sam Shepherd, and Ernest Thomas and urging posthumous, full pardons for Irvin and Greenlee, the only two who lived long enough to be convicted and imprisoned. The measure passed the House 117-0 and the Senate 36-0 in April.
In June, Josh Venkataraman filed a formal pardon request for Irvin and Greenlee, and a request for review, with Scott.
Wednesday, during a press availability following Scott's discussion of his education budget, a reporter reminded the governor that the Legislature wants the Groveland Four pardons and that they have not yet come. The reporter then asked Scott about his plans, and whether the pardons might occur before Christmas.
Scott replied, "Say it again?"
"The Groveland Four case."
"Yes. So, what I look at every year, my opportunities, what I can do for citizens around the state. And on issues like that, I always look at, you know, all year long, really, not just at the holidays," the governor said.
"Is that a priority for you, to pardon these people?"
"Always making sure, first off, let me make sure, the clemency process. There is the clemency process, basically goes through the Cabinet. So it comes up through a process through the Commission on Offender Review," Scott responded.
The governor then ended the press availability, said goodbye, and left.
The Commission on Offender Review has more than 22,000 requests for pardons and other forms of clemency on its docket, and takes them up in chronological-order based on their filing dates, unless a member of the Florida Cabinet intervenes and requests that any particular case be expedited.
In CS/HCR 631, the Florida Legislature explicitly asked for expedited pardons. And that was what Venkataraman formally sought from Scott with his request for review.
Without a Cabinet intervention, typically, it takes many years for any pardon request to reach the top of the pile.
A.G. Gancarski contributed to this story.