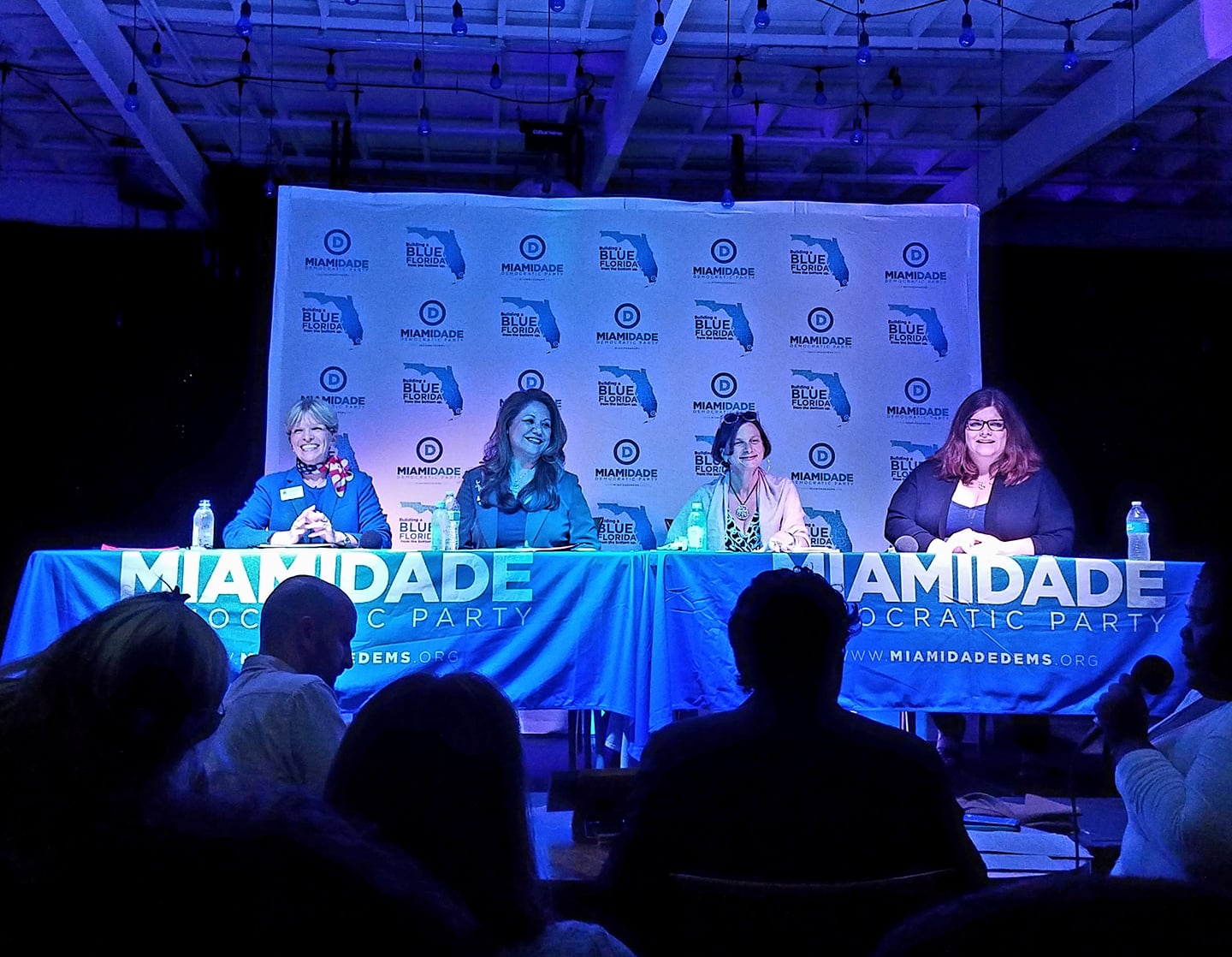 The race for the next Florida Democratic Party chair is not quite a done deal.
In a statement Tuesday, Terrie Rizzo said she has 70 percent of the 182 votes needed to win the nomination. However, Hillsborough County's Alma Gonzalez is touting new endorsements from the state's Democratic black, Hispanic and Caribbean caucuses. And Brevard County's Stacey Patel is getting some love from progressives in Gonzalez' home territory.
The three women are all in the running to lead the party in an election scheduled to take place Saturday in Orlando. The SEIU's Monica Russo is technically not eligible to compete for the seat, but she is hoping for a change in the bylaws to become the fourth official candidate in the race.
Rizzo, the Palm Beach Democratic DEC Chair, announced new endorsements that she says proves that she is getting closer to having the votes to win the nomination, but Gonzalez says the race is extremely fluid and that she's seen far too many FDP elections to know that commitments made before the election can change by the time the votes begin to get counted. And she says that the groups whose caucuses backed her today make up well over half the voters who vote in primary elections in Florida, making her "super excited."
"I am deeply honored to have the support of these caucuses and the Democrats that they represent," said Gonzalez. "They represent the New American Majority and their voices, issues and leadership will have prominent seats at the table if I am elected chair."
However, several members of the Tampa Bay Progressive Coalition told Florida Politics that they're backing Patel, the Bernie Sanders-supporting Brevard chair who is the insurgent candidate in the campaign.
Susan Smith, Jessica Vaughn, Scott Shoup, Beth Shoup, Michael Deloach, Jennifer Hart, Emily Bur, Marcus Klebe, Russell Giambrone, Jackie Simpson, Becca Fiore, Russell Hires, Beau Robichaux and Nina Tatlock all say that they are supporting Patel.
"The great thing about being a Democrat is that we all get to be who we want to be," Gonzalez responded. "There are going to be individuals who support somebody else's candidate, and that's what the beauty of democracy is."
Gonzalez serves as a Committeewoman for the Hillsborough DEC, but one member of the local Progressive Coalition expressed frustration with her role there, saying she didn't represent the entire DEC's stance on some issues, such as the "one party, one vote issue."
Florida is the only state in the nation whose votes are weighted in state party elections for the chair, meaning not a one man/woman one vote. Advocates say that is in direct violation of Democratic National Committee rules.

When asked about this, Gonzalez admits that it was an issue between her and many Hillsborough DEC members.
"I said to folks I think that we need to have a full debate, and I am not prepared to take a definitive stance in favor of something that I don't understand," she says. "I will not push forward on something until I get it. I'm really fortunate because as I've said that, openly and transparently and as clearly as I could, lots of folks said, this is what we need, and this is what's important to us, and I'm so grateful to them for sharing that with me openly."
It's not the first time that Hillsborough Dems haven't back one of their own for party chair. A dispute about the local bylaws of the Hillsborough DEC thwarted Alan Clendenin from winning the race for state committeeman a year ago, leading him to temporarily move to a far distant northeastern small county to make himself eligible for the party chair election.
Clendenin finished second to Miami-Dade's Stephen Bittel, who resigned last month after it was reported that he had made demeaning comments to women. His resignation triggered the election.