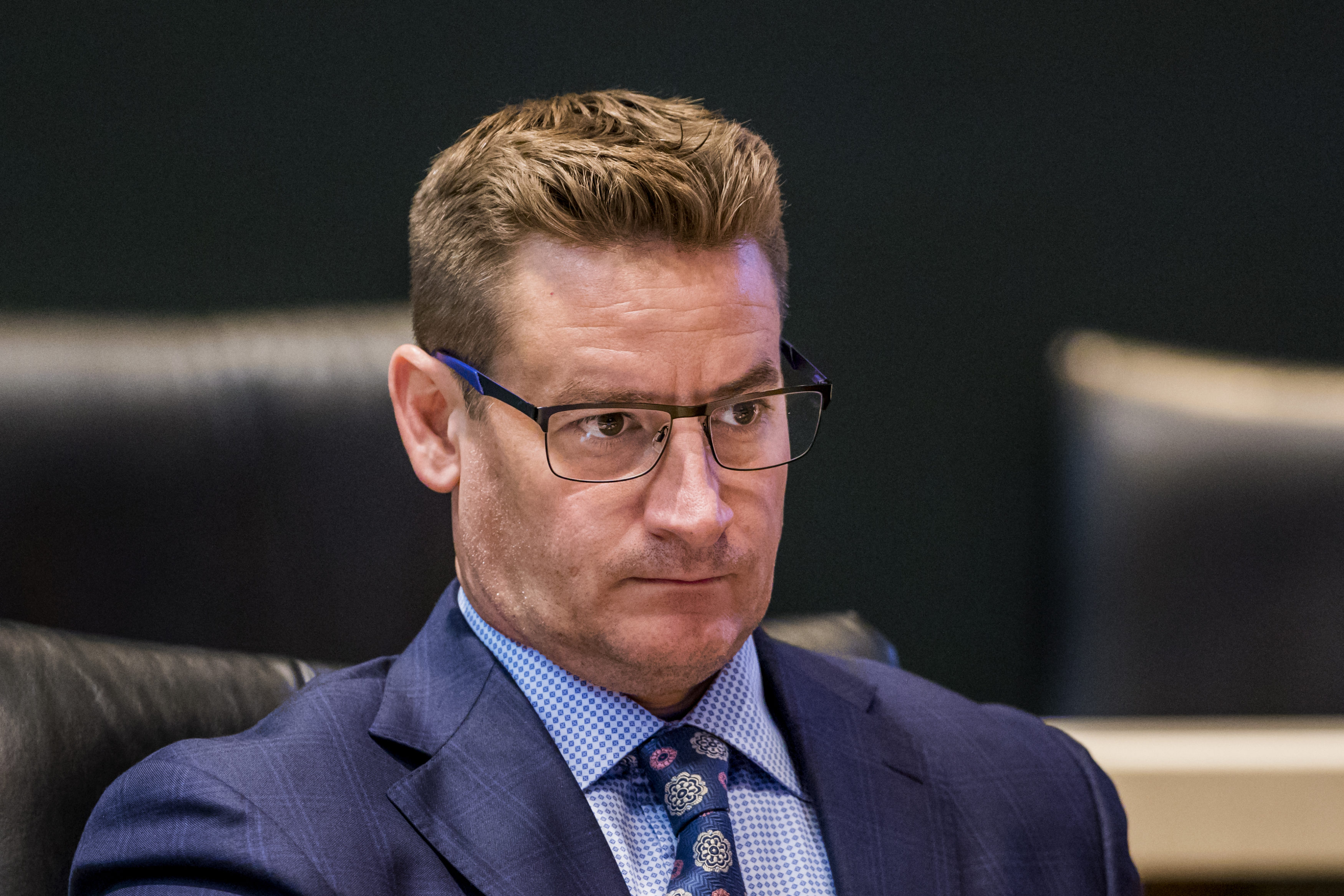 A testy meeting of the Senate Judiciary Committee Tuesday saw the deaths of three pro-gun bills, including Chairman Greg Steube's "courthouse carry" push.
SB 134, Steube's bill providing for concealed-carry permit holders to store firearms at courthouses, was joined in failure by Lakeland Republican Sen. Kelli Stargel's SB 274 and Steube's other gun-related bill, SB 148.
But not without healthy and at times aggressive debate.
Stargel's bill provided for people with concealed-weapons licenses to carry guns at private schools that are on the same property as religious institutions. She made her pro-gun stance clear before the committee.
"Some people believe that if we keep guns out of hands bad things won't happen," Stargel said. "I have the school of thought that believes the best way to stop a bad person with a gun is a good person with a gun."
Following a wave of public comments, both for and against the bill, the committee debated among themselves.
With six Republicans and four Democrats, the committee should be Second Amendment friendly, but Miami Republican Sen. Anitere Flores has been vocal in her opposition to pro-gun legislation, locking her in as an almost definite no vote.
Sen. Rene Gacia, also a Miami Republican, announced his opposition just before the vote, leading to a 6-4 tally against Stargel's bill.
Stargel's provision also had been lumped into Steube's "courthouse carry" measure, so consistent voting logic didn't bode well for its hearing later in the committee.
But there were two other provisions included in the "courthouse carry" bill that might've appealed to those in favor of tighter gun control: a resolution-like Senate position asking the federal government to revisit bump stocks and a provision for the Florida Department of Law Enforcement to forward failed background checks for gun purchases to local law enforcement for further investigation.
A representative from Florida Carry, a pro-gun group, lauded Steube for his efforts, but ultimately did not support the "courthouse carry" bill because of the provision about further investigation of failed background checks.
Before the vote, Garcia again voiced his dissent, but not without expressing his usual support for the Second Amendment.
"I for one have always, for the most part, supported the Second Amendment right and I do not believe that we should take the right of gun owners away," Garcia said. He then cited the bill's lack of addressing mental health as his reason for dissent.
With failure of his bill all but certain, Steube closed by pointing out the straw man tactics voiced by those opposing the "courthouse carry" measure, reiterating that the policy would only apply to concealed-carry permit holders. The committee had heard compelling arguments from both sides of the gun issue, with gun control supporters citing mass shootings.
"Nothing in this bill certainly allows people to purchase firearms that aren't legally allowed purchase firearms," the Sarasota Republican said. He also said none of the recent mass shootings involved concealed-carry permit holders. (The Violence Policy Center completed research on the number of shootings by concealed-carry permit holders.)
But Steube's argument was to no avail, and "courthouse carry" died by a 6-4 vote.
The committee had postponed the bill's hearing in November. Last year, it passed the measure in a 5-4 vote after Steube pledged not to expand the bill.
But it had failed, as the Miami Herald reported, when House Democrats traded its failure in a promise to kill a priority of Senate President Joe Negron.
Florida-based national coalition Campaign to Defend Local Solutions, a leading advocate for home rule, said Steube's bill was the "latest in a series of heavy-handed preemption bills moving through the Florida Legislature in recent years."
"This is a bipartisan victory for public safety and common-sense local solutions," said campaign manager Michael Alfano in a statement. "Now, out-of-touch Tallahassee politicians won't decide into which buildings guns are allowed – local communities will decide for themselves."
The other bill heard Tuesday, Steube's SB 148, would've provided for concealed-carry permit holders to not be criminalized for temporary or accidental display of their weapon, but that failed in a tie.