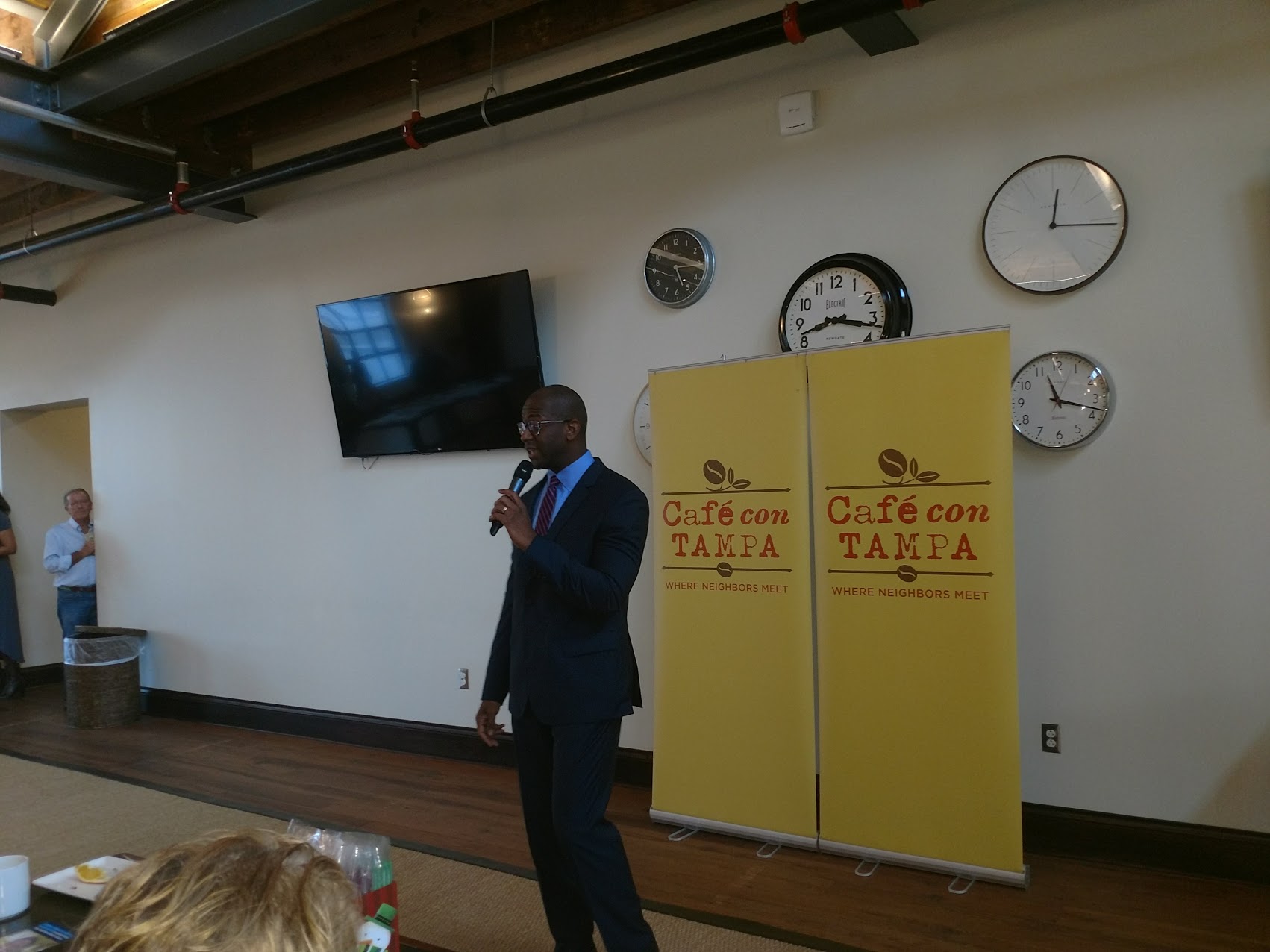 Tallahassee Mayor and gubernatorial candidate Andrew Gillum doesn't have a pick in the election Saturday for Florida Democratic Party chair, but he does believe the process needs serious reform.
"I think we've had too many instances of the pooh-bah's of the party stepping in, chasing rules, creating all kinds of situations under which we can get our person into position, and then the grassroots and the folks who fight and work every day to build the apparatus of the party just have to take it," he said Friday morning at Tampa's Oxford Exchange in the weekly Cafe Con Tampa event.
Democratic Executive Committee Chairs Terrie Rizzo of Palm Beach County, Stacey Patel of Brevard County and Hillsborough County State Committeewoman Alma Gonzalez are the three candidates up for the position to be decided in Orlando this weekend.
Gillum and the three other Democrats running for governor — Chris King, Philip Levine and Gwen Graham — are staying neutral in the race to succeed Stephen Bittel, who resigned last month following a report that he had made sexually demeaning comments to women.
Gillum said his hope was whoever is elected will begin to "modernize" the FDP, specifically alluding to the Byzantine way in which the party chooses its chair.
"I do believe we need one-person, one-vote," he said to scattered applause.
The FDP currently uses a weighted system in deciding their election for state chair. That means the bigger counties have the most votes, with Miami-Dade having the most with 62 each for their two state committeeman and state committeewoman. Hillsborough County has 68, or 34 to their state committeeman (Russ Patterson) and state committeewoman (who happens to be Gonzalez).
By contrast, small Bradford County in northern Florida has only two overall votes, one each for their respective committee persons. A one-person, one-vote change would not reduce the number of votes that the larger counties have but would expand the number of voters in each county, meaning that the committeeman and committeewoman would not have the only votes.
"I get the full nature of it because we want to make sure that we get the full representation of these areas that are strongly Democratic, but I think that we can have individuals having those votes," he said. "This idea of the weightiness of it I think makes it a little bit difficult for insurgent candidates to come from, frankly nowhere and choose to compete in this race to become the party chairperson."
If there's any "insurgent" in the race, it's Patel, who only got in after making a public request on Facebook to see if there was grassroots support to help her campaign. She has been in the Florida Democratic Party for considerably less time than both Rizzo and Gonzalez.
Patel and Gonzalez each announced union endorsements Friday.
Gonzalez, a former attorney for AFSCME, the American Federation of State County and Municipal Employees, formally endorsed her bid for party chair.
The National Nurses United (NNU), the most significant organization of registered nurses in the United States, announced Thursday they are backing Patel in the race.