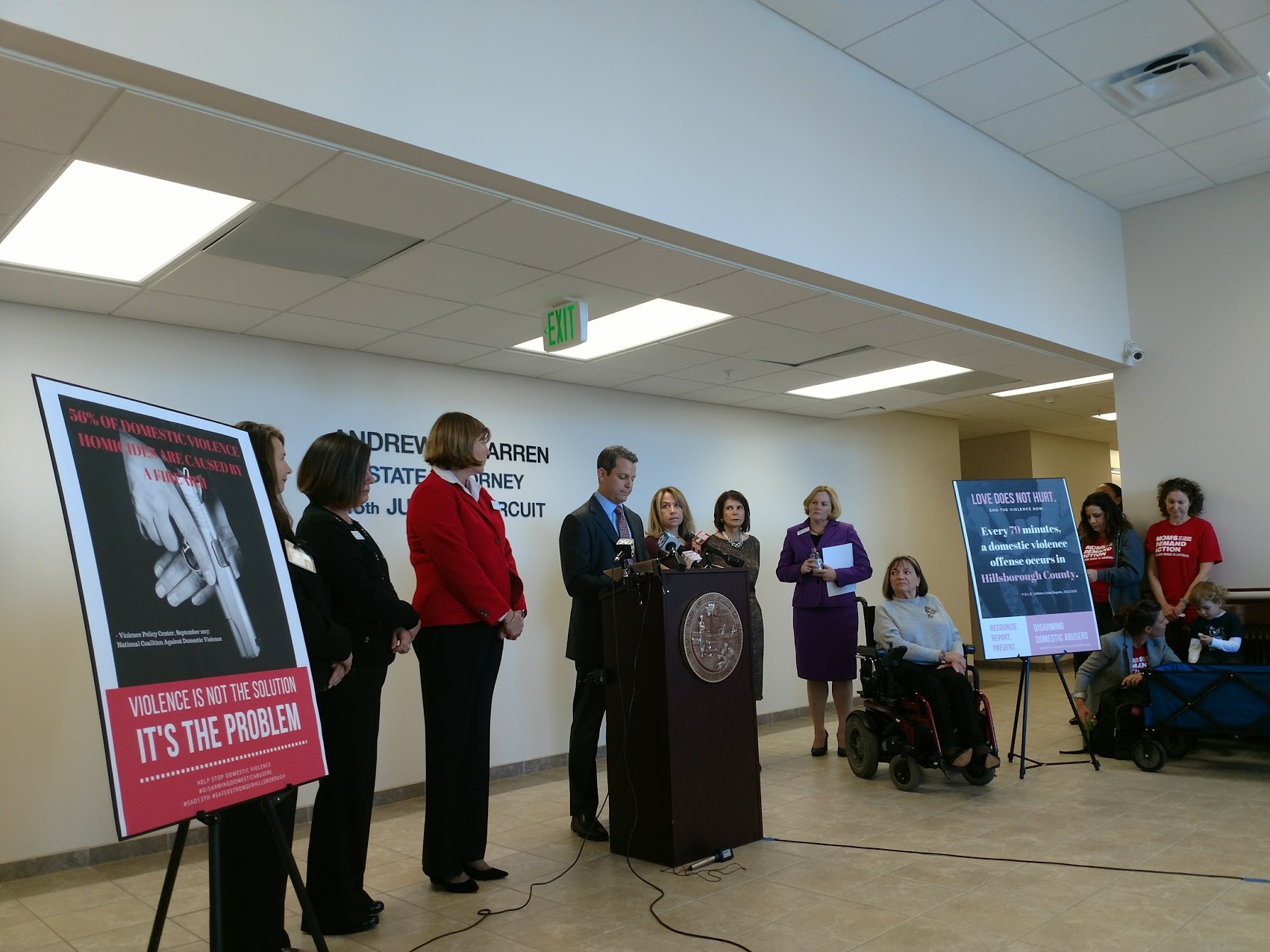 Every day of the year, Americans are shot to death by either current or former domestic partners. From 2012 to 2017, Hillsborough County experienced 61 domestic violence homicides, with over 200 such deaths in Florida last year alone.
Citing those statistics, Hillsborough County State Attorney Andrew Warren vowed Wednesday to take action, saying he refused to stand by while "our mothers and daughters and sisters and friends have been assaulted, threatened and killed by domestic abusers."
Warren's office will "aggressively" seek relinquishment of firearms from domestic violence defendants who are prohibited by law from possessing a firearm, as well as those who have been charged with an act of domestic violence based upon a probable cause determination.
Upon responding to a domestic violence incident, the office would then work with law enforcement for an initial risk assessment and inquiry related to the offender's access to a firearm.
Warren says prosecutors will utilize that information and conduct a background check to determine whether the perpetrator is legally prohibited from possessing a gun. At a defendant's first appearance or bond hearing, the State Attorney's office will seek relinquishment of any firearms as a condition of pretrial release.
The office will also seek the surrender of any firearms and prohibit the possession of firearms, as part of plea agreements, entry into diversion programs, and probation in domestic violence cases.
A perpetrator's possession of a firearm — in violation of the pretrial release conditions or probation terms — can serve as the basis for additional criminal charges.
State and federal laws prohibit the possession of a firearm by anyone convicted of domestic violence, but Warren says "inconsistent enforcement" of those laws has allowed abusers access to firearms. He pledges that his office will "aggressively" enforce existing gun laws to protect victims of domestic abuse.
Speaking to a group of reporters outside his office at the downtown Tampa county courthouse annex, Warren was surrounded local officials affiliated with agencies that protect women suffering from domestic violence. Also at the event were representatives of two gun-control groups, the Florida Coalition Against Gun Violence and Moms Demand Action Against Gun Violence.
These actions can only be performed through cooperation with local law enforcement agencies, and Warren has consulted closely with Hillsborough County Sheriff Chad Chronister, Tampa Police Chief Brian Dugan, Temple Terrace Chief Kenneth Albano and Plant City Chief Ed Duncan on the initiative.
"By taking and keeping guns away from abusers, we will reduce domestic violence," Warren said. "We will help victims overcome the overwhelming, paralyzing fear that comes from having an armed, abusive partner, and we will hopefully save lives."
"We think that the disarming domestic abusers initiative … is going to result in a safer community, safer for the victims and survivors, safer for their children and families, but safer for all of us," said Mindy Murphy, president and CEO of The Spring, a Tampa-based group that advocates for victims of domestic abuse, referring to the link between domestic violence abusers and mass shootings.
Using FBI data and other publicly available information, gun control group Everytown for Gun Safety analyzed mass shootings in the United States from 2009 to 2016, defining a mass shooting as one in which four or more people were shot and killed, not including the shooter.
Of 156 shootings fitting that category, the analysis found 54 percent were "related to domestic or family violence."
Shortly after Warren wrapped up his news conference, New York Gov. Andrew Cuomo announced he will submit a proposal next year that all individuals convicted in domestic violence cases (including misdemeanors) will be required to forfeit any guns in their possession.