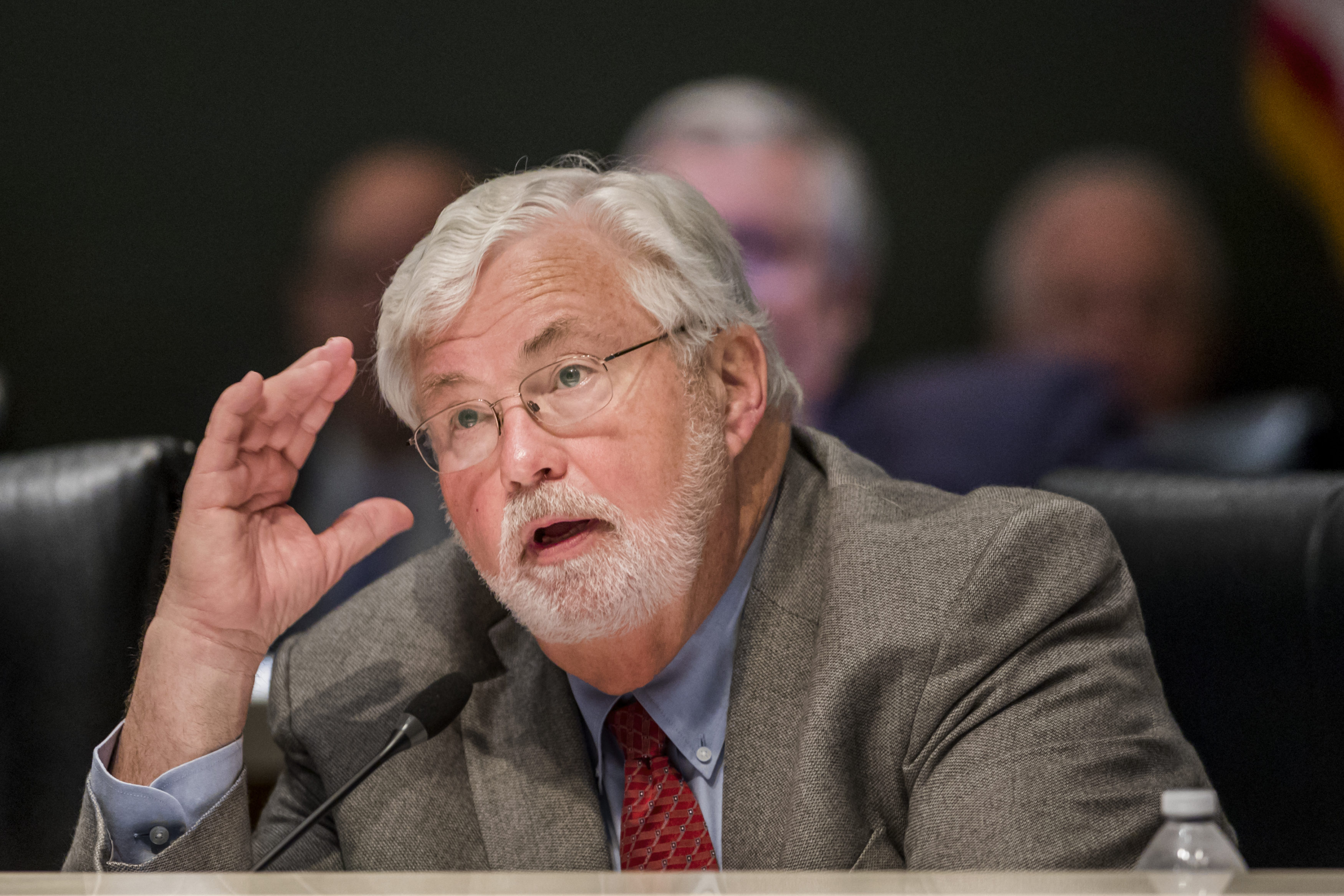 UPDATE – JACK LATVLA HAS RESIGNED. That story is here.
Updates before the resignation:
— A second investigation into sexual harassment claims against Jack Latvala, prompted by a POLITICO Florida story, has turned up a witness who bolsters an allegation that the senator would offer to trade sex for favorable votes on legislation. That story is developing.
— Gov. Rick Scott on Wednesday morning called on Latvala to resign from the Florida Senate. That story is here.
— Latvala's attorney, Steve Andrews, said his client didn't know about a quid pro quo allegation that the senator offered his favorable vote for legislation in return for sexual favors. That story is here.

— The Senate has turned evidence against Latvala over to law enforcement, a move recommended as part of an independent investigation into sexual harassment allegations against the veteran lawmaker. That story from POLITICO is here.
— The senator posted on Facebook that he's not going to let politics spoil his family's Christmas. That story is here.
---
Sen. Jack Latvala "on multiple occasions" offered to trade his vote for sex with a female lobbyist, according to a report released Tuesday by the Senate, which recommends the sexual harassment allegations against the veteran lawmaker be investigated by criminal prosecutors.
The bombshell finding came toward the end of Special Master Ronald V. Swanson's report into a complaint filed by Rachel Perrin Rogers, a top legislative aide for future Senate President Sen. Wilton Simpson, in which she accused Latvala of sexually harassing her and assaulting her. (That report is below.)
After interviewing dozens of witnesses for more than a month, Swanson found probable cause that Latvala has "inappropriate physical contact" with Perrin Rogers, pushing forward an investigation that could lead to the powerful senator's expulsion.
"The evidence demonstrated a progression in conduct, over time, from unwelcome comments and nonverbal behavior to unwelcome touching," Swanson wrote in the report.
Testimony about the votes-for-sex accusation, however, "raises issues of public corruption and ethics violations not within the scope of this report," Swanson wrote. The allegation "is supported by explicit text messages."
Allegations of "quid pro quo conduct (physical contact or sexual intimacy in exchange for support of legislative initiatives) made by a witness other than the complainant …, appear to violate ethics rules, and may violate laws prohibiting public corruption," he added, recommending "these allegations be immediately referred to law enforcement for further investigation."
"I just did not foresee this going down this way. None of my legal team foresaw this going down this way. I really thought we were in pretty good shape," Latvala told the Times/Herald Tuesday night. "I've got to figure out how much I've got to spend, and how much emotion I want to put in it, since I'm term-limited anyway.
"I can fight this, and we can fight about it all session," he added. " … I haven't even read the whole complaint. I just skimmed through it … I've got to see what the next step is." Latvala has stepped down from his influential perch as Senate Appropriations Committee chairman while the investigation is underway.
Swanson, a retired appellate judge, interviewed an unnamed Senate employee who previously worked as a lobbyist and has known the 66-year-old Latvala, a Clearwater Republican, since 1995. Her name was edited out of the report released to the public.
"For a number of years, (she) had a close personal relationship with Sen. Latvala that was, at times, intimate. (She) testified that when Latvala became engaged to his current wife, she thought the sexual nature of her relationship with (him) would stop. It did not," the report said.
From 2015 through 2017, Latvala "touched and groped her in an unwelcome manner every time she went to his office, and she believed tolerating such behavior was part of her job as a lobbyist," according to the report.
"Latvala placed his hands up her dress, touched the outside of her underwear at her vaginal area, her buttocks, and her breasts," it said.
Latvala also "expressly intimated to her on multiple occasions, that if she engaged in sexual acts or allowed him to touch her body in a sexual manner he would support particular legislative items for which she was lobbying," Swanson wrote. The woman told him she "felt it was something (Latvala) felt entitled to."
The most recent text message "purportedly from Latvala concerning possible support for legislation in exchange for a sexual encounter was sent in February of 2016," the report said. The woman "testified she finally left her work as a lobbyist in large part so she would never have to owe (Latvala) anything."
The female employee told Swanson she doesn't Perrin Rogers know well, but her "testimony is corroborative of allegations contained in Ms. Rogers sworn complaint," according to his report.
The findings detailed in the report will now be reviewed by the Senate Rules Committee on Jan. 11 — two days after Session starts — and they will consider the recommendations made by Swanson. He said a "full range of available sanctions should be considered" against Latvala and also recommended sexual harassment training for Senate members and staff, and a review of the Senate "culture."
If the committee, chaired by Sen. Lizbeth Benacquisto, recommends a punishment, which could range from a reprimand to expulsion, it would have to be imposed by a two-thirds vote of the full Senate.
If he is expelled, the Republican gubernatorial candidate will "most likely" take the case to court, said one of his attorneys, Steve Andrews, citing concerns over "procedural due process" during the Senate investigation.
Perrin Rogers, 35, filed a formal complaint Nov. 5 with the Senate Rules Committee alleging Latvala assaulted her, touched her inappropriately at a bar, and subjected her to verbal sexual harassment for four years.
Throughout the investigation, Latvala vehemently denied the allegations and in an attempt to defend himself, his legal team released sworn statements from witnesses that took aim at Perrin Rogers' credibility.
That included an affidavit from Lillian Tysinger, a former Senate Majority Office colleague of Perrin Rogers who claimed she boasted about sabotaging people's careers.
Latvala received backlash for his handling of the investigation, and Sen. Lauren Book, a Democrat and close ally of his, filed a formal complaint and accused him of interfering with the investigation.
She denounced his defense tactics as a public attack on Perrin Rogers, which could deter other sexual harassment victims from coming forward. She did not call on him to resign.
Book was not the only one. The 39-member Senate was mostly mum during the investigation. Just two of the 15 Senate Democrats called for Latvala to resign, even when the Florida Democratic Party called on him to do so.
But as Latvala fought career-threatening allegations, those claims inspired Attorney General Pam Bondi to call for legislation that aims to protect sexual harassment victims, and Gov. Rick Scott — who called Latvala a "distraction" — to issue an executive order to strengthen sexual harassment policies in state agencies in the executive branch.
The Senate has yet to conclude a different investigation stemming from sexual harassment allegations detailed by five other unnamed women in a POLITICO Florida report. Leading the investigation is Tampa-based attorney Gail Holtzman.
Her findings will go to the Office of Legislative Services.
Here is the report: