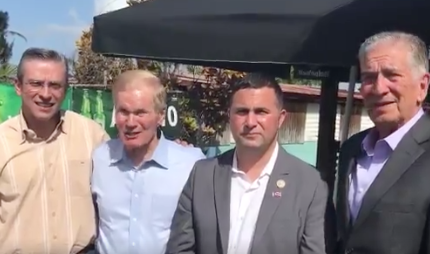 U.S. Rep. Darren Soto announced Wednesday he is forming a Central Florida task force to advise on matters involving the the tens of thousands of Puerto Ricans who have fled the island for Central Florida to escape the island's plight following Hurricane Maria.
The regional Task Force on Puerto Rico Arrivals to Central Florida was announced to consist of elected officials from Seminole, Osceola and Polk counties. It will hold its first official meeting in Central Florida starting at 4 p.m. Thursday afternoon, to discuss effective ways to tackle the housing, educational, employment and healthcare challenges facing new Puerto Ricans in the area, according to a news release.
Soto, a Democrat from Orlando, went to Puerto Rico Wednesday with Democratic U.S. Sen. Bill Nelson, meeting with Gov. Ricardo Rosselló, former Puerto Rico Gov. Alejandro Garcia Padilla, and others to discuss the island's status, much of it still without power or water, and federal responses and laws, including the new excise tax included in the federal tax reform bill approved last week. Together, the pair also plan to hold a separate 1 p.m. meeting Thursday with Puerto Rican community leaders in Central Florida.
Soto's office described the task force as bipartisan, but like the vast majority of Puerto Rican relief efforts and events arranged in Central Florida in the past three months, it is largely uni-partisan, at least in its initial makeup. Immediately after Hurricane Maria struck Puerto Rico on Sept. 20-21, Nelson and Republican U.S. Sen. Marco Rubio appeared together and vowed to work together, and have made several joint statements since. Gov. Rick Scott organized a roundtable discussion in late October in Kissimmee that included Democrats and Republicans. But otherwise, bipartisan crossovers have been rare at numerous events involving Central Florida political leaders dealing with assistance for Puerto Rico and the evacuees coming to Florida.
Among the regional Task Force on Puerto Rico Arrivals to Central Florida members announced by Soto's office are U.S. Reps. Val Demings of Orlando and Stephanie Murphy of Winter Park; state Sen. Victor Torres of Orlando; state Reps. Amy Mercado and John Cortes; Osceola County Commissioners Brandon Arrington and Viviana Janer; and Osceola County School Board Chairman Kelvin Soto, all Democrats.
Soto's office said Republican office holders who have been very active in Puerto Rico and evacuee assistance efforts, such as state Reps. Rene Plasencia and Bob Cortes, and Orange County Commissioners Jennifer Thompson and Pete Clarke, were invited and that he hopes they will join the effort.
Recently when Plasencia was asked why Democrats were not active in relief and assistance efforts he, Cortes, and other Republicans were helping organize and run, he said the same thing, that Democrats had been invited, and he hoped they would join the effort.