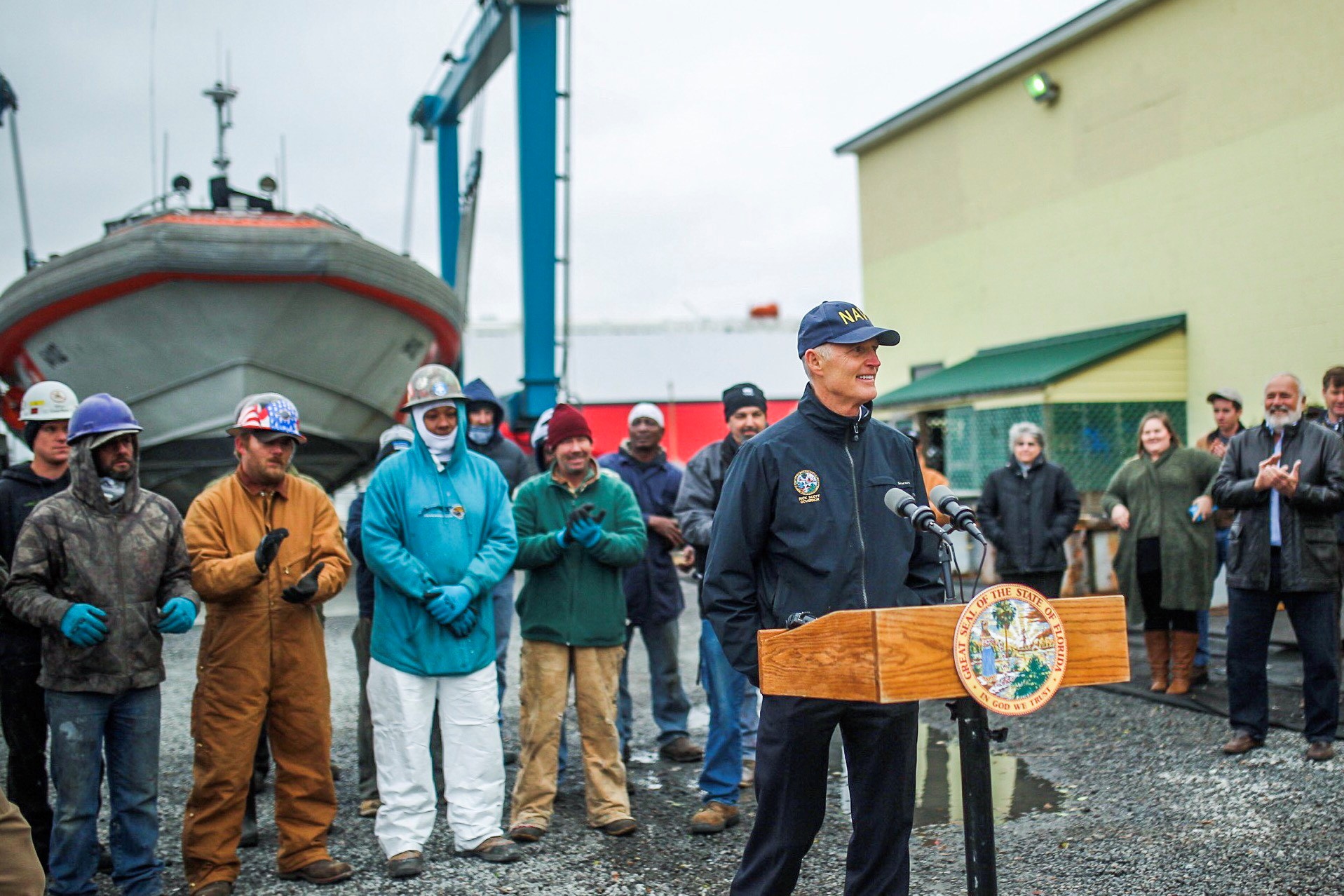 Tuesday saw Florida Gov. Rick Scott in Jacksonville, trumpeting job growth at St. Johns Marine Group, a full-service ship repair and maintenance company in Jacksonville.
The company has added 20 jobs recently.
Events like this are familiar scenes for media in Northeast Florida and urban areas of the Sunshine State.
Scott touts job creation, but there are caveats raised by the critics.
Of the 17,045,000 in Florida's civilian non-institutional population, 9,754,000 are employed — a rate of 56 percent. This is below a 60 percent rate nationwide, and mirrors a typical 4 percent lag between Florida (with its large 65+ population) and the country.
Job creation has yet to turn that tide.
The jobs, of course, aren't everywhere. The leaders in unemployment rate in the state are Hendry County (7.3 percent), Hardee County (6.1 percent) and Citrus County (5.3 percent).
Per the Florida Chamber, 53.7 percent of Florida counties have fewer jobs than they did in 2007.
And there are questions that have been raised about the quality of such jobs, in terms of ability to live off the wages of what used to be a traditional 40 hour work week.
Florida Politics asked Scott about these metrics, including the perception among many that Florida's wave of job creation privileges quantity over quality.
Scott pivoted from those concerns, instead hewing to a more familiar narrative.
"It's been exciting what's happened these last seven years. We've added 1.5 million jobs. Our unemployment's gone from 10 percent down to 3.6 percent. Every county in the state has seen a drop in their unemployment rate," Scott said.
"We're going to continue to work both in our large counties and our rural counties to get more jobs," Scott said.
"What you see in our state is the labor force is growing at multiples of what the rest of the country is. The job market is growing at multiples of what the rest of the country is. People are coming to Florida. Numbers came out last week — over 340,000 people have moved to the state since last June. We've had a significant number of people move here from Puerto Rico and they're getting jobs," Scott said.
"We still have about 230,000 job openings in this state, so this state's on a roll."
 While some numbers speak to the state being on a roll, others paint a different picture — that of a state still struggling with the challenges of 21st century economic diversification.