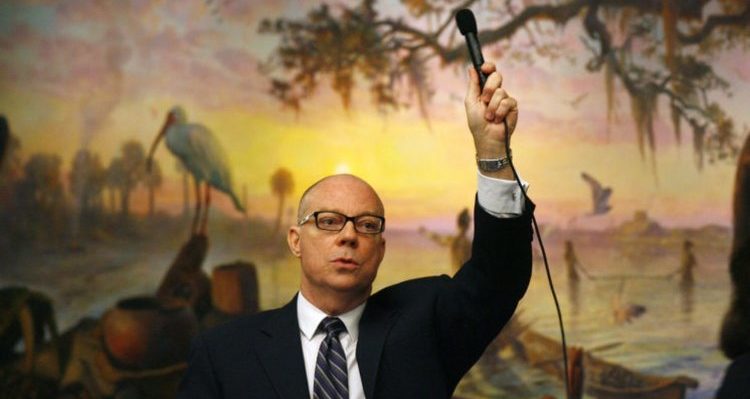 Democratic state Rep. David Richardson announced Wednesday that he brought in more than $500,000 in the fourth quarter for his campaign to replace retiring U.S. Rep. Ileana Ros-Lehtinen in Florida's 27th Congressional District.
In a news release, Richardson's campaign said it closed out the year with over $1 million in total receipts including approximately $505,000 raised from Oct. 1 through Dec. 31.
"I'm honored to have received such tremendous support from a broad spectrum of Democrats. My campaign for Congress is deeply rooted in my commitment to building a more equitable and inclusive society for all Americans," Richardson said.
That broad spectrum included more than 8,700 individual donors who combined to make more than 12,000 online contributions. Those small-dollar donors gave an average of $31.58, with about 97 percent weighing in at $100 or less, while nearly nine-tenths were for $25 or less.
In his third-quarter report, Richardson touted 2,400 donors with about 80 percent of them pitching in $25 or less.
The campaign news release also said the fourth-quarter report would show $250,000 in loans from Richardson, which will put the South Florida state lawmaker with about $850,000 on hand in his campaign account. His prior report, which covered July 1 through Sept. 30, also included $250,000 in candidate loans.
The campaign finished the third quarter with $517,254 raised and $441,183 cash on hand. Given Richardson's projected fourth-quarter tally, his campaign spent approximately $96,000 during the three-month window.
The retired CPA and current HD 113 representative is one of nine Democrats vying for Ros-Lehtinen's seat, which is shaping up to be one of the biggest battlegrounds of the 2018 election cycle.
CD 27 was one of just 23 House seats nationwide — and one of two in Florida — to vote in favor of Hillary Clinton for president while also sending a Republican to Congress. Clinton won the district by nearly 20 points, while Ros-Lehtinen won re-election 55-45.
Richardson's chief opponents in the Democratic Primary include former federal judge Mary Barzee-Flores, Matt Haggman, state Sen. Jose Javier Rodriguez, and Miami Beach City Commissioners Kristen Rosen Gonzalez and Ken Russell, each of whom boasted six-figure hauls in the third quarter.
Given the stiff competition, Richardson also used his fundraising announcement to talk policy.
"We progressives must strive to implement a single-payer health care system, tackle climate change once and for all, reform our prison and criminal justice systems, and protect as well as expand upon the great strides we have made in this country on the rights of women, Hispanics, African Americans, the LGBT community, and other minority groups. I look forward to continuing our grassroots focused campaign, and I thank my supporters for believing in this campaign." he continued.
The primary election is set for Aug. 28, and the winner will move on to the general election to face one of the five Republicans looking to take over for Ros-Lehtinen.