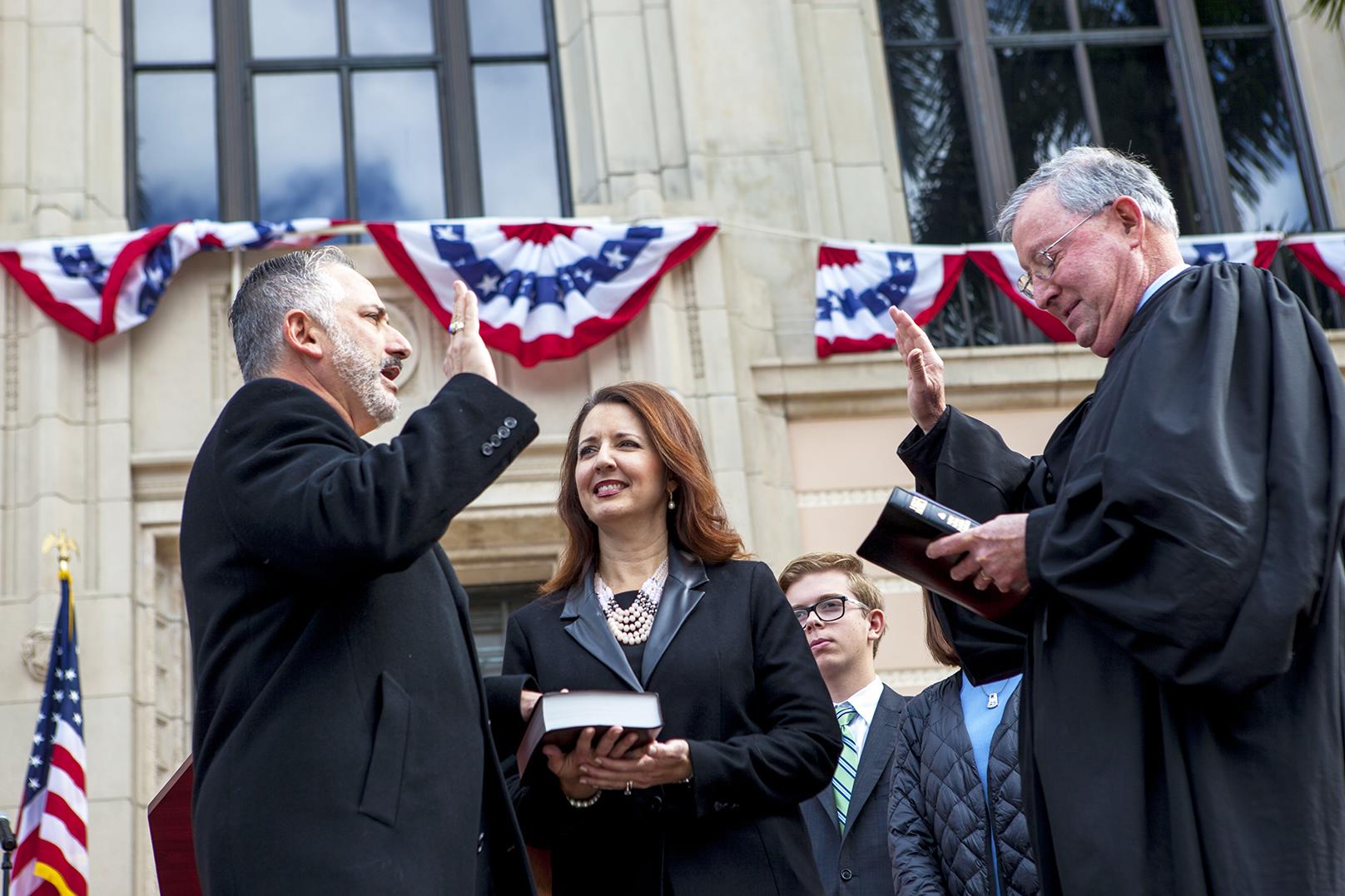 Calling St. Petersburg a city of "progress and progressivism," Mayor Rick Kriseman spoke confidently about intentions for the next four years as he was sworn into office for his second inauguration.
Speaking for just over ten minutes on a crisp afternoon in front of City Hall to an audience of more than 150 friends, family members and elected officials, the mayor began his speech by checking off a list of significant proposals that he focused on when first sworn into office in 2014: Making major breakthroughs on poverty in South St. Pete, beginning construction of a new police station and breaking the impasse on stadium negotiations with the Tampa Bay Rays.
But like Tampa Mayor Bob Buckhorn before him (who was also in the audience), Kriseman acknowledged that St. Pete still has miles to go when it comes to its (lack of a sufficient) transportation infrastructure.
"The fact remains the Tampa/St. Pete area is woefully behind our competition," he said, "and it's costing us in countless ways."
That is why Kriseman said he will work on bringing the Cross-Bay Ferry project back later this year, as well as working to interconnect St. Pete with other Florida's other urban cites "via more diverse mass transit options."
"Now we can have debates about the merits of rail or other alternative transportation, and we can debate on how to pay for it, but there's no debating that the status quo is simply not acceptable," he said to cheers.
Kriseman also talked about the over $100 million that has already been expended to rebuild its sewage system, an issue that the mayor admitted during the campaign he could have handled better and one that his critics thought could have ultimately denied him another four years in office.
With the campaign over, Kriseman said he hoped that the issue will "now be less of a political football" and that even greater progress can be achieved "without unnecessary distractions."
Kriseman touted the city's partnership with Duke Energy on a LED Street Lighting project that will kick off later this week, and said that while he "believes in market forces," he intends to continue speaking publicly about his controversial idea to limit new businesses on Central Avenue only to small and independently owned establishments, a proposal met with some skepticism by Gina Driscoll and Brandi Gabbard, the two latest members of the Council sworn into office earlier Tuesday.
Gabbard and Driscoll's elevation to the board now makes the City Council a female dominant organization, with five women and three men forming the eight-member board. Referring to Deputy Mayor Kanika Tomalin, City Attorney Jackie Kovilaritch and Assistant City Attorney Jeannine Williams, the mayor mentioned the reality that there will as many as eight different women sitting on the dais during council meetings this year.
Kriseman also shouted out to the fact that over 20,000 people marched in downtown St. Pete almost precisely a year ago for women's rights, "and for every other right that Donald Trump wishes to deny us of."
It was appropriate for Kriseman to name check the president in his speech, since Trump served as a regular presence in the recently concluded campaign, as Kriseman's campaign team hammered former Mayor Rick Baker for his inability to criticize the Republican standard-bearer in what became an intensely partisan contest.
Now that the rigors of reelection are behind him, it's apparent that Kriseman may be a little more direct in his communications. He boasted about how the city can now pursue a Cuban consulate (something his friend Buckhorn has no intention of doing in Tampa), a joint effort with Tampa to woo Amazon to make the Bay area its second corporate home, and potentially take a case on campaign finance reform to the U.S. Supreme Court.
And about the Rays, who have now identified a site in Tampa for a possible new stadium, Kriseman said the city has enough confidence to allow them to look around because St. Pete will be fine with or without them.
"We'd love for you to choose us, but we'll be just fine without you too," eliciting a smattering of laughs and brief applause.
In addition to Buckhorn, other elected officials at the event included Clearwater Mayor George Cretekos, state legislators Ben Diamond, Wengay Newton and Chris Latvala.
(Photo credit: Kim DeFalco).