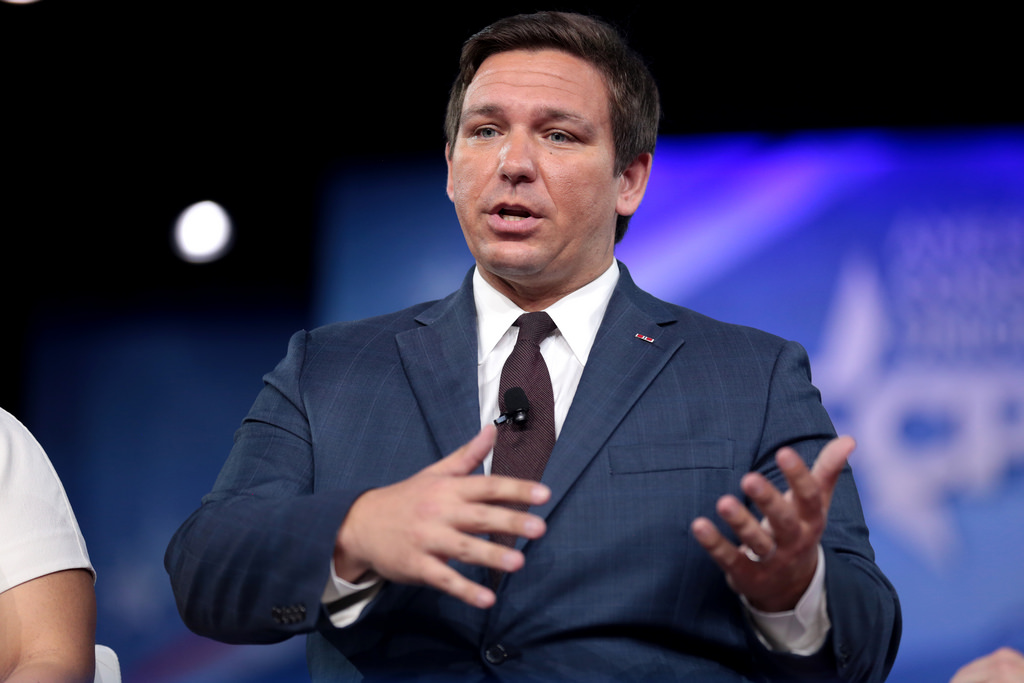 True to his word, Rep. Ron DeSantis made news on Fox and Friends.
On Friday, he announced his decision to run for Florida Governor — a decision that seemed made months ago, with the groundwork for a campaign being laid slowly and surely.
"As you remember a few weeks ago, the president tweeted support for me as a candidate for Governor of Florida. So, today we're going to be filing the paperwork to begin that effort," DeSantis said.
"As a military officer, an Iraq veteran, and a proven conservative, with the support of the president, I'm in a position to exercise the leadership that can build on the great work that Governor Rick Scott has done to advance economic opportunity, reform education, and drain the swamp in Tallahassee that needs to be drained just like Washington," DeSantis added.
"While this is an important step towards running for Governor, an official campaign kick-off will take place later this month," DeSantis continued.
DeSantis rolled out an impressive financial team earlier this week, with more than 50 Floridians stretching from Miami through the Panhandle and featuring Palm Beach billionaire Thomas Peterffy; and more than two dozen national names, topped by Las Vegas casino mogul and conservative political rainmaker Sheldon Adelson.
DeSantis' state financial leadership team includes Republican donors and timeshare moguls Jackie and David Siegel of Windermere; Home Depot co-founder Bernie Marcus; Palm Beach fundraisers Gay and Stanley Gaines; and Art Hudson of Orlando.
In addition to Adelson, the national committee includes David Bossie of Dallas, who is chairman of the Citizens United political activism organization and was a deputy campaign director for Trump; Republican financier Rebekah Mercer of New York; Dick Uihlein of Chicago, a big backer of U.S. Sen. Ted Cruz and Club for Growth; and Christian-conservative cause financier Foster Friess of Jackson Hole, Wyoming.
The GOP race for Governor is shaking out to be Tallahassee interests backing Putnam versus DC interests backing DeSantis. This raises interesting questions for Richard Corcoran, the House Speaker and undeclared candidate. Can he compete with these machines?
Putnam has on-hand roughly $15 million; he began December with more than $2.5 million in his campaign account. Putnam also added just over $1.1 million in December to his political committee Florida Grown, which started December with more than $12.8 million on hand. DeSantis, no doubt, will be able to catch up. Billionaire-stacked finance team aside, he has nearly $1.7 million in his U.S. House account that can be transferred into the gubernatorial run, and a political committee, Fund for Florida's Future, which has about $2 million on hand.
Corcoran's Watchdog PAC had nearly $4.69 million on hand when December began.
DeSantis also touted this week a robopoll showing him leading Adam Putnam in what will be — at least until the end of the Legislative Session — a two-man race for the GOP nomination for Governor.
POLITICO popped the survey this week.
"The automated 'robopoll,' which had a sample of 1,423 likely GOP voters, had DeSantis with 28 percent, ahead of state Agriculture Commissioner Putnam (25 percent), and Corcoran (3 percent)," the POLITICO write-up asserts.
President Donald Trump on Dec. 22 tweeted: "Congressman Ron DeSantis is a brilliant young leader, Yale and then Harvard Law, who would make a GREAT Governor of Florida. He loves our Country and is a true FIGHTER!"'
That endorsement of DeSantis matters bigly also. 84 percent of Republicans polled view Trump favorably. And 36 percent see themselves as "Trump Republicans."
Notable: this is the only survey that shows DeSantis even within the margin of error of Putnam — but that could change soon.
Florida Politics asked Florida Gov. Rick Scott about the Putnam/DeSantis race this week.
The Governor was less than voluble, saying only that he had not endorsed.
A sharp response came from the Putnam campaign Friday morning, in a press release that called DeSantis a "Washington insider" running for another office after a "failed U.S. Senate campaign" in 2016.
"Floridians need a Florida First conservative like Adam Putnam to serve them as their next Governor, not a Washington D.C. insider," said Putnam spox Amanda BevisB.
"In true Washington insider fashion," Bevis added, "Congressman Ron DeSantis announced his latest campaign from an empty TV studio to broadcasters in New York. DeSantis is a typical Washington politician who is focused on nothing more than his next promotion. Last election he wanted to be a Senator – now he wants to be Governor…Floridians deserve better."
Democratic candidates were eager to welcome DeSantis to the fray.
Democratic frontrunner Gwen Graham asserted that "Ron DeSantis running as Trump's hand-picked candidate with the backing of out-of-state billionaires may endear him to the most partisan primary voters, but he is too extreme for Florida."
"While DeSantis has dedicated his time in Congress to protecting Trump from Mueller and becoming a Fox News star," Graham added, "we look forward to a vigorous debate on the real issues that affect Florida families most. Ron DeSantis's support for privatizing public schools, his denial of climate change and his votes to cut Medicare are just out of touch with Florida families."
Tallahassee Mayor Andrew Gillum, in a Tweet, called DeSantis Trump's "handpicked candidate."
Miami Beach Mayor Philip Levine went further, calling DeSantis an "alt-right extremist" in a fundraising email.
Material from Florida Politics' Scott Powers and the News Service of Florida was used in this post.