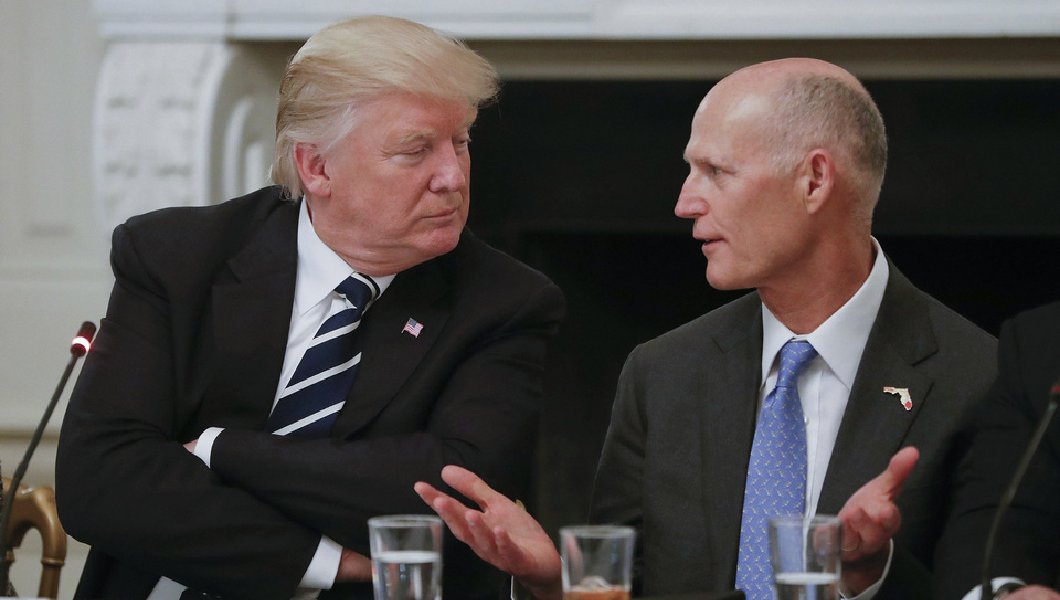 Florida is officially off the table for offshore oil drilling.
U.S. Interior Secretary Ryan Zinke made the announcement late Tuesday with Gov. Rick Scott at the Tallahassee International Airport.
"As a result of discussion with Governor Scott and his leadership, I am removing Florida from consideration for any new oil and gas platforms," Zinke said in a statement issued after the announcement.
After talking with @FLGovScott, I am removing #Florida from the draft offshore plan. pic.twitter.com/lZIfdCDNOR

— Secretary Ryan Zinke (@SecretaryZinke) January 9, 2018
Zinke explained that he was directed by President Donald Trump to "rebuild our offshore oil and gas program in a manner that supports our national energy policy and also takes into consideration the local state voice."
The latter stipulation is how Scott secured a victory.
"I support the governor's position that Florida is unique and its coasts are heavily reliant on tourism as an economic driver," Zinke said.
But Zinke went further, lauding Scott for his leadership style.
"I have witnessed Governor Scott's leadership through hurricane season and am working closely with him on Everglades restoration," Zinke said. "He is a straightforward leader that can be trusted."
The U.S. Department of the Interior announced last Thursday it would consider the possibility of drilling oil in oceanic waters bordering Florida.
Despite a close relationship with Trump, the governor had immediately opposed the proposition to explore Florida waters for drilling. He was joined by the state's leaders, including U.S. Sens. Bill Nelson and Marco Rubio.
Scott initially responded last week saying, "Based on media reports, it is likely that the Department of the Interior will consider Florida as a potential state for offshore oil drilling — which is something I oppose in Florida." He assured media that he would be meeting with Zinke immediately.
Scott's statement was met warmly by the White House, hinting toward an amicable resolution between Trump and Scott.
"Our goal certainly isn't to cross Gov. Scott. We have a great relationship with him. We're going to continue working with him on a number of issues. Just because we may differ on issues from time to time doesn't mean we don't have an incredibly strong relationship. We'll continue those conversations with him," White House Press Secretary Sarah Sanders said following the original announcement last Thursday.
Scott is expected to run against incumbent Sen. Nelson this year. The two are both trying to make this Florida victory their own.
"I have spent my entire life fighting to keep oil rigs away from our coasts," Nelson said in a statement responding to the Tuesday announcement. "But now, suddenly, Secretary Zinke announces plans to drill off Florida's coast and four days later agrees to 'take Florida off the table.'
Nelson alleged that the Tuesday announcement was a political stunt coordinated between Scott and the White House.
"We shouldn't be playing politics with the future of Florida," Nelson added.
That narrative also is being pushed by Democratic gubernatorial candidate and Tallahassee Mayor Andrew Gillum.
Rick Scott & Donald Trump have become inseparable best buds. When Trump's reckless behavior threatened Scott's political future, the President went all out to protect him. https://t.co/WqKHXhUrEB

— Andrew Gillum (@AndrewGillum) January 10, 2018
Tuesday's news comes on the first day of the Legislative Session. Scott had addressed the Legislature earlier Tuesday in his final State of the State speech.