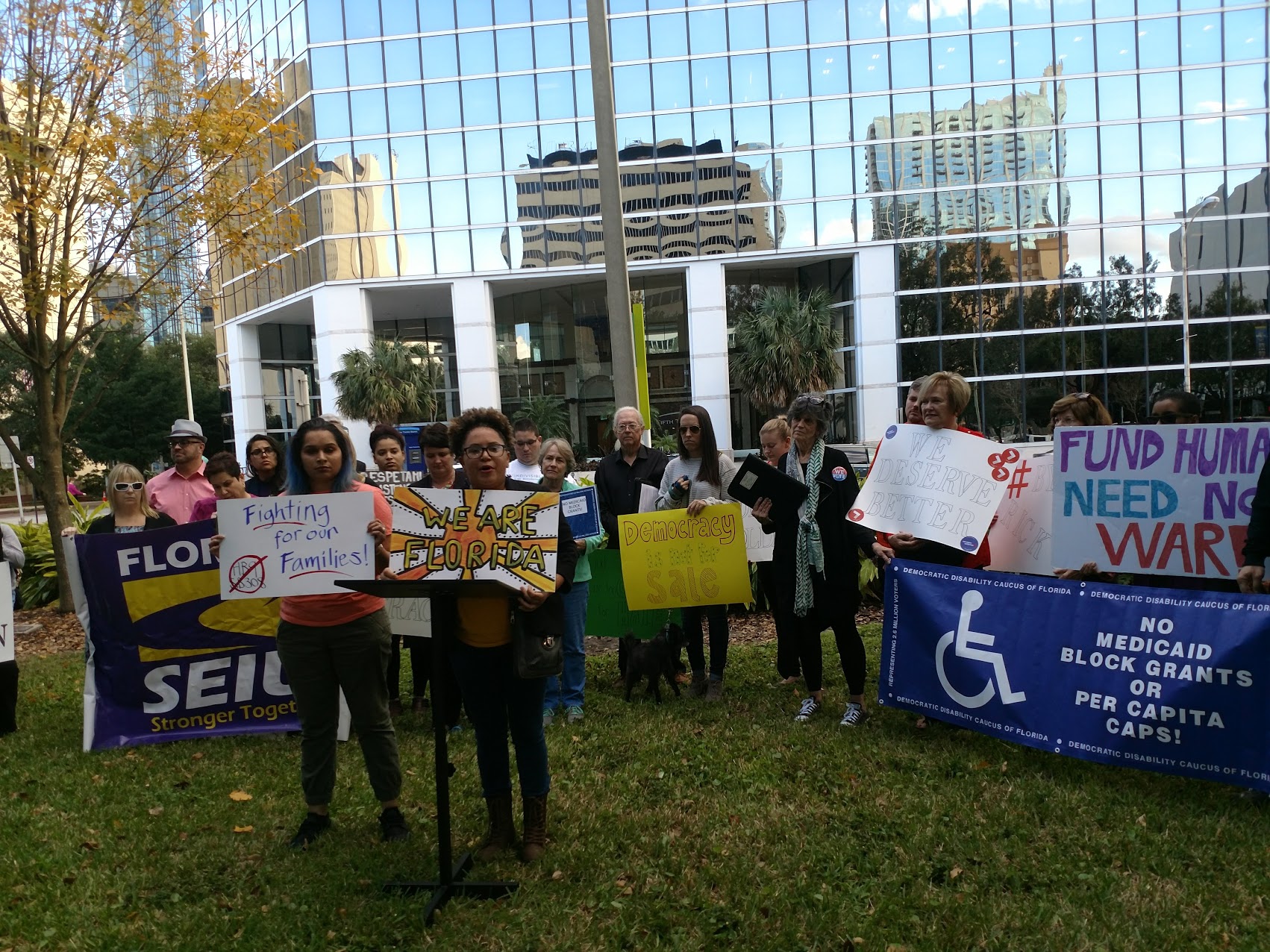 Tuesday marked the first day of Tallahassee's annual 60-day Legislative Session, another year where Republicans control the state House, Senate and Governor's mansion.
Realizing it may be another tough year for progressives, approximately 30 activists gathered in Lykes Gaslight Park in downtown Tampa late Tuesday afternoon to denounce aspects of the GOP agenda that may become law over the course of the next two months.
The event was one of several "Awake the State" protests held throughout the state.
House Speaker Richard Corcoran kicked off the session vowing not to allow Florida to "become a sanctuary state like California." The Land O'Lakes Republican talked up HB 9, which would compel Florida cities to comply with detainer requests on behalf of Immigration and Customs Enforcement (ICE).
Cities or counties failing to adhere to those requests would be subject to penalties, including lawsuits if an immigrant released from custody later commits murder.
"We are tired of these politicians playing politics with our lives," said Pamela Gomez with the Florida Immigration Coalition in denouncing the bill. "It must end right now."
Tampa resident Ritu Patel, 23, is one of the 80,000 or so undocumented immigrants in the Deferred Action for Childhood Arrivals program, better known as DACA. So-called DREAMers like Patel are children of immigrants who remained in the country illegally, growing up as Americans but without legal status.
DACA protects those immigrants, but President Donald Trump declared Congress must come up with a legal fix to DACA by March 5. Meeting with members of Congress Tuesday, Trump repeatedly said he would sign any bill Congress sends him to legalize the deferred action program.
But later, the president clarified that such a bill must also include border security measures, including funding for a border wall.
"Everyday 22 DACA recipients become subject to deportation," Patel said, adding that her immunity from deportation expires in a year. "We need something permanent now, which is the DREAM Act."
Activists mentioned legislation addressed in other states — but DOA in Florida — such as setting a living wage, or merely an increase in the minimum wage, which currently is at $8.25 an hour in Florida.
In previous legislative sessions, Florida Democrats proposed pushing the minimum wage to $10.10 and raised those proposals to $15 in the past few years.
However, Republicans want no part of that action, and by dominating both chambers of the Legislature, there won't be any such legislation moving in committee this winter. That upsets the Rev. Russell Meyer from St. Paul Lutheran Church, who serves as executive director of the Florida Council of Churches.
"There is absolutely no conversation going on about a living wage in Florida, nor about creating the jobs, that really create a living wage," Meyer said Tuesday. "Instead we have talk about reducing taxes for the largest corporations in this state, and that money does not flow back into paying the average worker a decent salary."
Longwood Republican Scott Plakon is sponsoring HB 25, which would require labor organizations to have at least half the employees of a bargaining unit paying dues to maintain its certification. Florida's Right to Work law prohibits union membership as a condition of employment.
"Even though Florida is a right to work state, the fact that we have union contracts — they protect our Florida workers," said Maria Jose Chapa, an organizer with the Services Employees International Union Florida. "They give people their due process in disciplinary matters. They allow workers to know their rights and responsibilities."
Over the years, the Florida GOP-led Legislature passed some bills that chip away at a woman's right to choose to have an abortion. Up this Session is another — the "Florida Pain-Capable Unborn Child Protection Act," (HB 203) — which would criminalize abortion after a fetus can "feel pain."
Sponsored in the House by Sarasota Republican Joe Gruters, the proposal says a fetus can feel pain after 20 weeks. Florida law currently bans abortions after 24 weeks post-conception.
"We have been watching these last seven years with disgust as Gov. Scott, and his legislative allies have tried to consistently defund Planned Parenthood health centers, and further undermined reproductive rights," said Amy Weintraub with the South St. Petersburg Democratic Club. "We cannot have this."
Environmentalists also took a whack at the state's chief executive.
Kent Bailey of the Tampa Bay Sierra Club said that while Gov. Rick Scott often talks of building the economy and growing jobs, Florida is one of only four states in the country that doesn't allow private capital to generate renewable energy and sell it back to the energy grid.
Bailey pointed out that deficiency prevents Florida farmers from prospering from creating solar farms, as is the case in Georgia, for example.
Some of those speaking at the event directed their anger away from Tallahassee, targeting it further north — to Washington D.C.
Karen Clay, an activist for the disabled, said individuals with disabilities are contemplating the possibility of losing services that allow them to live and care for at home because of the potential removal of Medicaid waivers.
"We are under attack," she decried. "Wake up Florida!"
While Democrats hope the anti-Trump fervor spreading will fuel gains in the Legislature this fall, even if that were to happen, such energy won't help them much in the state Capitol over the next two months.