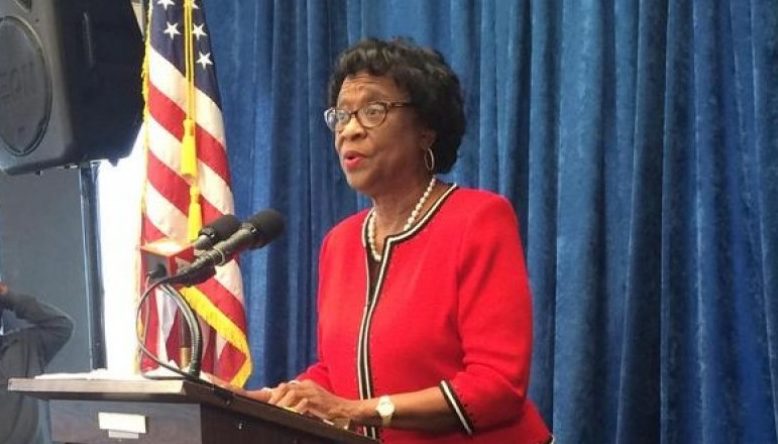 "Good Americans" should start "a Twitter war" with President Donald Trump over his comment that the U.S. shouldn't admit people from Haiti and other "shithole countries," former Senate Democratic Leader Arthenia Joyner said Friday.
Joyner, now a member of the state's Constitution Revision Commission (CRC), appeared at a press conference of legislative Democrats to express their outrage over Trump's remark.
In an Oval Office conversation Thursday, the president asked "why the U.S. would accept more immigrants from Haiti and 'shithole countries' in Africa rather than places like Norway, as he rejected a bipartisan immigration deal," the AP reported.
"Let's have a Twitter war," said Joyner, a Tampa attorney, referring to the president's fondness for the social media service. "Everybody should be tweeting at him and demand an apology."
Friday happened to be the eighth anniversary of the 2010 earthquake in Haiti that killed as many as 300,000 people and displaced roughly 1.3 million.
The Trump administration has said "it will end immigration protections for about 59,000 Haitians living in the United States in July 2019, concluding that conditions … have improved enough … for residents to return," according to USA Today.
Also Friday, the House's leadership rejected Trump's comments—if they're true, they said.
"If the remarks attributed to President Trump are accurate, they have no place in our public discourse," said the statement from Speaker Richard Corcoran, Speaker-designate Jose Oliva, Speaker pro tempore Jeanette Nuñez, Republican Leader Ray Rodrigues, Democratic Leader Janet Cruz, Democratic Leader-designate Kionne McGhee and others.
"America's greatness is self-evident, we do not need to tear down other nations," they added. "The leadership of the Florida House celebrates our diversity."
Joyner, who was in Tallahassee for CRC meetings, called for a backlash from "organizations and individuals, black and white, Jewish, Muslim, everybody."
"It's time now for him to get the message from Americans that they will not tolerate the bigotry and hatred that he emits every time and every day," she said. "It's time to speak up. This has reached a crescendo."
A Periscope video of the press conference is below:
.@FLSenate Democrats press conference #FlaPol https://t.co/TbIGt2jvRw

— Jim Rosica (@JimRosicaFL) January 12, 2018