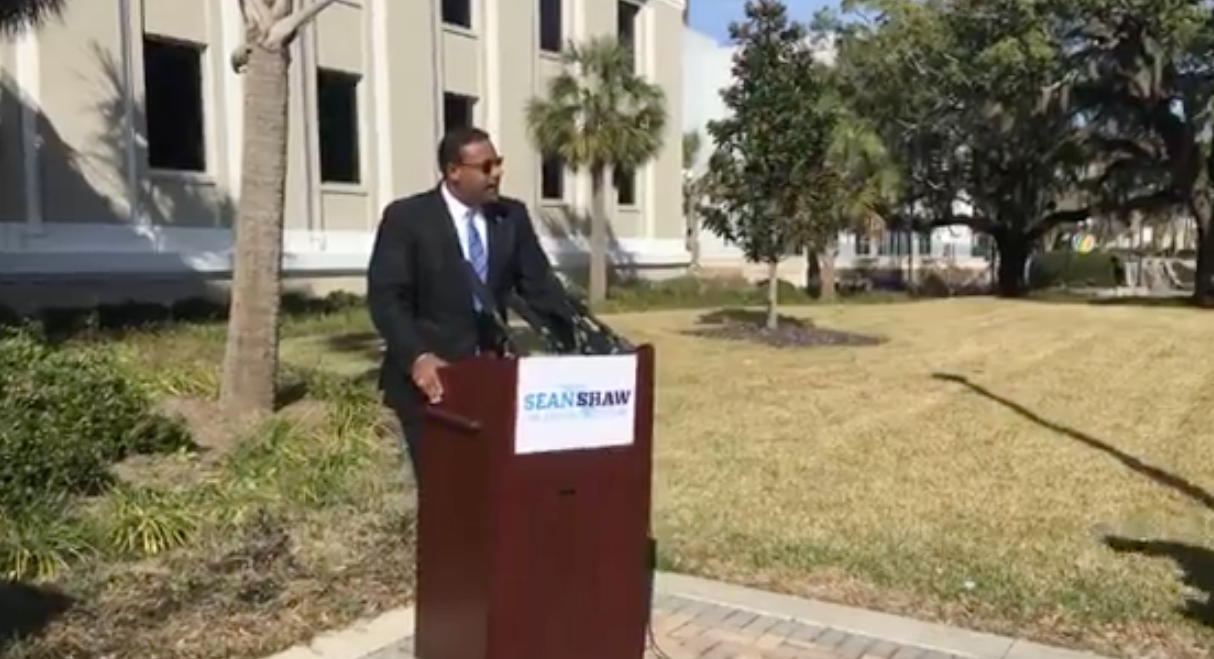 Democratic state Rep. Sean Shaw has made it official: he's running for Attorney General this year, promising if elected to operate differently from term-limited Pam Bondi.
"The people of our state should be able to count on their Attorney General to protect them and to always enforce the rule of law, not have someone more concerned with how their actions will play during their next Fox News hit," he told reporters at a news conference outside the Florida Supreme Court in Tallahassee Tuesday morning.
"Soon, they will have one."
Shaw said if he were elected, he would be an activist-oriented Attorney General to protect the interests of all Floridians. "No longer will unconstitutional laws be defended, costing taxpayers millions," he said. "And no longer will Florida stand on the sidelines while other states battle to end this horrific opioid epidemic."s
Shaw is the son of the late Leander J. Shaw Jr., the state's first black chief justice. He referenced him in his speech.
"He knew, and he imparted to me, that standing up for the rights of our fellow Floridians was an incredible responsibility that could never be taken lightly," Shaw said. "Because the rule of law should act as the ultimate equalizer for everyone, no matter where you're from, what God you worship, or who you love."
Shaw also took a shot at President Donald Trump in his brief speech, saying, "There is a man inhabiting the White House in Washington whose lawlessness and contempt for the norms that have allowed our country to thrive for centuries seem to have no bounds."
Shaw said that makes it incumbent for attorneys general throughout the nation to be "truly independent" to uphold the rule of law and the U.S. Constitution, "because this movement is not just about what's happening here in Florida It is about people everywhere who want to know that their families will be kept safe and their rights will be protected."
Although he's only serving in his second Session as a member of the Florida Legislature, Shaw is well-versed in Tallahassee and state government. He grew up in the capital city, and after attending college at Princeton University and getting his law degree from the University of Florida, returned to run for a House seat in 2008, but lost to Alan Williams.
Shortly after, he was picked by former Gov. Charlie Crist to serve as the state's Insurance Consumer Advocate from November 2008 through September 2010. He is also the founder of Policyholders of Florida, a group focused on campaigning against unfair property insurance increases on Florida families.
Shaw moved to Tampa and ran for the House District 61 seat in 2014, but lost to Ed Narain in the primary. He subsequently won the seat in 2016 against fellow Democrats Dianne Hart and Walter Smith.
The only other Democrat in the Attorney General race is fellow Hillsborough County resident Ryan Torrens, an attorney. In a statement, Torrens said he welcomed Shaw's entry into the race.
"Now Floridians will be able to determine for themselves which candidate will be the steady, crusading attorney general that Florida's Democratic leaders have long been saying Floridians need and deserve, now more than ever," Torrens said.
The Republican field includes former Hillsborough County Circuit Court Judge Ashley Moody and state House Republicans Ross Spano from Dover, Jay Fant from Jacksonville and Frank White from Pensacola, all of whom have raised nearly $1 million already.
"Florida's a big state, and we've got to raise substantial resources, but I'm confident that we'll be able to do that," Shaw said when asked by reporters about how much he'd be able to raise for his campaign. When asked if it would be $4 million, he said it would be more than that.
The Republican Attorneys General Association blasted Shaw in an announcement, calling him an "extreme liberal who would put his personal political agenda ahead of anything else — including the law."
"There should be no doubt, Shaw would join progressive Democrats across America as an activist attorney general — legislating through the court at every turn," said RAGA executive director Scott Will. "This is an affront to our system of government and speaks volumes about Shaw's disrespect for Floridians. Florida deserves an attorney general who defends the rule of law, protects its citizens and champions opportunity for every person."