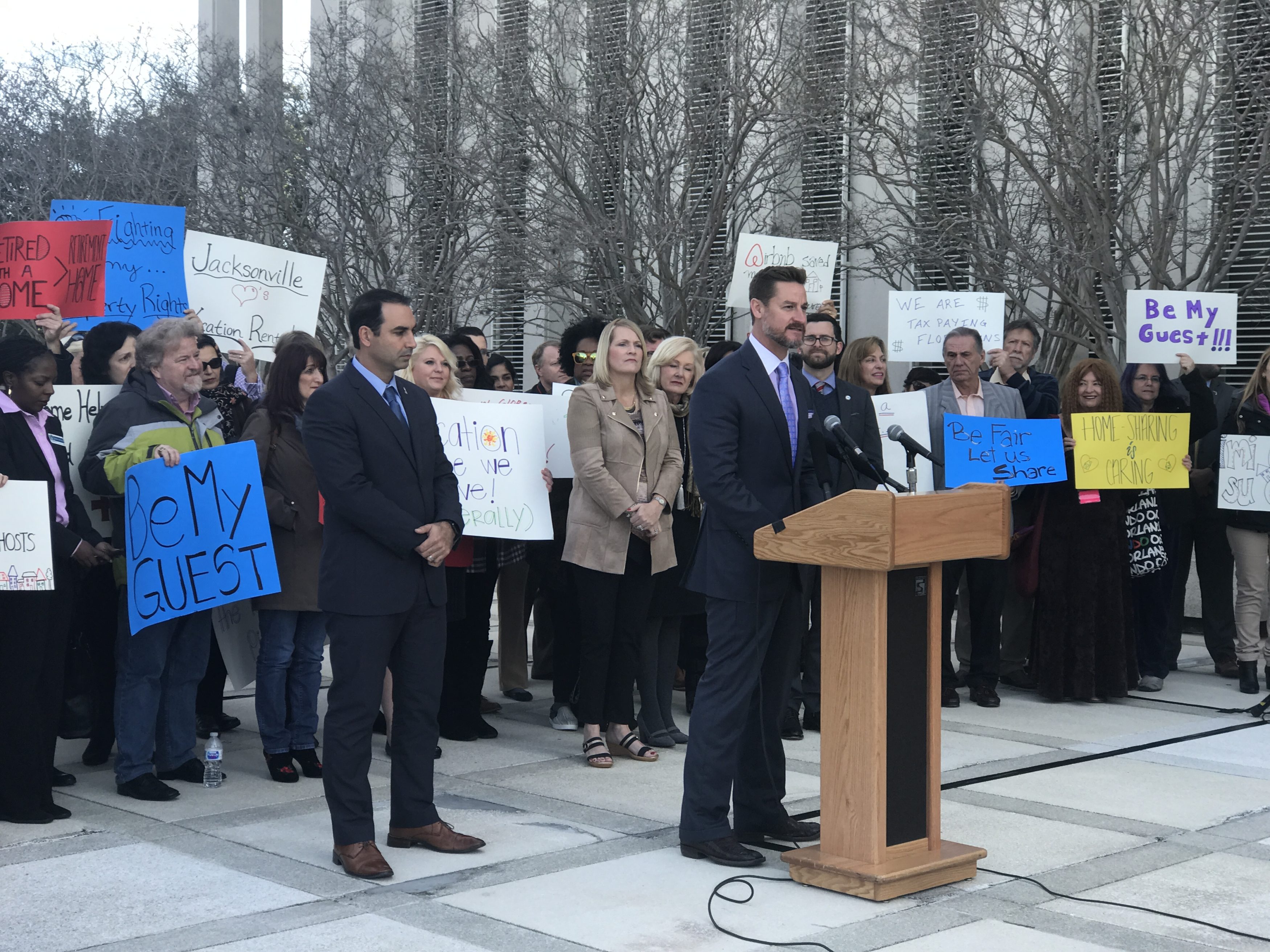 Two measures that would preempt local regulations on vacation rentals featured on sites like Airbnb are facing backlash from the bed and breakfast industry which claims short-term rentals are a "serious risk" to tourists.
"We urge our lawmakers not to put Florida's world-class lodging reputation at risk for illegal commercial operators," said Carol Dover, the president of the Florida Restaurant & Lodging Association.
Despite the criticism, dozens of sign-wielding vacation rental advocates gathered at the state Capitol on Tuesday campaigning for the bills, which would preempt a myriad of local rules on vacation rentals that have been set throughout the state.
Sen. Greg Steube, a Sarasota Republican, is fighting for legislation that failed last year that would expand the state licensing system to include vacation rentals. Steube says it's a "private property rights issue," but critics call it "Big Government overreach."
"Just like hotels and motels are regulated at the state level, so you don't have all this piece meal regulation throughout all the cities and counties, it's the same reason why we want to do this for vacation rentals," Steube said.
Steube sponsored similar legislation that passed the House last year, but didn't get a final vote in the Senate. Republican State Rep. Mike La Rosa is also pushing the measure again this year.
Currently cities and counties have the power to place their own rules. In some areas, homeowners are not allowed to rent their homes for less than 6 months at a time. Others allow renting for a monthly and weekly rentals. And in beachfront communities like Miami-Dade, fines in the tens of thousands of dollars are levied against renters on Miami Beach.
The issue is also heated in Sarasota, a beach community dotted with resorts, which is Steube's hometown.
While those who oppose it say weekly and nightly rental impact their quality of life, the latest numbers released by Airbnb show there is a great economic impact that comes with vacation rentals.
The online hospitality giant said that in 2017, approximately 40,000 Florida hosts earned a combined $450 million and welcomed 2.7 million guests, boosting tourism numbers and taxes to local communities.
Airbnb is clearly in support of the measures, saying the policy change would add more protections for homeowners using the platform.
"It's protection for them, so they don't have to worry about these increasingly creative attempts to get around the state law, which is what we are seeing," Ben Breit, a company spokesman said.