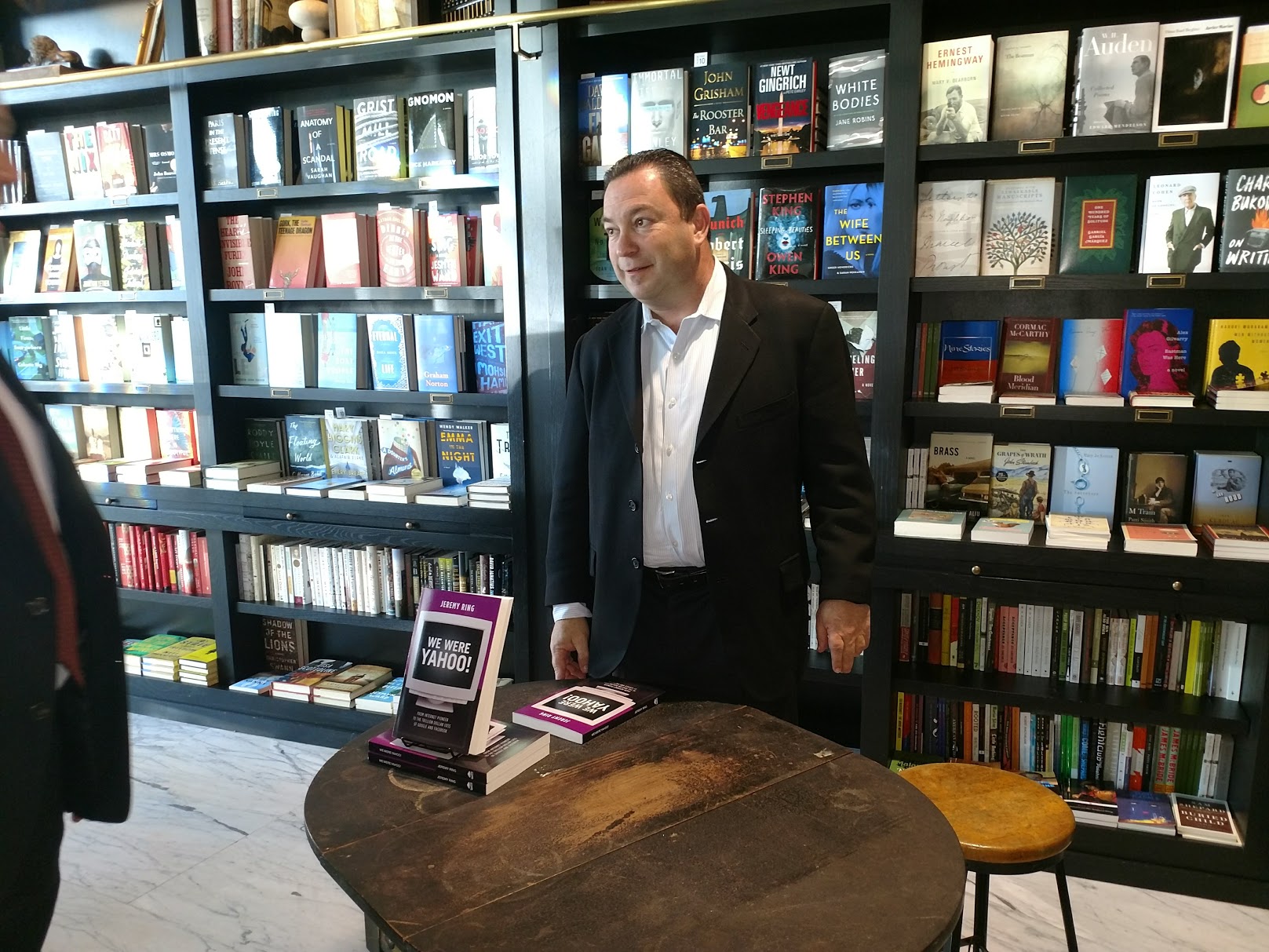 For more than half a year, Jeremy Ring has been on the campaign stump, where he frequently talked about his business roots working at Yahoo when it was just a startup in the 1990s before it became an internet colossus that crashed and burned a decade later.
Now, the former South Florida Democratic lawmaker and current CFO candidate published a memoir of that period of his life called "We Were Yahoo," which hit bookstores and Amazon.com this week.
Speaking at Cafe Con Tampa at the Oxford Exchange Friday morning, Ring explained to the audience that the genesis for the book came out of a need to escape the depression he felt in 2011 after two open heart surgeries. The first operation repaired a lifelong problem with an aortic valve. However, that operation went bad, requiring a second surgery a few weeks later.
Feeling bad mentally, he began to write — just to get out of his own head.
After the depression passed, he put down the writing until 2016, when he decided to specifically speak about his experience with one of Silicon Valley's early giants, and the horrible mistakes he believed management made that led to the company turning into a shell of what it once was and could have been.
The internet company quickly became a dot com phenomenon in the 1990s, with an evaluation of over $100 billion at its peak. Ring was one of its first salesmen, beginning in New York City before moving to Silicon Valley.
In 2008, Yahoo had a chance to sell for $44.6 billion when Microsoft made an unsolicited offer. Yahoo turned down the offer. The company was ultimately sold to Verizon for just $4.8 billion in 2016.
In Ring's retelling of the story, the most prominent culprit is Yahoo's second CEO, Terry Semel, who was hired away from Warner Bros. in 2001 despite having never run a technology company.
Semel turned down offers to buy both Google and Facebook in their relative infancy. Yahoo and Semel had negotiated a deal to purchase Facebook for $1.1 billion, but the deal fell apart when Semel didn't want to go higher than $800 million.
Similarly, Yahoo was the most prominent licenser of Google search technology before the founders became their own independent search engine. There was the chance for Semel and Yahoo to purchase Google for $6-$7 billion, Ring said.
Yahoo offered only $3 billion, and the rest is history.
As he said in the past, Ring hopes to follow in the footsteps of the last Democrat to hold the CFO position, Alex Sink, who happened to be in the audience listening intently. During the Q&A period, Sink asked why other executives couldn't persuade Semel on what became some disastrous business decisions.
It's well documented that Yahoo's board of directors was "probably the weakest board of any publicly traded company over a twenty year period," Ring replied.
The stakes were high at Yahoo, Ring recounted, especially during the time it was considered the highest publicly traded company on the stock market ever.
The pressure was "unbelievable," Ring said, adding that, with few exceptions, no lawmaker in Florida ever feels anything close to such pressure doing their day to day job.
"People talk about pressure in politics? No, no, no," he said, referring specifically to the demands Wall Street puts on such companies to hit critical levels in a specific quarter.
"Wall Street doesn't care about the next quarter! They only care about that quarter," he said, adding that working under such pressure can lead to making poor business decisions.
At one point, Ring boasted: "For 21 straight quarters, I was a key part of the highest profile publicly traded company in the world, OK? I understand big numbers. It doesn't scare me."
Mostly shying away from politics, Ring did address the significance of the CFO position, saying the single most crucial part of the job is making sure the $120 billion Florida Retirement System remains robust.
A Boston native, he's also passionate about the New England Patriots, as they attempt to win their third Super Bowl in four years next weekend.
After hearing some jeers from the crowd, Ring's reaction was to ask why some people didn't like the Patriots franchise or its fans.
"For all those who are booing me, my answer to you is … what's the matter, you don't like winners?"
Ring is currently the only Democrat running and will likely face Republican CFO Jimmy Patronis or Brandon Republican Sen. Tom Lee in the fall.
While Patronis has only been in the office since June — named by Gov. Rick Scott as Jeff Atwater's successor — Patronis is enjoying the full benefits of incumbency, such as with a recent appearance in the state's biggest media market on Thursday to remind Floridians it's not too late to get a flu vaccine.