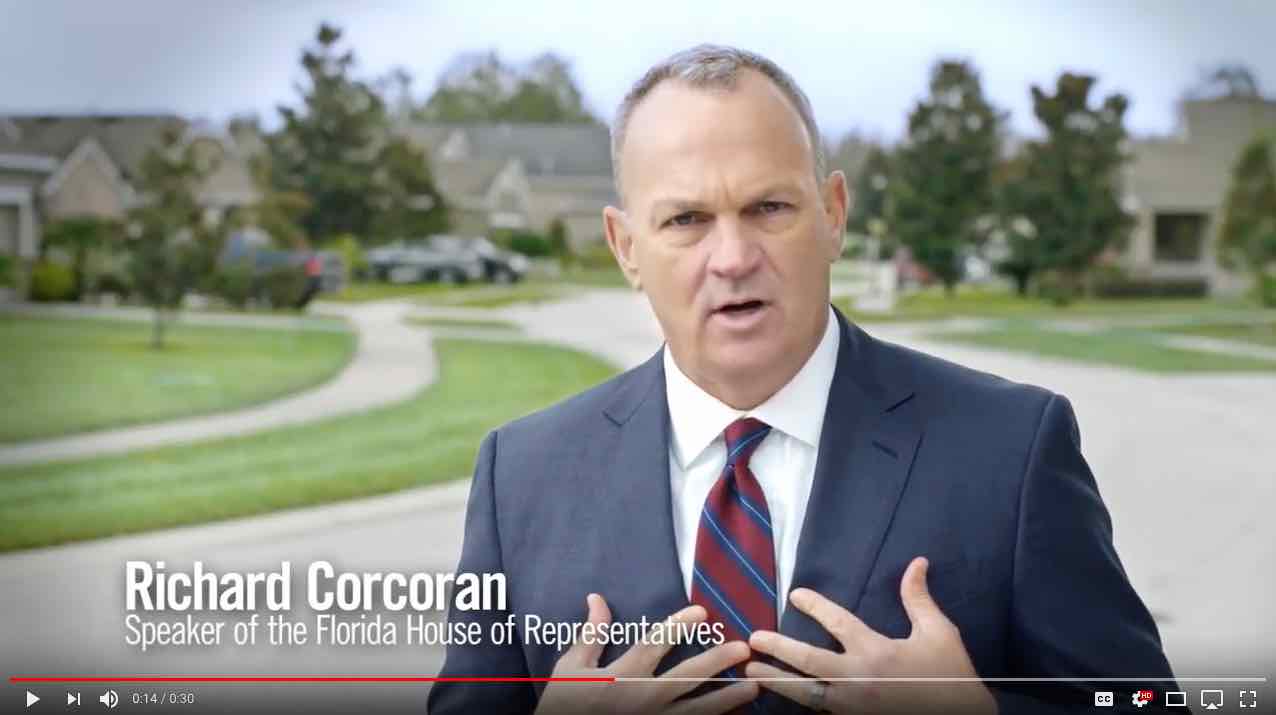 With an eye on the governor's mansion, House Speaker Richard Corcoran has spent nearly $100,000 on a Fox News media buy to campaign off a legislative priority: banning so-called "sanctuary cities."
In a dramatic ad, Corcoran warns undocumented immigrants can target "any family, anywhere" — including a teenage girl walking in a Florida suburb.
The message will play well with the conservative Fox News crowd as it addresses the issue of sanctuary cities, recalling the case of American Kate Steinle, who was killed by an undocumented immigrant who was slated for deportation but was protected by a sanctuary city in California.
The suspect was acquitted of murder by a jury last year, but was found guilty of being a felon in possession of a firearm. His attorney argued the shooting was accidental.
Corcoran has vowed to "never allow" Florida turn into a "sanctuary state" like California. In a fact sheet accompanying his new ad— paid for by his political committee,  Watchdog PAC — he cites the Florida House passing HB 9 on the first week of Session as proof that he would not let it happen.
In Florida, though, there are no so-called "sanctuary city" policies at the local level.
His political committee has not yet updated its records to reflect the $95,560 expense. Committee spokesman Taylor Budowich has also declined to comment on the media buy or its content, but the wait won't be long — the spot will be rolling Monday through Friday on the 24-hour news network. It will run in the Jacksonville, Mobile/Pensacola, Orlando, Panama City and Tampa markets, according to POLITICO Florida.
Corcoran is widely expected to announce his bid for governor after Session ends. The term-limited Land O'Lakes Republican has heavily fundraised through his political committee, which he started up last May.
Through the end of 2017, Watchdog PAC amassed more than $6 million in contributions and had more than $5.1 million banked. Records on the committee website show a lucrative start this year, with more than $500,000 raised between New Year's Day and the start of the 2018 Legislative Session.
If and when he enters the fray, he'll be up against Agriculture Commissioner Adam Putnam and U.S. Rep. Ron DeSantis for the GOP nomination.
Putnam was the first-in Republican and has a massive campaign warchest. At the end of 2017 his campaign and committee combined to more than $22.5 million raised with $16.25 million cash-on-hand.
DeSantis made his entry official earlier this month and kick-started his run with a trio of high-profile endorsements among the far-right crowd — first from President Donald Trump, followed by Fox host Sean Hannity and radio personality Mark Levin.
Ana Ceballos contributed to this report.