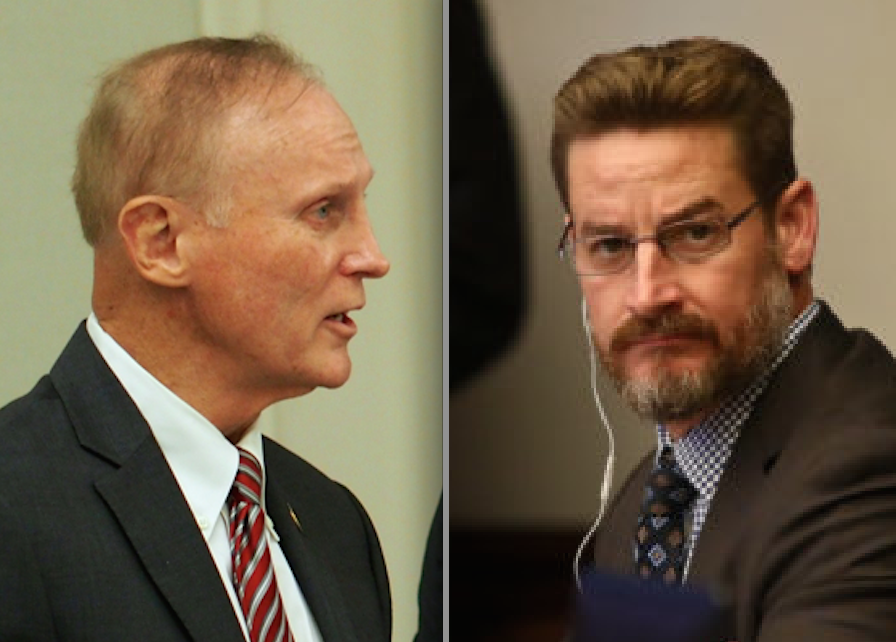 In a battle over how far to roll back local control and regulation of vacation rental homes, state Sen. Greg Steube won a key victory Tuesday.
The Senate Committee on Community Affairs approved the Sarasota Republican's bill, advancing a comprehensive preemption of local laws regulating services provided by companies like Airbnb.
That ended a legislative showdown Tuesday between Steube's industry-friendly proposal and a rival proposal from state Sen. David Simmons, a Longwood Republican who sought to grandfather in some existing local vacation rental regulations and laws, and to allow for local inspections of building and safety codes of some rentals.
Simmons' proposal, Senate Bill 1640, ultimately was ruled out-of-order and withdrawn without a vote. He vowed to pick up the fight at a future stop for the bill.
Steube's proposal, Senate Bill 1400, became a strike-all amendment to a committee substitute, and then was voted favorably by a 4-2 tally.
"It was my intent to try to preempt the regulation of vacation rentals up to the state so that there was some continuity across the state, and also allow the state to be able to do inspections and licensure that are important, just as motels and hotels are regulated at the state level," Steube said. "So I wanted some uniform policy across the state, and that's where we started."
But as was the case the past couple of years as similar bills moved through the Legislature before stalling or dying, not everyone was seeing uniform policies. Local government officials and representatives for the hospitality industry argued that hotels are regulated by local governments along with the Florida Department of Business and Professional Regulation, while Steube's proposal would essentially forbid any local control over the vacation rental home industry, a rapidly rising rival of hotels.
There was little passionate testimony Tuesday to the type heard in the past, which included complaints of outrageous tenants creating public sanitation, noise, and public safety problems for neighborhoods – what Committee Chairman Tom Lee, a Thonotosassa Republican, called the "parade of horribles" — or complaints of cities with laws so strict that they essentially banned vacation rentals.
Steube said although the state would regulate vacation rentals, the properties would be subject to other local government restrictions.
"Local governments will still be left with the ability to preserve the integrity of their neighborhoods by passing ordinances to address noise, trash, parking or any other behavior that would tend to disturb their neighborhoods," Steube said.
But there was frequent and general talk of how rogue vacation rental homes could depreciate surrounding property values, and how those concerns might be balanced against the property rights of the vacation rental homeowners to make a little money.
Both Steube and Simmons said they were seeking as little regulation as possible, especially from the local side.
Yet Simmons warned of potential calamity and liability nightmare — like a scenario when stretched-thin regulators might not have resources to inspect or do something about a bad vacation rental home, while local authorities would be left legally powerless. Simmons said the regulations he pushed for would protect the owners of the vacation rental homes by at least assuring regular safety inspections.
"This idea of zero regulation is going to end up, one of these days there is going to be someone who is a consumer who is going to rent one of these vacation rentals and he, she, or their families, are going to die. They're going to be hurt. They're going to be injured," Simmons said. "The end result of [Simmons' proposal] is there is a reasonable amount of protection. I'm asking as we go through this that local governments be able to deal with fire codes, with safety codes, just like they do with hotels."
Even a dispute over how often or how little the state might inspect and audit vacation rental homes got testy. Steube's bill called for the Department of Business and Professional Regulation, in addition to responding to consumer complaints, to randomly review 1 percent of the licensed vacation rental homes each year. Simmons argued that was too little oversight. When state Sen. Jose Javier Rodriguez, a Miami Democrat, offered an amendment to make the requirement read "at least" 1 percent, there was argument that might create too much oversight. Ultimately Rodriguez's amendment was adopted to the bill.
A wary-sounding Lee, who had seen previous vacation rental regulation reform bills fail, cautioned that a lot lay ahead for this proposal, which still has at least two more committee stops (Regulated Industries and Appropriations) and which already looks very different from any House bill. With that in mind, he sided with Steube's proposal and advised Simmons to take up his views at some other stop.
"What I worry about is time is not the ally of reform," Lee said. "If we continue to slow down the train we're going to get to where we can't get the train to the finish line. And that's one of the tactics that gets used around here, not by yourself, but by industry who doesn't want reform."
Lori Killinger, representing the Florida Vacation Rental Managers Association, supported Steube's bill and said a proliferation of local ordinances regulating vacation rentals is thwarting their development.
"This all started because of the morass of local ordinances adopted since 2014 that have caused significant unpredictability around the state," Killinger said.
She said Steube's bill "clears the deck a bit" and "puts back clear, appropriate regulations."
A House bill (HB 773), sponsored by Rep. Mike La Rosa, a St. Cloud Republican, would also pre-empt local regulation of vacation rentals and is awaiting its first hearing.
Some material from the News Service of Florida was used in this article.