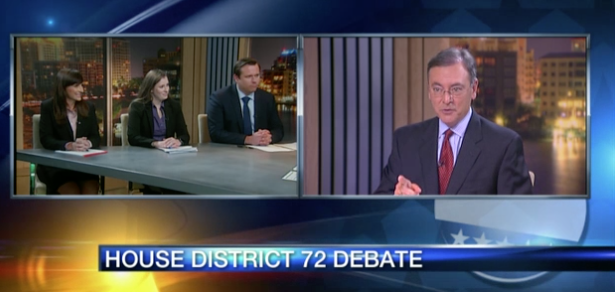 Three candidates vying in the House District 72 special election engaged in their first — and likely only — televised debate Tuesday night, two weeks before voters decide Feb. 13.
Republican James Buchanan, Democrat Margaret Good, and Libertarian Alison Foxall all appeared on the hourlong debate (with commercials) aired on WWSB, the ABC affiliate in Sarasota.
Anchor Alan Cohn moderated the forum. 
The northern Sarasota County House seat has been vacant since September when Republican Alex Miller unexpectedly stepped down.
The 41-year-old Good has ridden a wave of Democratic Party intensity. The Siesta Key attorney has impressed with her fundraising and overall performance on the campaign trail, and a St. Pete Polls survey conducted last week showed her trailing Buchanan by only three points.
Buchanan, a real estate executive and son of Sarasota-area Congressman Vern Buchanan, has been considered the early favorite —  mostly based on both name recognition and the fact that Republicans traditionally held most Sarasota-area legislative seats. Buchanan had been resisting pleas by Good, Foxall and ABC 7 to debate, finally agreeing to just a few weeks ago.
The most contentious point of the forum occurred when Good boasted about the more than 2,000 individual donors who contributed to her campaign, saying it was in dramatic contrast to Buchanan; she claimed the Republican received contributions from only 16 individuals, with the rest coming from businesses and corporations.
Buchanan fired back, saying Good took a disproportionate number of funds from California, New York and Washington D.C., receiving $100,000 from a single donor — developer Hugh Culverhouse Jr.
"So I want to know, what have you promised him?" Buchanan asked.
"Hugh Culverhouse is a friend of environmentalists," Good replied. "He wants me to win because he doesn't want another Buchanan in office, and he is fed up with what's going on in Tallahassee."
Cohn came right back at Buchanan, saying that despite claims of being "his own man," he only made $23,000 last year according to his financial disclosure statement, inspite of two mortgages in excess of over $1 million (Buchanan's father was named 9th richest man in Congress in 2015 with an estimated net worth of just under $50 million).
"Are you leaning back on your family name and the fact that your father is the Congressman to be a front-runner in this race?" Cohn asked.
"I've had good years; I've had off years, and I've had years when I reinvested in my company," Buchanan responded. "This was one of those years."
Cohn then asked several questions regarding guns, trying to pin down Buchanan's stance. As did Foxall and Good, Buchanan said he was a steadfast supporter of the Second Amendment, but refused to tip his hand after questioned if he supported Sarasota Republican Sen.  Greg Steube's proposal to arm school teachers.
"That's something I want to examine when I'm up in Tallahassee, Buchanan said, "and talk to all the stakeholders involved."
Foxall believes such a decision should be up to local school boards to decide; Good said she didn't believe that guns had a place in schools.
All three candidates stood with local government when it comes to Tallahassee riding roughshod over home-rule. However, Buchanan said he was good with the Florida Legislature banning so-called "sanctuary cities" statewide.
Buchanan said he would work with Sarasota County Sheriff Tom Knight (who has endorsed him) to "fight each and every day to make sure that we don't have a sanctuary city law in Florida."
The U.S. is a country of immigrants, Good said, but anyone caught committing a crime in Florida should be punished, regardless of immigration status. She would leave the issue of detaining undocumented immigrants with local law enforcement and the federal government, but not state legislators in Tallahassee.
Foxall said she supported Knight's decision to enforce federal immigration laws.
"I don't want Sarasota to be a sanctuary city, but that's completely up to the city and the counties across the state," she said.
Foxall also expressed the most skepticism when it came to climate change, saying that while she does believe it exists, said that it was still "out for debate" whether the government could do anything about it.
Buchanan believed that climate change was real (despite Good running a TV ad last week that indicated otherwise).
"I am a man of science," he added. "And I do believe that's a real issue."
Buchanan also went as far as saying he could support a law banning the state's chief executive from saying climate change doesn't exist (as Rick Scott allegedly dictated to his Department of Environmental Protection in 2015).
Good was most effective when blasting the Legislature for repealing growth management laws earlier this decade, which required developers to pay for new infrastructure.
Regarding charter schools, Good assailed House Bill 7069, passed in the 2017 Legislative Session. The bill, among other things, provides public funding to for-profit charter schools.
"Those for-profit charter schools can buy land, they can build infrastructure with our taxpayer dollars, and then they can close, and where does our taxpayer money go? Into the pockets of the CEO's," she said.
Good then accused Buchanan of standing with Scott and the GOP establishment in wanting to privatize public education. Buchanan responded by touting the record levels of public school spending under the Scott regime and then argued in support of a Richard Corcoran-approved bill allowing bullied public-school children to have the opportunity to attend a voucher school.
All three candidates did not support restricting abortion rights for women, though both Buchanan and Foxall said they were personally anti-abortion.
The 27-year-old Foxall pushed back when Cohn suggested voters who support her in the race could be "throwing away" their vote.
"A wasted vote is only voting for someone you don't believe in," Foxall replied. "I believe that wasting your vote is voting for someone like a Republican or Democrat that they don't really want, they're just voting for somebody else."
Tallahassee is so broken, Foxall said it didn't make sense to keep doing the same thing and elect either a Republican or a Democrat to the Legislature.
"I think one will obstruct and one will just toe the party line," she said.
Although no more televised debates are scheduled, Good and Foxall intend to debate again Feb. 5.
Good asked Buchanan to join them. He did not respond on air.
Early voting begins this Saturday, Feb. 3.