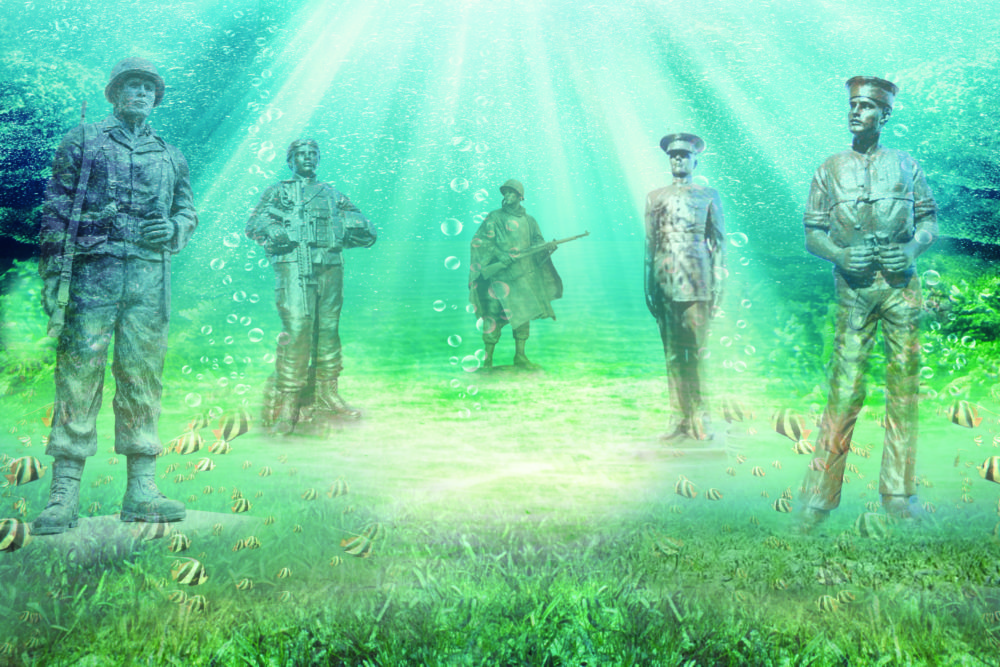 Plans for a new veterans memorial near Clearwater were revealed Friday, but potential visitors will need an oxygen tank to get there.
Called "Circle of Heroes," the memorial aims to be the nation's first underwater dive memorial and will be situated roughly 10 miles off the Pinellas County shore. The site will be about 40-feet deep and is about a quarter mile from Veterans Reef, a popular dive site.
The memorial will feature 24 life-size concrete statues of servicemen and servicewomen from the United States Air Force, Army, Coast Guard, Marines and Navy arranged in a 100-foot circle around a memorial featuring bronze emblems representing each military branch.
Pinellas County has pitched in $12,000 in seed money to grab the first four statues, and the total cost of the project is expected to clock in at $450,000. Former U.S. Rep. David Jolly's nonprofit group Brighter Future Florida is spearheading the campaign to raise the rest of the money through private and corporate donations.
Jolly said the idea for the memorial came from his uncle, Heyward Mathews.
"Dr. Mathews is no stranger to the recreational diving community and certainly not to the community as whole, when it comes to the marine community," Jolly said. "But, what you all don't know is that this idea came from him – in large part because of his commitment to drawing divers from near and far to our area, for tourism reasons and also because of his love of diving. Dr. Mathews has spent countless hours on this project, building statues, researching how to best create this memorial and gaining community support."
The memorial plan got praise from numerous local officials, including Pinellas County Board Chair Ken Welch, County Commissioner Janet Long, and Visit St. Pete/Clearwater CEO David Downing.
"I can't imagine a better way to share the beauty of our coastal waters and support our troops than this unique, first of its kind memorial," Welch said. "Circle of Heroes will be an iconic attraction for the region, highlighting the service and sacrifices of those who have fought to protect the freedoms we all enjoy."
Long added that the memorial is "a win-win for our service members, veterans, our visitors and the local economy," while Dowling said it would "not only enhance Florida's reputation as a premier dive site, but it will undoubtedly grow dive-related tourism to the St. Pete Clearwater area."
The announcement included a video of the proposed site: