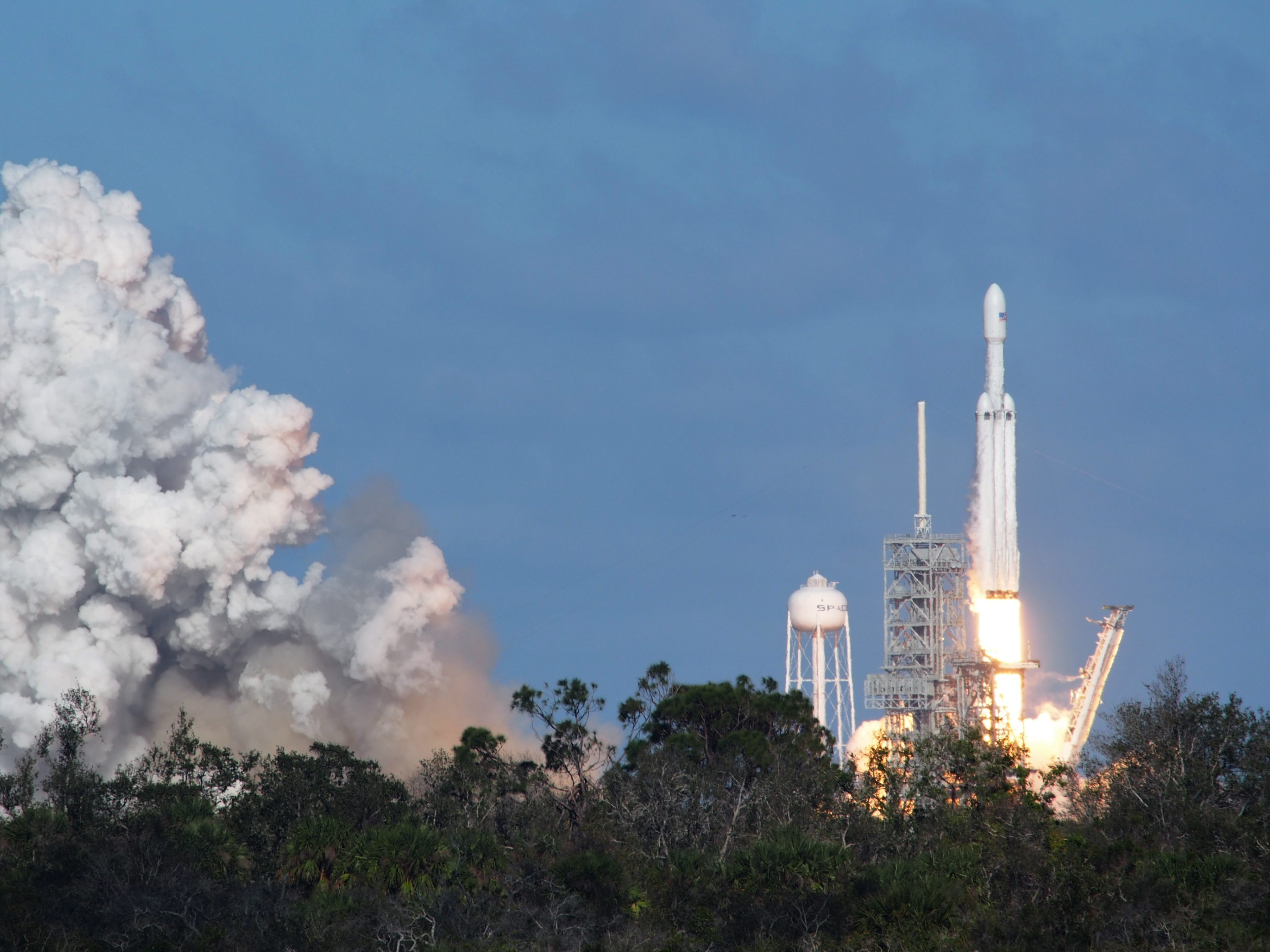 A couple hours late but still years ahead of the competition, SpaceX blasted off its Falcon Heavy rocket Tuesday afternoon, staking his claim to any business the military and telecommunications industry may have for rocket companies that can carry very heavy loads.
The huge rocket – three Falcon 9s together providing more than 5 million pound-feet of thrust – roared into an almost clear-blue sky over Cape Canaveral Tuesday afternoon, a launch that might have been visible through much of Florida.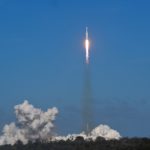 The Falcon Heavy, more than twice as powerful as any other rocket on Earth right now, has limited immediate commercial prospects because most of the trends in the satellite industry in the past decade have been toward micronization, and the big dreamers of private space stations and labs have yet to bear anything. But SpaceX and its founder Elon Musk are betting on the rapidly-evolving private space industry to soon need an inexpensive and reliable ride to space for large components.
Regardless of if it is SpaceX's Falcon Heavy rockets, or powerful new rockets being developed by competitors Blue Origin, United Launch Alliance, and a group of companies supporting NASA, if the future holds for big rockets lifting big items into space, Florida's Kennedy Space Center and the adjacent Cape Canaveral Air Force Base appear to be the launch pads.
Tuesday's launch from Kennedy Space Center's Launch Complex 39A also propelled a Tesla Roadster – that's right, a sports car made by one of Musk's other companies – into a trajectory headed toward Mars. Musk launched the car both for the fun of it and to remind everyone that he not only dreams of sending his rockets to Mars, he's already got the rocket to do it.
Musk has said the cost of Tuesday's launch, assuming the three boosters are all brought safely back to Earth for recycling, is in the $90 million range, a tiny fraction of the current and anticipated costs for his competitors. Others have suggested the actual price for a commercial launch of the Falcon Heavy might be close to $200 million, but even at that price, it might be a relative bargain. Consequently, Musk said Monday he hopes to make it "game over" with success for Falcon Heavy.
The first two, lateral boosters landed successfully at SpaceX's landing pad at Cape Canaveral Air Force Station seven minutes after the launch. The third, center booster successfully fell away, though word wasn't immediately available on whether it successfully landed on SpaceX's landing barge in the Atlantic Ocean.
So Tuesday's launch was never a sure thing. With so much riding on a success, launch parameters were being watched under very conservative standards to rule out any chance they could take away from assessment of the technology.
Musk himself acknowledged that the launch was a huge risk, and on Monday he had stated that there was a 50-50 chance of something going wrong. He had expressed particular concern about the uncertainties about the dynamics of 27 engines firing beneath three different boosters, simultaneously, and whether that could cause lateral or torque stresses on the rocket.
So one of the standards being watched closely was that for variances in wind speed and direction at different layers of the atmosphere. And that wasn't looking good Tuesday afternoon, with significant differences in winds at different levels.
Periodically the launch countdown reset, pushing the blastoff back another ten minutes or more, up to an hour; Musk commented that upper-level wind shear was being watched closely.
Last updated on February 6, 2018