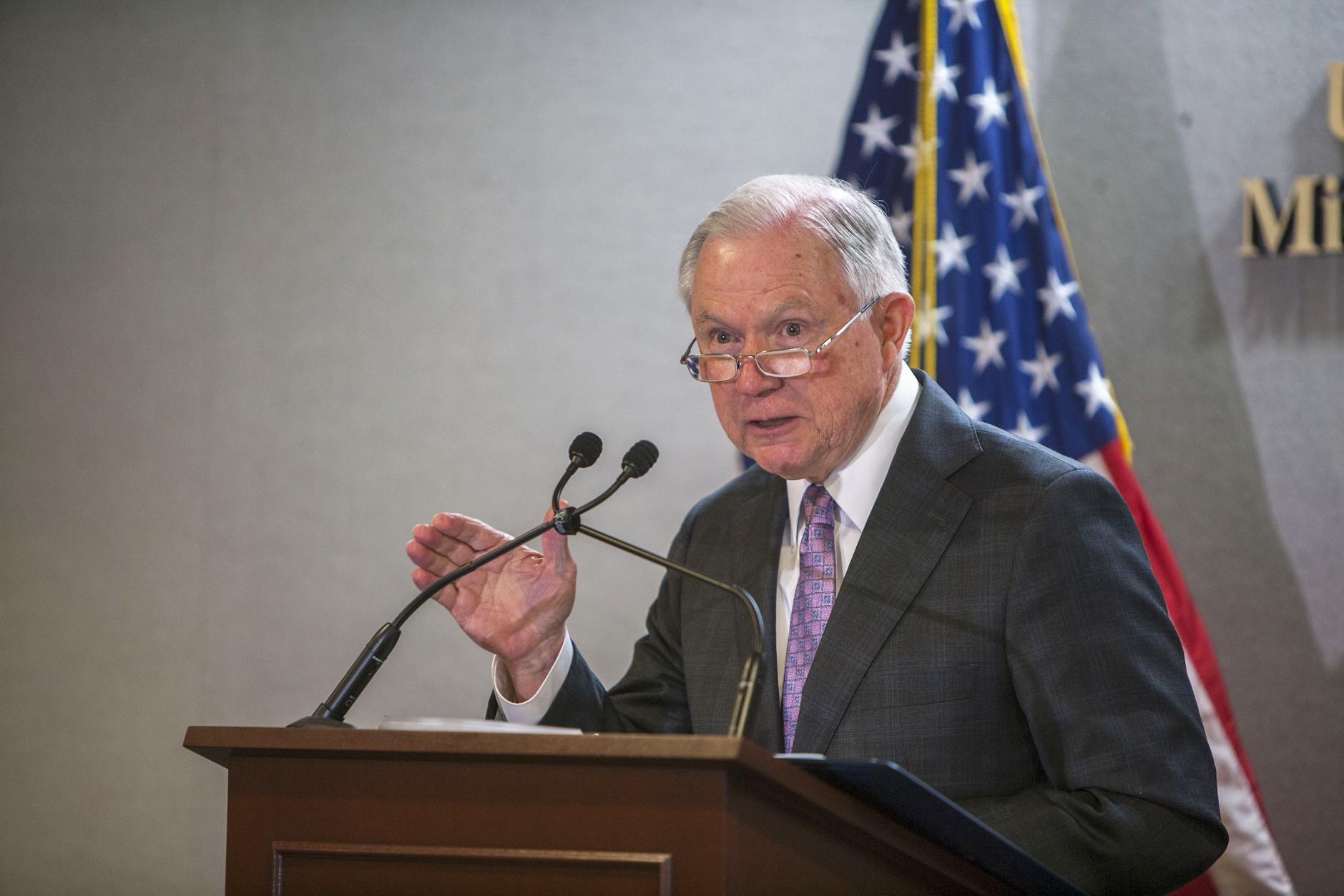 Speaking to a Tampa audience about the opioid crisis, Attorney General Jeff Sessions said those reaching for such drugs should "switch to aspirin."
"I am operating on the assumption that this country prescribes too many opioids," the nation's top cop said Wednesday during a visit to the downtown Tampa office of the U.S. Attorney for the Middle District of Florida. It was Sessions' first visit to the area since becoming President Donald Trump's AG.
"I mean people should be able to take some aspirin sometime. Tough it out," Sessions said in a rare, unscripted moment.
Then, Sessions did an impression of White House Chief of Staff John Kelly, a former Marine, who had proclaimed after a recent dental procedure: "I'm not taking any drugs!"
Without outlining any new initiatives, Sessions' speech instead focused on several changes made recently by the federal government to deal with the crisis, such as one announced Tuesday that all fentanyl-related substances will be scheduled on an emergency basis.
"Fentanyl is the number one killer drug in America," he proclaimed. "Scheduling and restricting all forms of this drug will make it easier for you and your agents to investigate and prosecute the drug traffickers."
Fentanyl is said to be about 50 to 100 times more potent than morphine and 25 to 50 times that of heroin. An overdose of fentanyl was ruled as the cause of death for rockers Tom Petty and Prince.
Sessions also said that the Drug Enforcement Agency will now start asking each practitioner — when applying or renewing a license — if they have received continuing medical education on prescribing or dispensing opioids.
He added that the DEA can now send targeted information via email about the opioid epidemic, prescriber education, and answers to frequently asked questions about prescribing.
For example, the DEA can ensure doctors have the CDC's latest guidance on prescribing opioids so that they don't accidentally over-prescribe.
Attending the speech were Hillsborough State Attorney Andrew Warren, Tampa Police Chief Brian Dugan, St. Petersburg Police Chief Tony Holloway and several others from the Tampa Bay legal and law enforcement communities.
The Florida Democratic Party used the occasion to bash Gov. Rick Scott's efforts on the opioid epidemic.
"Just a day after Jeff Sessions falsely claimed that marijuana was a 'gateway drug to opioids', he falsely claimed 'Florida has been a leader in fighting the opioid crisis,'" said FDP spokesperson Caroline Rowland, charging that Scott has done little on the issue.
"Scott slashed budgets for drug treatment and mental health services, tried to make it harder for law enforcement to crack down on criminals pushing illegal pills, and even rejected millions in federal dollars that could help save lives," Rowland added.
A spokesperson for Scott says it isn't a political issue for him.
"The Governor's family has been personally affected and he knows of so many others in this state who are dealing with this issue," said spokesperson Kerri Wyland. "He is aggressively fighting for legislation during this session, and has worked to secure tens of millions of dollars of federal funding to provide families with more treatment options and to get these dangerous drugs off of our streets."
State lawmakers are currently debating bills how to better regulate prescriptions of pain medicines in Florida. A bill sponsored by Fort Myers state Sen. Lizbeth Benacquisto (SB 8) would limit most prescriptions to a 3-day supply.
At times, Sessions found himself at odds with Trump, who is reportedly upset with the former Alabama senator for his self-recusal from the Justice Department investigation into potential ties between Russia and the Trump campaign.
Meanwhile, as more states are legalizing recreational marijuana, Sessions has doubled down on enforcement in those states. Last month, the Attorney General lifted an Obama-era policy that kept federal authorities from cracking down on the pot trade in states where the drug is legal.
Across the street from Session's speech, at Lykes Gaslight Park in downtown Tampa, about 30 protesters gathered — migrating to the side of the building housing the U.S. Attorney's office while Sessions hurriedly entered an SUV to escort him from the event.
"Hey Sessions, no KKK, no racists, USA," they chanted.
Dade City resident Laura Manson was protesting the fact that Sessions was "Un-American."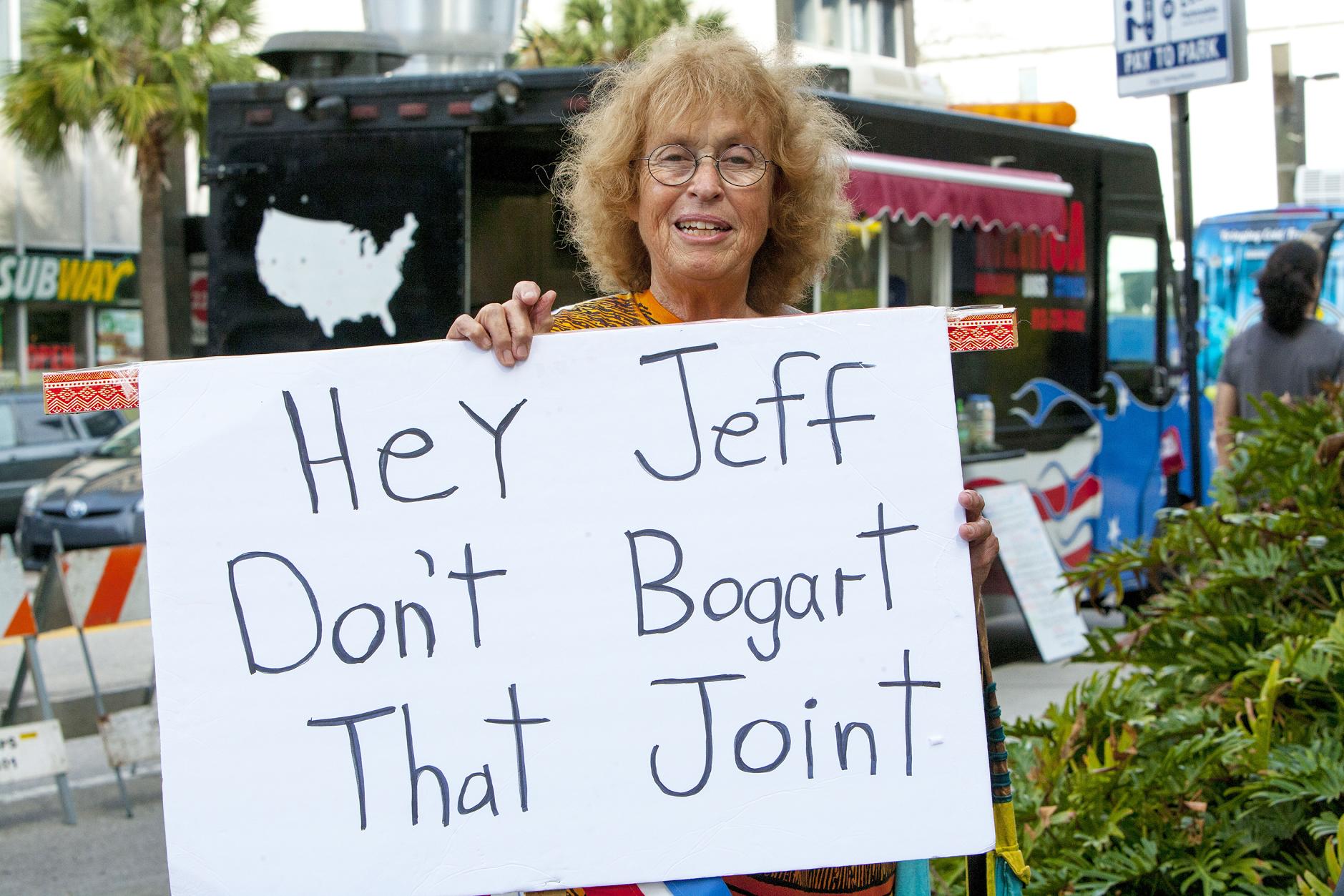 "He is supposed to be representing and enforcing the Constitution, and he has no respect for people of color and he has no respect for the LGBTQ community, and he has lied to the FBI, saying he can't recall," Manson said. "He does not defend the Constitution, and he is un-American."
A Clearwater military veteran only identified as "JP" said he served two tours in Afghanistan and was now a member of Warriors for Weed, a veterans advocacy group that touts using pot to help stave off Post Traumatic Stress Disorder.
JP condemned Sessions' criticism of marijuana use.
"I know personally marijuana has helped me and I know so many other veterans who either turn to alcohol or pills that the VA will throw at them, and it's ridiculous how he's promoting this," he said, adding that Sessions' "attack on marijuana" had racial undertones.
"You have white people and you have colored people who both smoke the same amount," JP continued, "but when it comes to jail, you have so many people of color who are in jail."
(Photos courtesy of Kim DeFalco.)