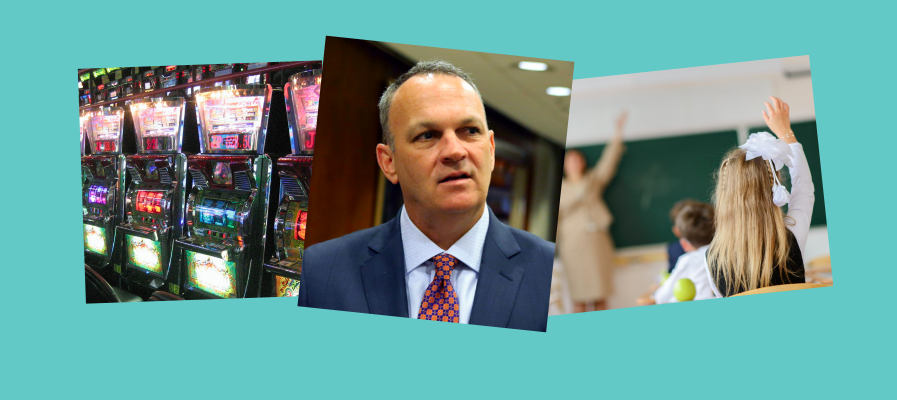 As owners of the state's dog and horse tracks fret over a legislative deal this year, House Speaker Richard Corcoran on Thursday didn't back down from his position that there be "an absolute contraction" of gambling in the state.
But he also didn't make clear what a "contraction" actually looks like, and whether that could still include any concessions for the pari-mutuels.
A handful of reporters caught up with the Land O' Lakes Republican after a photo op with home-schooled children on the 22nd floor of the Capitol.
He was asked if he was considering a deal with the pari-mutuels, many of which offer lucrative "designated player" card games that the House opposes. Those facilities also wouldn't turn away a chance to offer slot machines.
The Legislature is again working on an omnibus bill this year to guide gambling in the state, with legislators mindful that a proposed state constitutional amendment—if approved—will tie their hands indefinitely.
The Voter Control of Gambling amendment, now polling at 76 percent approval, would require future voter approval to authorize further casino gambling in the state. Amendments need 60 percent to pass.
"I'll say it util I'm blue in the face: Florida has a brand and that brand is special. That brand needs to be protected. And that brand is that we're a family-friendly state," Corcoran said.
"If we can achieve legislation that is an absolute contraction, recognizable by a third-grader, not in dispute, and have long-term certainty so that there isn't this constant (stream of) special interests seeking favors for an expansion of gaming, if that's ended, then certainly we'll pass that legislation," he added.
"At that point, you've done something absolutely great for the people of this state."
But would he, to get a grand bargain, back down on some of the demands in the pending House bill? They include outlawing designated player games and forbidding added slots.
Notably, the House proposal also includes a renewed deal with the Seminole Tribe of Florida guaranteeing the state $3 billion over seven years from the Tribe's gambling revenue. That's in return for exclusive rights to offer blackjack and slot machines outside of South Florida. The Senate's bill does not include such a renewal.
Moreover, the Tribe hates designated player games, a hybrid of poker and blackjack, because they can play too much like blackjack.
"I work for the people of the state," the Speaker said. "My job is to do whatever I can, the best way possible, to protect them and make their lives better."
Right, but could that mean easing back on the card-game ban or opposition to slots where voters have approved them?
"I don't work for the special interests," Corcoran said, smiling. Then he walked into the chamber for the Thursday floor session, in which the House was slated to pass its proposed budget for next year.