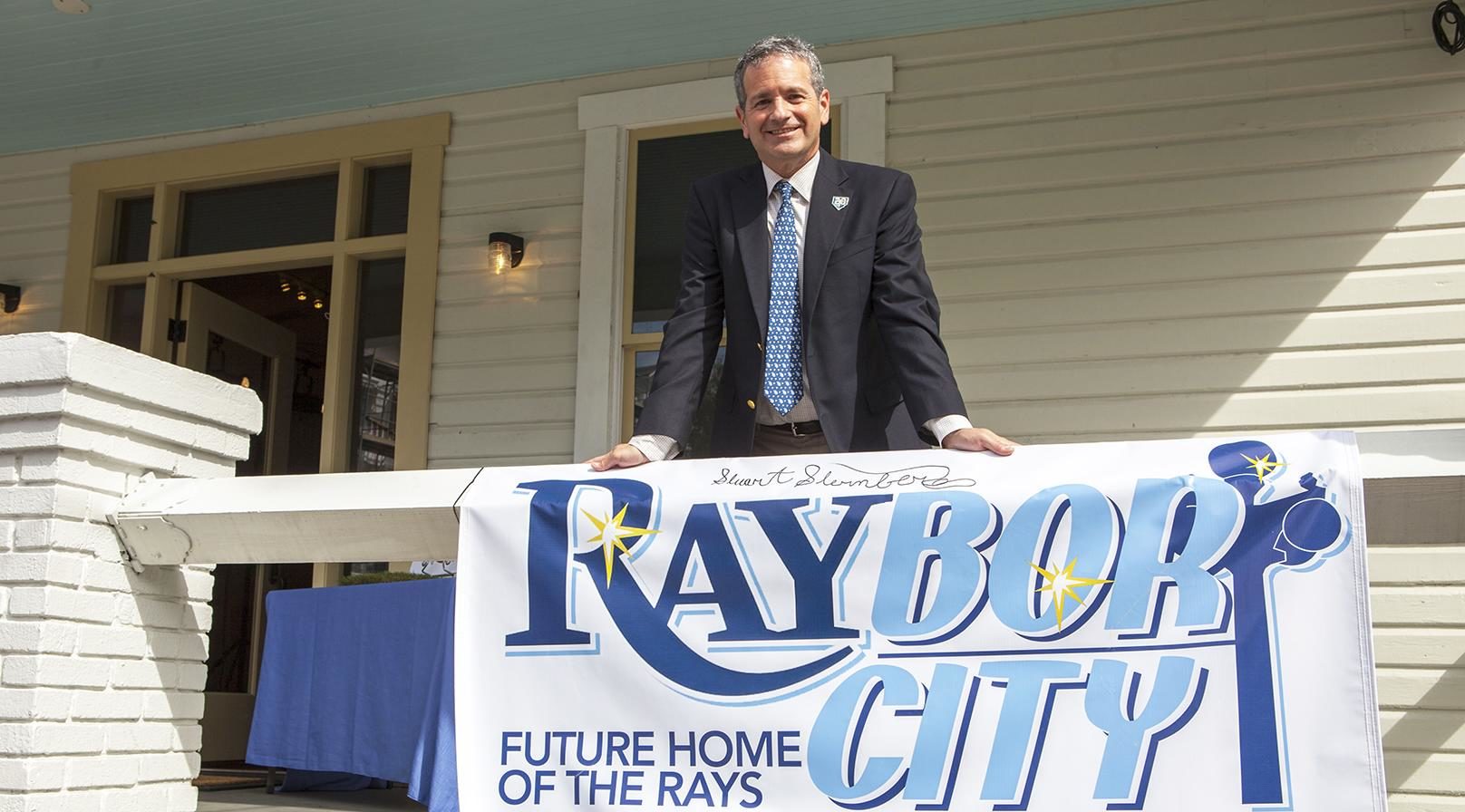 After a decade searching for a new home, the Tampa Bay Rays officially committed Friday to build a new ballpark in Tampa's historic Ybor City entertainment district.
That wasn't much of a surprise, considering Hillsborough County Commissioner Ken Hagan had revealed that information last October. And Friday afternoon's press conference didn't provide many more specifics other than the proposal now has the official imprimatur from Rays owner Stuart Sternberg.
"The Ybor City location represents the finest opportunity for Major League Baseball to thrive in the Tampa Bay region for generations to come," said Sternberg. "We are excited to explore ways to weave Ybor's rich history into a next-generation, neighborhood ballpark."
The proposed site is between East Fourth Avenue and Adamo Drive to the north and south and 15th Street and Channelside Drive to the east and west. Most of the area is currently industrial, and officials said that they did not believe that anybody was living in the parcels needed to construct a ballpark.
Joining Sternberg and Hagan at the press conference were Tampa Mayor Bob Buckhorn and two members of the business community: Chuck Sykes, CEO of Sykes Enterprises, and Ron Christaldi, a partner with the white-shoe law firm of Shumaker, Loop & Kendrick.
They'll lead a new organization called Tampa Bay Rays 2020, designed to build community and business support in bringing the club to Hillsborough County.
While the Rays' performance on the field has been uneven since their creation in 1998 (the high-water mark coming a decade ago when they played in the World Series), their recent home attendance has been nothing short of atrocious, as they have finished last in that metric for the past several years.
Sternberg had wanted out of Tropicana Field for longer than a decade, beginning in late 2007 when the team floated the idea of playing in a refurbished Al Lang Stadium along the waterfront.
After that proposal went nowhere, the team tread water for several years, hoping that the city of St. Petersburg would amend their lease that runs through 2027 to allow them to negotiate for a possible stadium in Hillsborough County.
Led by Mayor Rick Kriseman, it finally happened in January 2016.
News that the team had chosen a site in Ybor City was announced by Hagan last October. Buckhorn praised Kriseman for having the "political courage" to negotiate the deal with the St. Pete City Council to allow the Rays to negotiate, something that previous Mayor Bill Foster refused to do and something that Kriseman's 2017 opponent, Rick Baker, also said he would not have done. The agreement with Hillsborough ends at the conclusion of 2018.
The overarching questions of how much the stadium will cost and who will pay for it were left to be answered for another day. Sternberg stunned longtime followers of the stadium saga when he said last year that the Rays' contribution could be only around $150 million.
With a final price tag of potentially $800 million, the comment appeared to be out of touch with expectations.
When asked at the press conference if he was willing to adjust that number on Friday, Sternberg was vague, saying "we anticipate to be putting up a good amount of money to this project."
When asked how much he believes the Rays should commit, Buckhorn said essentially it could (or should) be as much as half of the ultimate costs.
"That would be nice," he said to a reporter who mentioned the $400 million figure.
Regarding how to finance the public portion to pay for the park, nobody came up with any specifics on Friday. Options previously discussed include funding from hotel bed taxes and car rental fees that are mostly paid by tourists, as well as Community Redevelopment Area funds collected through the district.
"I don't at this point see a light at the end of the tunnel yet, but that's because we really haven't crunched the numbers yet," Buckhorn said, adding that there will probably be more "equity partners" and developers who might want to develop around the project. He also speculated that there could be an additional entertainment tax within Ybor City.
"So we don't know what those revenues are," he said. "We know some of the tools that we have available, and we can crunch those numbers, but it's about doing the math."
Putting a possible dent in those plans is legislation (HB 13) that passed the Florida House that would prohibit sports franchises from building or improving stadiums on public land.
Buckhorn responded by saying that Richard Corcoran, who backs the bill, will no longer be Speaker in just a few months (technically he will be until the fall), and that he and other mayors in Florida are working hard to kill that bill now that it's with the Senate.
 "(W)e appreciate the Mayor's recognition that one man stands between Hard-working taxpayers and a bloated government that is looking to give their hard-earned tax dollars to billionaire sports owners and charge illegal taxes, but I can assure him, it is an an overwhelming majority of the Florida House, Corcoran spokesman Fred Piccolo said.
Patrick Manteiga, the editor and publisher of the Ybor City-based weekly La Gaceta and a champion of all things Ybor, said it's "fantastic" that the Rays are considering pulling up stakes in the historic district.
"I'm sure there's going to be bumps on the road," he said, referring to the design process which will include discussions about the height of a proposed park, as well as traffic and parking concerns.
"But at this moment, I don't think it's time to talk about the difficulties. I think it's time to talk about how we need to get behind this effort, because there is going to be some heavy lifting."
(Photo credit: Kim DeFalco)